Biogz
'H'
Here you will find some short biographies (biogz) of solo artists whose surname commences with this letter or bands with names commencing with this letter (omitting any commonly used prefix such as 'The').
Click on the name below or scroll down the page at your leisure.
H2O
Tony Hadley
Lesley Hale
Brian Hall (Brian & Neil Hall)
Robin Hall & Jimmie MacGregor
Geordie Hamilton
Hampden's Heroes
Owen Hand
Johnny Handle
Hardin & York
Harmony Grass
Robin Harper
Anita Harris
Jet Harris
Rolf Harris
The Keef Hartley Band
The Alex Harvey Soul Band
Havana
Chesney Hawkes
Hawkwind
Jeremy Healy
Heatwave
The Heenan Froud Set
Heidi
Heinz & The Wild Boys
Richard Hell & The Voidoids
The Hellcats Showband
Hello
Pauline Henry
Jim Herd
The Herd
Herman's Hermits
Hi 5 Alive
The Hibernating Bears
High Speed Grass
High Voltage
Highway
The Hipple People
Hog Farm
The Hollies
The Honeycombs
Honey Ryder
The Honeyz
Honk
The Honours
Hoola Bandoola Band
Hopscotch
Max Houliston & His Band
House Of Lords
Thelma Houston
Austin Howard
The Howff Band
Johnny Hudson and the Teen Beats
Hue & Cry
Rhona Hughes
The Human Instinct
The Humblebums
Billy Hunter & His All Star Band
The Hurricanes
Jimmy Hutchison

Ian Donaldson - vocals
Ross Alcock - keyboards
Davie Wells - guitar
John Harton - guitar
John Parker - guitar
Pete Kean - guitar
Frank O'Hare - guitar
Ali Mcleod - guitar
Alan McGee - bass
Colin Ferguson - bass
Johnnie McBriar - bass
George (Dunnachie) Sinclair - bass
Kenny Dorman - drums
Phil Kean - drums
David Edgar - drums
Colin "Biggles" Gavigan - saxophone
Phil Martin - saxophone
Michael Deans - Saxophone
Deke McGee - saxophone
Maureen Lavery - backing vocals
Sharon Dunleavy - backing vocals
Jane Button - backing vocals
Scotland's H2O shares its name with a '90s American punk group, however the similarity stops right there. They formed in Glasgow, Scotland in late 1978 after vocalist Ian Donaldson departed from the punk band 'Skroo'. He founded H2O with Davie Wells on guitar, Alan McGee on bass and Kenny Dorman on drums, playing their first ever gig in May 1979 on the back of a lorry in Elder Park, Govan, Glasgow. The line-up was augmented by Ross Alcock - keyboards, Colin Ferguson - bass and Colin "Biggles" Gavigan - saxophone in 1980. H2O became immediately recognisable by Donaldson's deep, robust voice.
The group released its first single 'Hollywood Dream' in 1981 on their own 'Spock' label and made an appearance on BBC Scotland's TV programme 'Street Buzz'. New guitarists, John Harton, then Pete Kean joined in 1982 and H2O were signed to RCA. The single 'Dream to Sleep' found airplay in Britain and peaked at #17 in May 1983 while the follow-up 'Just Outside of Heaven' reached #38 in the August. Subsequent single 'All That Glitters' and their only album 'Faith' (1984) fared less well though, failing to chart despite exposure supporting 'Kajagoogoo' on a UK tour.
Soon new members, Phil Kean - drums and Johnnie McBriar - bass joined and the band continued touring and releasing singles, 'Who'll Stop The Rain' and 'You Take My Breath Away'. In October 1985 the band fragmented leaving Donaldson & Alcock to continue writing & auditioning new & old members for a reformed band under different names.
They played a few times with varying degrees of success and released a single 'The Sun Ain't Gonna Shine Anymore'.
Ian Donaldson then joined the short-lived 'Four Good Men' (formerly 'A Few Good Men') with Derek Forbes & Mick MacNeil from 'Simple Minds' and Bruce Watson from 'Delinx' & 'Big Country'.

Tony Hadley (born Anthony Patrick Hadley, on 2nd June 1960 in Islington, London) has been an accomplished solo artist since 1990, following his successful career with 'Spandau Ballet' and recently celebrated 25 years as a professional musician. His first solo album 'The State of Play' was recorded in Los Angeles in the early 90's.
He has also released three live albums - the first recorded at Ronnie Scott's in Birmingham and the other two recorded with his long-time friends Peter Cox and Richard Drummie from Go West, and Martin Fry from ABC. Since 1990 he's had the privilege of performing with orchestras across Europe and South America at events such as 'The Night of the Proms' and 'The British Rock Symphony', working alongside the likes of Joe Cocker, John Miles, James Brown, Shaggy, Alice Cooper, Jon Anderson (Yes) and The Alan Parsons Project.
Tony's backing band has the following line-up: John Keeble, Phil Taylor, Phil Williams, Richard Barrett and Andrea Grant often augmented by their brass section: Simon Willescroft, Dan Carpenter and Dave Williamson. Tony has played some extremely unconventional venues for British, NATO, and UN Troops on active service in Bosnia, Kosovo, Kuwait, Cyprus, the Falkland Islands and Northern Ireland such as Aircraft Hangers, Tank workshops and even bombed-out theatres.
Tony's contribution to the music industry was officially recognised in October 2005 when The British Academy of Composers and Songwriters awarded him with a Gold Badge at their annual ceremony. Tony's often on radio & television and won the long-running TV show 'Reborn in the USA'. He is a keen celebrity footballer and also supports numerous charities in numerous ways. In 2004 Tony released his autobiography, 'To Cut a Long Story Short'.
Current projects include a swing album 'Passing Strangers' accompanied by a tour with a 17-piece big band.

Originally one of the popular folk harmony trio from Edinburgh, 'Bitter Withy' (with Tich Frier and Andy Ramage) which was active from the mid 60s to 1972 when she went solo for a while.
Sadly Lesley died of abdominal cancer on Thursday 8th October 2009 in Edinburgh. A fine lady, very forthright, and a great singer songwriter, who will be sadly missed by all her friends.
If you can add any further information to this piece please contact me here
Brian Hall (Brian & Neil Hall)
Brain Hall - banjo, vocals
Brian was a folk singer & banjo player active in the Falkirk Folksong Club in the in the mid 1960s.

At one time this Scottish duo were Britain's best known folk musicians. Robin and Jimmie teamed up together in 1958/59 and very quickly became hugely successful thanks to regular appearances on national television.
If you can add any further information to this piece please contact me here
Info courtesy of: www.nigelgatherer.com
Geordie Hamilton, an ex coal miner from Kirkintilloch who worked with the post office in Edinburgh was a songwriter and an exceptionally graceful singer with a beautiful lyrical sense. He was a regular inhabitant of the notorious 'Sandy Bell's Bar' (aka 'The Forrest Hill Bar') in its heyday in the late 1960s. He wrote 'There Are No Pubs in Kirkintilloch'.
If you can add any further information to this piece please contact me here
Bobby Speedie - lead guitar, vocals
Alistair Speedie - rythmn guitar & vocals
Richard 'Dick' Hewat - keyboards, vocals
Alister Stewart - drums, vocals (1977-1978)
Tom Annan - drums (1978-1979)

As a result of appearing on ATV's 'New Faces' in 1977, 'Spinning Wheel' turned professional in the summer of 1977. The band had a record deal with REL records in Edinburgh and spent a couple months recording a single 'Take a Little Time for Love', penned by David Valentine and Bobby Heatlie (who subsequently wrote number 1 hits for Aneka and Shakin' Stevens).
The name of Jody was the end product of a competition run in the local newspaper, The West Lothian Courier , where the winner had a day out in the studio watching the band record.
Needless to say, the single was never released, although about 6 demo 7" singles were pressed.
The band gigged quite successfully over the 12 months, playing on the same music circuit as Sloopy. Both bands were managed by Music and Caberet in Glasgow.

Some notable venues gigged by Jody included a week down in Basildon, Essex and numerous gigs on Skye, Lewis and Ullapool.

Jody became 'Hampden's Heroes' for a short time in 1978 and appeared on Granada TV's 'Get it Together' with none other than Slade. The resulting single: 'Scotland Bonnie Scotland' / 'Into the dead of Night' never really charted, although it was voted the 'best' world cup song by Radio Forth listeners - but had no chance after Scotland were eliminated after the first round.

The drummer, Alister left band in 1978 and was replaced by Tom Annan from Kirkcaldy. The band were resident in the Bird Cage in Edinburgh nearly 6 months before Jody bit the dust.

There was a brief coalition between Bobby Speedie, Alastair Speedie, Dick Hewat, Jamie O'Neill, Stewart Wilson and Tom Howison. They came second in a battle of the bands competition in Glasgow and were successful in passing a BBC audition. However, the core of this band would form 'Sound & Vision' a few years later.

Both Bobby and Alstair Speedie dropped out of the music scene between 1979 and 1982. Dick Hewat featured with Sideshow along with Stewart Wilson and then in 1981 joined the Alan Stewart Sound, playing summer season on the south coast of England.

Visit Jody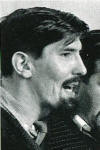 Owen Hand, the 'larger than life' pioneering folk singer/songwriter whose constant live work contributed enormously to the 1960s British folk revival recorded twice with Transatlantic: 'Something New' (1965) & 'I Loved A Lass' (1966).
It has been alleged that seventies rock gods Led Zeppelin stole 'She Likes It' from 'Something New' and made it into 'Poor Tom'.
If you can add any further information to this piece please contact me here

Johnny Handle has been a folk musician all his life (a Singer and Songwriter, he plays: Accordion, Piano & Northumbrian Small Pipes) originally from the Northeast of England. With Louis Killen, he founded 'The Folksong and Ballad Club' in 'The Bridge Hotel', Newcastle in 1958. Johnny was and is a key figure in legendary Tyneside band 'The High Level Ranters' since 1969. Johnny's ability to hold an audience in the palm of his hand has always been one of the Ranters' greatest strengths.
Johnny has also made solo recordings, and now plays for ceilidhs, and performs with the Scots singer, Christine Hendry, as well as playing with the Ranters. Johnny has made numerous recordings, including around eight albums.
If you can add any further information to this piece please contact me here

Eddie Hardin - keyboards / vocals
Peter York - drums
When Stevie Winwood left The Spencer Davis Group in 1967 to join Traffic, he was replaced with Eddie Hardin. Eddie left again in 1969 to form Hardin & York with drummer Peter York, also of the Spencer Davis Group. They were sometimes known as the 'World's Smallest Big Band'
Hardin then embarked on a solo career and also got involved in session work with the likes of Deep Purple bass player Roger Glover. The Spencer Davis Group reformed in 1973 with Davis / York / Hardin / Fenwick and Charlie McCracken and recorded two albums.
Hardin & York played together again in 2001/2 and Pete York now plays with several jazz bands.
If you can add any further information to this piece please contact me here

Tony Rivers - vocals
Tony Ferguson - lead guitar, vocals
Kenny Rowe - vocals
Tom Marshall - lead guitar, rhythm guitar, piano, vocals
Bill Castle - drums, vocals
Ray Brown - bass
Brian Hudson - drums, vocals
Tony 'H' Harding - lead guitar, vocals
The sole Harmony Grass album, 'This Is Us' (1970), is arguably the finest UK soft rock release of the last three decades. Bandleader Tony Rivers was an enormous Beach Boys fan, and it was his enthusiasm for the California sound which defined his sonic template.

Until 1968, Harmony Grass traded as Tony Rivers & The Castaways, gaining a reputation as England's Beach Boys, and attracting the attention of UK pops' two most influential managers. In 1966 they signed a management contract with Brian Epstein and a singles deal with Andrew Loog Oldham's Immediate Records.
As the 60's wore on, Rivers picked up any new American musical developments. The Castaways' 1967 residency at London's Marquee Club was used to hone an act which included versions of The Tradewinds' Mind Excursion, The Lovin' Spoonful's You Didn't Have To Be So Nice, and an uptempo Association-style rendition of Walk On By.

By late 1968 the name Tony Rivers & The Castaways was sounding dated, and their post-Epstein manager decided Harmony Grass sounded much hipper. The renamed group signed with RCA and issued Move In A Little Closer Baby in December 1968.

Although subsequent Harmony Grass singles flopped, the band released some gems, totally at odds with the formulaic fare that might be expected from a band stranded on the chicken-in-a-basket cabaret circuit by the end of the decade. Foremost amongst them was Mrs Richie (included on the This Is Us album), a self-composed song influenced equally by the harmonies of Crosby, Stills, Nash and Young and (uniquely for a British band) Love.

Despite the lack of single success, RCA released This Is Us. Tony Rivers produced most tracks and wrote seven of them. The soaring harmonies of What A Groovy Day were on a par with the best of The Association. Of the other new songs, the atmospheric Byrds/Beach Boys amalgam I've Seen To Dream was a stand-out. Cover versions of Chatanooga Choo Choo, Tom Dooley and Spanky & Our Gang's Byrd Avenue blended seamlessly into the album.

After the album failed to chart, RCA decided Simon & Garfunkel's Cecilia might be the song to get Harmony Grass back into the charts. They released the single, relegating Mrs Richie to the B-side. Insulted, Tony Rivers departed the group. Harmony Grass carried on without Rivers, issuing a final single, the bubblegum styled Stand On Your Own Two Feet, and then got heavy, first as 'Grass' and then as 'Capability Brown'.

Tony Rivers moved into production for CBS and worked as a session singer on projects ranging from the budget cover version Top Of The Pops collections to Roger Daltrey's One Of The Boys album. In 1975 he became Cliff Richard's vocal arranger, staying with him until 1986.
Info from: www.nostalgiacentral.com


Robin Harper on the right with the guitar
Robin Harper (MSP) was born on 4th August 1940 in Thurso, Caithness, Scotland. He graduated in 1962 from the University of Aberdeen and became a teacher here in Scotland and Kenya. He has also been a performing folk singer/guitarist, a guitar teacher and is a former music director of Edinburgh Children's Theatre Workshop. On 6th May 1999 the Scottish Green Party made history when Robin became the first Green parliamentarian to be elected anywhere in the UK.
If you can add any further information to this piece please contact me here

Even today, Anita Harris dressed in uniform as 'Nurse Clarke' in the 1968 Carry On movie "Carry On Doctor" remains a fantasy for many red blooded males! It's perhaps a little easier to now forget her early singing career as a chart breaking recording artist or even her numerous TV appearances as an actress, singer and dancer. Anita has certainly shown herself to be multi-talented and has done so since a very early age.
Anita's musical career began as a child although her expectation was to become a dancer. Soon after leaving school she left the UK to train as a choreographed skater in Las Vegas. Even today this would be unusual, but in the 1950s it was an exceptional experience and gives some idea of the kind of expectation held by her family. However, her first significant professional engagement in the UK was as a singer- briefly as one of the few ladies to sing with the Cliff Adams Singers. These were choralists who were to enjoy an astonishingly long run with BBC radio's "Sing Something Simple". She was still in her teens when invited to cut her first recording- with the John Barry Seven- a band who at that time were at the most active part of their own pop chart career.
This early single did not succeed as hoped and it was a few years before Anita tried again. The late 1960s saw her career at its peak. Besides her important hit "Just Loving You" - acquired through her friend Dusty Springfield from brother Tom - she also made appearances in several British movies and had a very popular presence on UK television. She made a most successful appearance at the San Remo Song Festival in Italy- something that perhaps one associates with more established stars like Petula Clark. In fact, at the time of writing she still shares the same musical arranger as Petula - Kenny Clayton.
The pace of her career slowed somewhat during subsequent decades, and film appearances have been rare. However, Anita has maintained a steady presence in cabaret and stage. Her singing skills have, until recently, been employed more frequently in pantomime and stage musicals rather than on records, but she is still recording and still in excellent voice.
Info courtesy of: www.45-rpm.org.uk

Jet Harris and Tony Meehan began playing together as members of the Shadows backing Cliff Richard. Despite the success of the group in its own right, both of them decided to quit. Meehan had left the group at the end of 1961 with plans to take up a job in A&R with the Decca record company. Harris stayed with the group until 1962 deciding that he could probably do better for himself on his own. He was already a well known and popular artist, particularly with the female members of the Shadows audiences and Duane Eddy had shown the potential rewards for a 'solo' guitarist. This was a very risky decision as Jet found playing his own 'lead' quite different to playing bass guitar with the group.
Jet's first two solo singles both made the chart, but he decided to forge a link with the former Shadows drummer who encouraged by Harris's success agreed to a partnership. Their first single release; 'Diamonds' went all the way to the #1 spot and things looked to be going all their way. Two more major hits followed, but disaster struck in the form of a car crash in which Harris was injured. With his partner unable to play, Meehan continued with the 'Tony Meehan Combo' and even achieved a minor hit in that guise before finally moving off into his A&R role.
Jet Harris later returned to playing, but by this time the musical scene had changed and the accent was on the new vocal groups rather than instrumentals. He would never regain the momentum needed to reach the charts again. There were rumours for years that he might again rejoin the Shadows. However, it was never to be and Harris still remains a well loved solo performer on the 60s nostalgia circuit.
(Sadly, following an accident at his London home, Tony Meehan died on November 28th 2005).
Info courtesy of: www.45-rpm.org.uk


Image from 'The Dunfermline Press' dated Saturday 2nd February1963.
A popular question among pub quizmasters is: "Who wrote lyrics to Led Zeppelin's legendary anthem, 'Stairway To Heaven' and turned it into a chart hit?". It's popular because the answer still manages to surprise the followers of heavy metal bands, and always proves interesting to everybody else. The answer, "Rolf Harris" shouldn't really surprise anyone because it is only one tiny item in a huge list of achievements by this much loved Antipodean. Rolf astonished Led Zeppelin fans when he turned the well known Robert Plant/ Jimmy Page masterpiece into a UK #7 hit for himself during 1993. His other achievements even include becoming Australian national junior backstroke champion!
Rolf Harris arrived in England from Australia during 1952 full of artistic ambitions, and soon began training at a London art school. It was there that he met his future wife, Alwen- a fellow artist- which doubtless gave him an additional reason to settle in the UK. He had already developed most of his entertainment abilities while still in his hometown, Perth, though his efforts there were mostly on an amateur or semi-professional basis.
Although his early ambitions were in painting, the draw of the entertainment world was too strong for Rolf and he found himself hosting a show on children's TV, from which he soon widened his audience. He was such a good all round entertainer that he might not have been noticed for anything in particular. He was a skilled comedian, musician and cartoonist. He managed to combine the comedy with music on his records and added these to his artistic abilities in his TV shows to become one of Britain's most revered broadcasters. Despite the fact that Rolf has been resident in the UK for almost 50 years, he has always kept strong links with his first home, Australia. He was one of the first performers at the new Sydney Opera House in 1973 and Rolf is just about as well known 'down under' as he is in Britain- and that is fame, indeed.
Rolf exploited his Australian background to good effect and his early 1960s singles all had an exaggeratedly strong Australian flavour. Most of his material he wrote himself including his hit with the novelty; 'Tie Me Kangaroo Down'. He has also exploited unusual musical instruments to make all his work very distinctive. These included the 'wobble board', which he invented himself, and the didgeridoo.
By the late 1960s it looked as though Rolf's hit making days were probably behind him. However he managed to produce the last UK #1 of the decade with the sentimental 'Two Little Boys' which marked a considerable deviation from his previous Australian oriented output Although he is no longer regularly producing singles, he is still a familiar and popular figure on UK television, and his regular appearances at Glastonbury demonstrate that he has lost none of his musical abilities.
Info courtesy of: www.45-rpm.org.uk

Keef Hartley - drums
Miller Anderson - guitar, vocals (1969)
Peter Dines - keyboards (1969-70)
Spit James - guitar (1969-70)
Gary Thain - bass (1969)
Mick Taylor - guitar (1969-70)
Mick Weaver - keyboards (1971)
Woodstock line-up:
Keef Hartley - drums
Miller Anderson - guitar, vocals
Gary Thain - bass
Henry Lowther - trumpet, violin
Jim Jewell - tenor saxophone
Keef Hartley was a drummer and writer with his own eponymous outfit between 1968 - 1971 in between two spells with John Mayall's band 1967 - 1968 and again 1972 - 1973 before joining Dog Soldier in 1975. The band played on the second day at Woodstock though the performance appears neither on the soundtrack album nor in the film (incl. the extended edition). Allegedly their manager would not allow them to be filmed?! Bizarre.
Alex Harvey - vocals, guitar
Wally Stewart - vocals
Bill Patrick - saxophone, flute
Jimmy 'General' Grimes - bass
Billy Law - drums
Born on 5th February 1935 in the Gorbals region of Glasgow, Scotland, Alex Harvey had a restless employment record including trying his hand at lion taming, eventually drifting into an interest in the growing skiffle movement and was crowned 'The Tommy Steele Of Scotland' in April 1957 following a 'Sunday Mail' newspaper talent contest, beating 600 other hopefuls, including a young Sydney Devine who came second!
He formed 'The Alex Harvey Big Soul Band' in 1959 having claimed to have had 36 jobs. They would at one time tour the highlands of Scotland impersonating 'Johnny & The Hurricanes'! He played in several fledgling bands including The Kinning Park Ramblers. They secured several supports including The Beatles, Eddie Cochrane and Gene Vincent before taking the Germany pilgrimage in 1962. Before releasing their their first album in 1964, the name had been truncated to 'Alex Harvey And His Soul Band' or 'Alex Harvey's Soul Band', only this first eponymous "live" album wasn't live and the band were Kingsize Taylor's backing band, ('The Dominoes') not Alex's!
The album wasn't successful and the band spilt in 1965 though not before they played at the ballroom on Wednesday 23rd September 1964. He then recorded another album 'The Blues' (1965) with his brother Les (guitar), Bobby Thomson (bass) and Gilson Kemp (drums) before going solo, recording some singles and a couple of albums with a variety of musicians in London including 'Roman Wall Blues' (1969).
Returning home to Scotland in 1972, he recruited a Glasgow outfit called 'Tear Gas' (who were about to split following two disappointing albums) as his backing band and later renamed the ensemble 'The Sensational Alex Harvey Band'.
Tragically, Alex died of a heart attack on a Belgian ferry on 4th February 1982.
Pop group from the borders region of Scotland including Mick Sweeney on tenor saxophone.
If you can add any further information to this piece please contact me here

Born September 22nd 1971, Chesney stared in the film 'Buddy's Song' (1991) with Roger Daltrey.
At 19 years old, Chesney released 'The One And Only' - the twentieth most successful release of the nineties and a number 1 UK chart single. The follow-up, 'I'm A Man Not A Boy' peaked just inside the thirty but subsequent singles have been less successful.
In March 2001 Chesney toured the UK with a four-piece band and due to demand, five dates turned into many more. Many TV appearances have included 'Top Ten Teen Idols' (Channel 4), Banzai (Channel 4) and "Question of Pop' (BBC1).
His father is Len Hawkes AKA Chip (ex Tremeloes)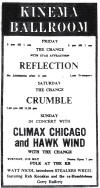 9th May 1971
Dave Brock (Dr. Hasbeen) - rhythm guitar, vocals
Mick Slattery - lead guitar
Nik Turner - saxophone, flute, vocals
Terry Ollis - drums
Dik Mik - electronics, audio generator
John Harrison - bass
other members have included:
Del Dettmar - synthesiser, electronics
Robert (Bob) Calvert - poetry, guitar, vocals
Huw-Lloyd Langdon - lead guitar, vocals
Thomas Crimble - bass
Dave Anderson - bass
Viv Prince - drums
John 'Twink' Adler - drums
Michael Moorcock - poetry, vocals
Stacia (Stacia Blake) - exotic dancer, mime
Ian Kilmister (Lemmy) - bass
Simon King - drums
Simon House - violin, synth, mellotron
Alan Powell - drums
Paul Rudolph - bass, lead guitar
Adrian Shaw - bass, vocals
Paul Hayles - synth, keyboards
Steve Swindells - keyboards
Henry Lowther - session trumpet
Harvey Bainbridge - bass, synth, vocals
Martin Griffin - drums
Tim Blake - synth, electronics, vocals
Ginger Baker - drums
Keith Hale - keyboards
Alan Davey - bass, vocals
Clive Deamer - drums
Danny Thomson jr - drums
Richard Chadwick - drums
Bridgett Wishart - vocals
Jerry Richards - guitar, vocals, keyboards
Ron Tree - bass, vocals
I will not attempt a comprehensive biography of this tangled web of a band, life's too short! However, here's a very brief overview.
Formed in Putney in London in July 1969 by Dave Brock & Mick Slattery they were originally known as 'Group X'. Other original members included Nik Turner, Terry Ollis, Dik Mik & John Harrison. Renaming briefly to 'Hawkwind Zoo' then to simply 'Hawkwind' in November 1969, Slattery left to pursue a gypsy lifestyle in Ireland. Their eponymous debut album of psychedelic heavy rock was released in 1970.
'In Search of Space' (1971) was their second outing, having added Del Dettmar and Robert Calvert. Replacing Anderson with Lemmy spawned their best known song 'Silver Machine' in June 1972 which reached #3 and 22 hit albums including 'Space Ritual Alive' in 1973 which hit #9 makes them a formidable record selling force despite a multitude of personnel changes over the years as testified by the lengthy list above.
Since their ballroom performance was in May of 1971 (pre Lemmy and 'Silver Machine') a month in which the line-up changed, it was unclear which cast list is correct, however Steve Youles (http://www.starfarer.net/index.html) has advised that this one is almost certain:
Dave Brock - guitar, vocals
Dik Mik - electronics
Nik Turner - saxophone, vocals
Dave Anderson - bass
Terry Ollis - drums
Many thanks Steve.
Stacia famously made an unplanned 'performance' at Alice Cooper's press party at Chessington Zoo on June 30th 1972 where she decided she could do better than the hired stripper, just prior to their sell-out show at Wembley Pool London.

Jeremy Healy is one of the most sought after DJs in the UK (voted number one DJ by both The Face magazine and Mixmag and has played all over the world.
He was a member of the chart duo 'Haysi Fantayzee' with Kate Garner. They scored UK chart hits with 'John Wayne Is Big Leggy' #11 (1982) & 'Shiny Shiny' #16 (1983).
He has also one of the UK's finest jingle producers and has worked for Levis, Pepsi, BA and Kodak. He also produced and underscored the sound effects for the Duran Duran feature film 'Arena'.
Jeremy and Amos, have released two successful singles: 'Stamp!' (1996) #11 & 'Argentina' (1997) #30. They have also remixed for George Michael & Boy George. He has acted as music collaborator for Galliano, Dior, Versace, Jigsaw, Katherine Hamneff and Vivienne Westwood.

Johnnie Wilder jr - vocals
Keith Wilder - vocals
Rod Temperton - keyboards
Mario Mantese - bass
Ernest "Bilbo" Berger - drums
Eric Johns - guitar
Roy Carter - guitar
James Dean (JD) Nicholas - live vocals
'Heatwave' was formed by five young U.S. servicemen stationed in West Germany who were originally known as 'The Cashmeres'. Members left and joined and the band evolved into 'The Noblemen' with a backing group called The Soul Sessions.
More personnel changes occurred and they became 'J.Wilder & The Soul Sessions', eventually bonding with 'The Upsetters' to become the core of a band that would become 'Heatwave' and they survived what was to become a list of tragedy when Jessie Whitten was killed in an accident.
They settled in Northern England, Johnny's brother Keith joined on joint lead vocals and they signed to GTO just as disco was breaking big. They received a great deal of public attention with the release of their third single 'Boogie Nights' when it shot to #2 in the UK singles chart in 1977 and many would call it one of the defining disco classics. 'Always and Forever' also cracked the top ten, in 1978.
1979 would be a trying time as Rod Temperton left the band to become the writing force behind Quincy Jones' greatest productions for Michael Jackson & The Brothers Johnson and the 'Hot Property' album wasn't selling too well. Then guitarist Mario Mantese was stabbed in London, leaving him in a coma for weeks and in recovery for months. Then to top it all Johnny Wilder was in a tragic car accident on 24th February that left him paralysed from the neck down.
Heatwave recruited a new vocalist, James Dean (JD) Nicholas, to perform live on tour while to everyone's amazement Wilder, while still paralysed, sang lead vocals and produced the group's next album, 'Candles'. Another album ('Current') would be released but the band broke up in the late 80s as their popularity dwindled. JD Nicholas would later join 'The Commodores'.
Keith Wilder re-formed Heatwave with members old & new in the early 90s, and the group still tours regularly and recorded a live album in 1997. Johnny Wilder became an a cappella gospel producer of note. They performed at the ballroom on Wednesday 3rd October 2001.
Sadly Johnny Wilder died on Saturday May 13, 2006.





Tulliallan Youth Club
Kincardine © Gill Nisbet
Davy Waugh - vocals (ex-2000AD)
Charlie Dyer - bass (ex-Prize Chunks)
Derek Anderson - guitar
Willie Fotheringham - guitar
Graham Booth - keyboards
Richard Dow - drums (ex-Cross Cut Section0
Formed in 1967 they supported 'Jimmy James & the Vagabonds', 'Geno Washington', & Sock 'em, JB (featuring Frankie Miller) at the Maryland in Glasgow. They also played with 'The Poets' at The Place, Edinburgh and the Dobbie Hall, Larbert, 'The Pathfinders', 'The Hipple People' and 'The Senate'. Dow then went on to form 'Susan Ram', whilst Waugh & Dyer formed 'Friendship'.
If you can add any further information to this piece please contact me here
Info courtesy of: www.falkirkmusicscene.co.uk
Tam McGeady - vocals
Angie Antinori - guitar
Tommy Bargiel - keyboards
Ian Graham - bass
Jack Irving - drums (1972 - 1974)
Brian Robertson - keyboards/guitar (1972-1974) later joined Thin Lizzy
Angie Antinori & Tam McGeady formed Heidi with the Johnson brothers. They gigged around Scotland either in support of other acts or headlining their own gigs.
Tommy left to become a scientologist.
Jack left in 1974 to join his brother Matt (Ex Dream Police & later Berserk Crocodiles) in London in a band called 'Longdancer' featuring Dave Stewart from 'The Tourists' & 'Eurythmics'. He also auditioned for the short-lived 'Wild Horses' (with Jimmy Bain & Brian Robertson).
Tam McGeady later appeared in 'Fagin'.
Angie & Jack joined 'The Shakers' with Tony Dangerfield (ex-Screaming Lord Sutch's backing band 'The Savages') on bass around 1978. The Savages recently reformed and Jack & Angie have formed a smaller scale band called 'Map of China' playing mostly covers.
My thanks to Jack Irving for the above.
Heinz Henry George Burt - vocals, guitar
Richie Blackmore - lead guitar
Brian Woods - saxophone
Burr Bailey - organ
Ian Broad - drums
After his band, The Falcons, failed an audition with record producer Joe Meek, Heinz Henry George Burt was lined up to join The Outlaws on bass - Chas Hodges was going to take over on lead guitar. When Chas asked Joe what the new bass-player was like [meaning as a bassist] Joe replied, "Well, he's tall, quite good looking and very smart!"
After the audition, Chas lied to Joe saying he didn't feel he could handle the lead guitar job and wanted to stay on bass - prompted by his reaction to Heinz's clean-cut image and ambition. A new line-up of The Outlaws was put together around Chas whilst Heinz was slotted into a new Meek group, as bassist with The Tornados.
Heinz was quickly groomed for solo stardom by Meek who was clearly obsessed with him and advised to dye his hair and dress distinctly from the rest of the band. The Tornados quickly went on to have a number one hit around the world in 1962 with "Telstar", the first US number one by a British pop group, though at the time they were on the road as Billy Fury's backing band and due to contractual commitments it was some months into 1963 before they got the opportunity to follow through and cash in on this success by which time The Beatles and Mersey Beat were changing the face of the UK music scene. Ironically, it was Chas Hodges who deputized for Heinz immediately after he left The Tornados.
His first and indeed biggest solo hit was "Just Like Eddie", a tribute to Eddie Cochran who had died in a car crash in 1960. Heinz went on, over the next few years, to record probably more singles with Meek than any other of the RGM acts and an album of predominantly Cochran material, "Tribute To Eddie".
After a further change of line-up, The Outlaws - with a new guitarist and drummer, Ritchie Blackmore and Mick Underwood - went out on tour as backing band for Gene Vincent, Jerry Lee Lewis and Heinz and some of Chas Hodges' memories from this tour are included in his biography, "The Rock & Roll Years Of Chas Before Dave". This was followed by a summer season for Heinz and The Outlaws with Arthur Askey in Rhyl.
Part of The Outlaws' management deal with Heinz included the financing of their new stage clothing, van and equipment which, I think, is where Ritchie got his red Gibson ES 335.
Heinz was in a number of movies in the 1960's most notably in 1963's "Live It Up", filmed at Pinewood, in which he performed two tracks including the title number with his 'band' including David Hemmings as lead guitarist and a young [pre-Small Faces] Steve Marriott on drums! The film - typical of its kind - is about four Post Office workers who are in a group. Also included among the cast were Peter Glaze [Crackerjack] and Jennifer Moss [Coronation Street] whilst Gene Vincent, Kenny Ball and Sounds Incorporated were featured, along with other Joe Meek acts including The Outlaws miming to "Law And Order", filmed on the scaffolding of the house Hemmings' daydreams of building when he becomes a star.
After later going on the road with The Saints, this was followed by more live work, this time with The Wild Boys, again with Ritchie Blackmore on lead guitar who played on many of Heinz's recordings. Jimmy Page and Big Sullivan also played on some of his records and Derek Lawrence was also involved.
Heinz's recording career effectively came to an end with the death of Joe Meek. In fact, it was Heinz's shotgun that Joe Meek used when he murdered Violet Shenton and then took his own life in 1967.
Heinz had been ill for about a decade since being diagnosed with motor neurone disease and was confined to a wheelchair. His last stage appearance was on 3rd February 1999 in London at a Joe Meek Appreciation Society gig which was also one of the last public appearances of fellow former Joe Meek recording artist Screaming Lord Sutch.
His most recent press coverage, late last year, was over a dispute with neighbours which almost went to court over the volume of the music he was listening to in his home in Southampton, England.
Info courtesy of: www.thehighwaystar.com

Richard Hell – vocals, bass
Robert Quine – guitar, vocals
Ivan Julian - guitar, vocals
Marc Bell – drums
Richard Hell's journey to voidoidhood started with The Neon Boys (1971), then Television (1973) in New York where they were founder members of the punk/new wave movement. (Folklore has it that Malcolm McLaren modelled The Sex Pistols' look on Richard's bedraggled appearance, having failed to sign him).
After a short time with Johnny Thunders & The Heartbreakers (writing Chinese Rocks with Joey Ramone) he formed the Voidoids, recording an independent EP, signing to Sire and releasing the 'Blank Generation' album.
Bell left for the Ramones and was replaced with Fred Mauro then Fred Maher, while Jerry Antonius added keyboards and vocals and Naux replaced Quine on guitar. For by another 45, the next release was 'Destiny Street in 1982 by which time most of what they represented was yesterday's news. No doubt Hell's heroin dependence was no small factor and so The Voidoids simply ceased to be.
Hell secured some film work and released some solo material before forming The Dim Stars in 1992.
Jeff Allen - drums
Bob Bradbury - guitar, vocals
Vic Faulkner - bass
Keith Marshall - guitar, vocals
A glam-rock outfit from the north of England originally called 'The Age' when they were a covers band with some members only eleven years of age. They had two UK chart hits with 'Tell Him' (1974) #6 and 'New York Groove' (1975) #9 from ten 45s issued between 1972 and 1976. They also released two albums, 'Keeps Us Off The Streets' (1976) and 'Again' (1978).
They split up in 1979. Keith Marshall attempted a solo career and charted at #12 in April 1981 with 'Only Crying'.
They reformed in the 90s with several concert and TV performances and a new album of cover-versions, 'Glam Rockers' (1996).
They continue to perform today.
Pauline Henry was the lead singer of Scottish band 'The Chimes' ('I Still Haven't Found What I'm Looking For'). She then went solo and released two albums: 'Pauline' (1994) and 'Do over'. Her UK chart hits include 'Feel Like Making Love' (1993), 'Can't Take Your Love' (1994), & 'Never Knew Love Like This' (1996).
She appeared at the ballroom on on Saturday 4th September 1999 at the first ever Pose World Party ('The biggest indoor party ever held in Scotland') with Sash!, Tina Cousins, Bus Stop The Pasadenas & Phats & Small amongst others.
Jim Herd was a member of The Great Fife Roadshow with artists such as: Jimmy Hutchison, Rab Noakes, Pete Sheppard, Artie Trezise, Cilla Fisher, John Watt, Davey Stewart, Davie Craig & Noel Farrow, playing folk clubs & village halls.
If you can add any further information to this piece please contact me here
Peter Frampton - vocals, guitar
Andy Bown - keyboards
Gary Taylor - bass
Andrew Steele - drums
The Herd evolved from a group called the Preachers in 1965 whose members Andy Bown, Tony Chapman and Terry Clark were joined by Gary Taylor and Peter Frampton to become the Herd. Frampton was an accomplished lead guitarist having played guitars since his childhood. He was happiest in this instrumental role but after uttering a few supporting vocals during their live gigs he was rapidly pushed to the front by managers Alan Blaikley and Ken Howard. They were understandably keen to capitalise on Frampton's good looks which gave rise to a good deal of screaming from the female members of their audiences.
1967 saw the rise of British psychedelia and the group successfully aligned their recordings to the genre, although their first attempt 'I Can Fly' went almost unnoticed. However, the group as a whole, and Frampton in particular, were unhappy about their musical direction which was a good deal less progressive than they desired. Despite a change of management Peter Frampton decided to team up with Steve Marriott on a new project- Humble Pie. Peter had admired the 'Small Faces' and when Marriott suddenly decided to quit his group it prompted Frampton to do the same. The Herd carried on for a short time afterwards but after Bown left to join Status Quo it was all over.
Info courtesy of: www.45-rpm.org.uk
Peter Noone - lead vocals
Keith Hopwood - guitar, vocals
Karl Green - bass, vocals
Alan Wrigley - bass, vocals
Steve Titterington - drums
Later:
Derek "Lek" Leckenby - guitar, vocals
Barry Bean Whitwam - drums
This Manchester band were controlled by pop music maestro 'Mickie Most' who was regarded highly in this role despite having failed as a pop musician himself. The musicians came together originally as the Heartbeats and their vocalist, Peter Noone, had been a successful young actor- once having appeared in the TV soap 'Coronation Street'.
Their first release was a cover version of a song recorded in America by Earl-Jean, lead singer of the girl group 'The Cookies'. Such was the progress of the 'British invasion' that the Hermits' cover reached #13 in the USA while Earl Jean had to be content with #38. In the UK Noone's boyish looks helped push the record all the way to #1. It was also undoubtedly Peter Noone's cutish looks that helped their fortunes in the U.S. where they became even more successful than at home. Like many other vocalists in fading groups Noone ultimately embarked on a solo career. Unfortunately, by then record buyers had moved on and were becoming accustomed to music that was a good deal more progressive than hitherto and the solo career did not take off as hoped.
Peter Noone was reunited, though briefly, with the other 'Hermits' during 1973, and an attempt to rekindle his musical career during 1980 with a new venture 'The Tremblers' did not bring the success hoped for. Subsequently, the singer appears to have concentrated his life on his interests outside the music industry - not least his acting and his family.
Herman's Hermits continued successfully without their original vocalist for several years in cabaret and even today occasionally perform on the 1960's revivalist and nostalgia concert round. Apart from several brief appearances, Noone stayed in virtual musical retirement until the late 1990s when to the delight of his fans he began touring extensively again. So somewhat confusingly you may now come across two different sets of 'Herman's Hermits' on the road.
Info courtesy of: www.45-rpm.org.uk


Ryan Diamond - guitar, vocals
Richie Bell - bass, vocals
Andy Rhodes - drums
Glasgow's young, unsigned Hi 5 Alive play "Cheeky guitar pop" and have released a track 'Stutter' through a Riot Van Records compilation album. They have played at the ABC2 in Glasgow and recently were invited to record 3 acoustic tracks for Jim Gellatly's XFM radio show.
If you can add any further information to this piece please contact me here




Pix above © Sheenagh Mclennan & Jo Freeman
Allan Johnson - vocals
Harry Johnson - guitar
Graeme Bell (Bellsy) - bass
Reg McLennan - drums
Colin Robertson - bass
Neil William Russell - bass
Gavin MacCauliff - drums
A Dunfermline band active around 1978-1981. They played at the ballroom three times. All songs were written by Harry and Allan Johnson. The name allegedly came from their inability to get out of bed!
Bellsy & Colin Robertson also played in Activan though I'm unsure in what order. God knows what happened on 24/05/79 when both bands played the same gig!
They split on 21st February 1981.
If you can add any further information to this piece please contact me here
My thanks to Vicky Johnson, Sheenagh Mclennan & Jo Freeman
Robin McKidd - fiddle, lead guitar, vocals
Davie Craig - vocals, guitar
Tom Harvey - guitar
Later:
Ronnie Reid - stand-up bass
Jim Hyndman - banjo, dobro, mandolin
From Falkland in Fife Scotland, around 1971, this "acoustic country rock" group was a product of the famous Great Fife Road Show. Rab Noakes was known to fill in on vocals occasionally.
They played concerts, festivals, clubs and toured with Billy Connolly and Ralph McTell.
After a split they reformed and released an album 'Live 'n'Pickin'
Davie Craig also played with The Cupar Ceilidh Band
Info courtesy of: www.nigelgatherer.com
Gordon Harris - vocals
Hotdog - guitar
Ian Fyffe - keyboards
John Corson - bass
Kenny Meikle - drums
Glasgow band managed by Leon Catani who also had Sneeky Pete & Sheena Easton on the books at the time!
Info from John Corson

If you can add any further information to this piece please contact me here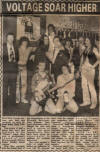 © Springburn Times 26/01/79
Gordon Harris - vocals
Davey Hamilton (Hotdog) - guitar
Jim Price - guitar
Ian Fyffe - keyboards
John Corson - bass
Kenny Meikle - drums
Wullie Turner - vocals (ex Tiger Tim Band)
Ian Morrow - guitar
Springburn locals formed in June 1978 (a previous incarnation was called 'Starfighter') and managed by Leon Catani who also had Sheena Easton on the books at the time!
They won the Dryborough/White Horse Whisky talent contest 1978/9 amongst seven other finalists in front of an audience of 500 held in the Olympia Ballroom East Kilbride with a cheque for £500, 1/2 a gallon of whisky and an audition to appear on Scottish Television, presented by well-known Scottish comedian,Andy Cameron.
Ian Morrow went on to eventually produce 'Emerson, Lake and Palmer' ... 'Wet Wet Wet' and others.
Info from John Corson

If you can add any further information to this piece please contact me here
Jon Elstar - vocals
Ray Minhinnett - guitar, slide guitar, vocals
James Edward Hall - piano, Hammond Organ, keyboards, vocals
John 'Guinness' Gordon - bass, vocals
Ian Byron - drums
Mick Graham- ?
Ian 'Streaky' Leake - management (& mayhem)
A Sunderland band formed in 1973, influenced by American bands such as The Eagles. They produced two 45s, 'Ready' / 'Steam Driving Man' (1973) & 'Cell Block 4' / 'Pisa' (1974) and two albums, 'Smoking At The Edge' & 'Highway' both also in 1974.
Ray Minhinnet & Jim Hall left to form 'Frankie Miller's Full House' in 1976.
Many thanks to ray for the additions/corrections!

David Valentine - vocals
Jim Marshall - lead guitar
Sandie Lax - rhythm guitar
John Cross - bass
Ian Nichol - drums

Raymond James - drums
The Hipple People were a Scottish rhythm & blues/soul band (contemporaries of 'The Beachcombers') formed in 1963/64. Their firsts gig was at Portobello Youth Club in June 1964.
If you can add any further information to this piece please contact me here

George Orr - guitar
Matt O'Neil - guitar
Des McAfrey - bass
Jim McGeachie - drums
Later:
George Orr - guitar
Cosmo Vericho - guitar, ex-Merlin
Gerry Riley - bass, ex-Telephone
Matt Allan - drums
Act from Falkirk (1970-1973) featuring George Orr on Guitar.
Touring extensively, they played with The Pathfinders, Marmalade, The House of Lords, The Writing On The Wall (for whom George Orr co-wrote a song, which was recorded as a B-Side), Studio Six, Agatha's Moment, Beggar's Opera, Chris McClure, The Senate, The Dream Police, The Beat Stalkers, Maggie Bell and Stone The Crows, The Poets, The Stoics, Bay City Rollers, Trash, Black Sabbath, Thin Lizzy, Skid Row (no,... the good one, with Brush Shields and Gary Moore), Rory Gallaher and Taste, Middle Of The Road, The cast of Hair, The Who, Nazareth, Slade, Jack Bruce, and many, many more.
They spit in 1971 then reformed with new members in 1973.
Orr went on to become a Rod Stewart tribute act in The Hod Rod Band in the United States.
Allan Clarke - vocals, harmonica
Graham Nash - guitar, vocals
Vic Farrell - lead guitar
Eric Haydock - bass
Don Rathbone - drums
Later:
Tony Hicks - lead guitar
Bobby Elliott - drums
Bernie Calvert - bass, keyboards
Terry Sylvester - guitar
Mikael Rickfors - bass, vocals
Alan Coates - guitar, vocals
Steve Stroud - bass
Ray Stiles - bass, vocals
Dennis Haines - keyboards
Pete Wingfield - keyboards
Ian Parker - keyboards, vocals
Paul Bliss - keyboards
Peter Arnesan - keyboards
Jamie Moses - guitar, vocals
Carl Wayne - vocals
Steve Lauri - guitar, vocals
Peter Howarth - vocals
(The line-up at the Kinema in 1965 was: Allan Clarke / Tony Hicks / Graham Nash / Eric Haydock / Bobby Elliott)
Although Liverpool can claim to have started the beat boom it certainly didn't hold a monopoly in good beat groups. Manchester contributed its fair share and, arguably, the Hollies were the greatest from that city. The Hollies strength was their ability to harmonise; something which gave them a style that possibly owed more to 'barber shop' than the 'Beatles'.
Graham Nash had begun playing the guitar during his early years at Salford Grammar School where he would practice his chords each lunchtime by the bike sheds with two friends, one of whom - John Eaton - had actually taught him the instrument. Graham took a job in a local sub-post office after leaving school but the music bug had bitten too deeply for that to last for long.
Initially Nash began singing together with Clarke as a duet, but they expanded to a four piece in 1962 taking the name Hollies in deference to their late role model, Buddy Holly. Their first single charted, but their build up was slow compared with many other groups. However, their slow start was followed by a steady and sure flow of highly successful chart hits. They wrote many of the songs themselves including 'Stop Stop Stop', 'On A Carousel' and 'Carrie Anne', all of which were tailor made for the smooth harmonies of Clarke and Nash.
By 1967 Nash decided that he needed to move on because he felt the group's range of material was too restrictive. He went on to join Crosby and Stills and was replaced by Terry Sylvester. The group's style changed slightly and they ceased writing their own material, but the hits continued. into the 1970s.and even achieved a couple of minor placings during the early 1980s. The Hollies have proved to be one of the most enduring of all the 1960s groups and are still going strong today. At the end of 1999, Allan Clarke announced his retirement and his place was filled by former Move vocalist, Carl Wayne. Sadly, Carl passed away on August 31st 2004.
Info courtesy of: www.45-rpm.org.uk
Note: Only The Beatles scored more hits than The Hollies during the sixties and the keyboard player on "Sorry Suzanne" and "He Ain't Heavy" was a chap by the name of Reginald Dwight (aka Elton John!).

Dennis D'Ell - lead vocals, harmonica
Martin Murray - lead guitar
Alan Ward - rhythm guitar
John Lantree - bass guitar
Honey Lantree - drums
Peter Pye - lead guitar
Colin Boyd - vocals Honeybus, and was from then on was known as Colin Hare.
The Honeycombs were one of Joe Meek's greatest successes although they did not stay in the public eye for very long. After recording them at his private studio in Holloway, producer/ 'sound engineer extraordinary' Meek persuaded Pye to distribute their first single. With an enhanced percussive beat, putting their lady drummer 'Honey' Lantree to the fore, the record was an immediate success, and a good example of Meek's clever studio work.
Sadly, the Honeycombs did not have sufficient variety in their repertoire to establish themselves an ongoing niche. Their follow up failed and although they drew consolation with some minor chart entries they could not produce anything to compare with their previous success.
The Honeycombs reformed and continued to perform their enormous 1964 smash hit well into the 21st century. Sadly, Denis Dalziel passed away during July 2005 and the band ceased playing, but resumed again in 2006.
Info courtesy of: www.45-rpm.org.uk
Colin Boyd went on to form Honeybus and was then known as Colin Hare.

Lindsay O'Mahoney - vocals
Martyn Shone - guitar, vocals
London-based pop/rock duo Honey Ryder released their debut album 'Rising Up' at the end of 2008 with the assistance of producers who have worked with such luminaries as Madonna, The Pet Shop Boys & Robbie Williams and recently toured with Will Young.

If their name seems strangely familiar that's because they adopted it from the character portrayed by Ursula Andress in the first James Bond film, Dr. No ... you know, the girl in the white bikini?

Their signature sound is their vocal harmonies (much influenced by Fleetwood Mac) which are in great evidence on the new album & single 'Fly Away'.
They met in a recording studio and have worked in several bands together before Honey Ryder was formed.
Their interesting innovative business strategy involves selling shares in the band for £3,500 each for a 0.5% return on profits from sales, touring and merchandising, while tours have been unusual too, with many dates undertaken in school assemblies and the kids can later buy & download a uniquely recorded version of the single at each school and all the profits go back to the school!

Heavenli Abdi
Naima Belkhiati
Célena Cherry
The Honeyz formed in 1997. Their debut single, 'Finally Found', was released in August the following year and sold more than 500,000 copies, reaching #4 in the UK singles chart. 'End Of The Line' (Dec 98) was placed similarly at #5 and both singles went double platinum in Australia.Their debut album 'Wonder No. 8' went gold with over 200,000 sales.
Heavenli Abdi then decided to leave in March 1999 and former 'Solid Harmonie' vocalist Mariama Goodman replaced her.
Their third and fourth singles,' Love Of A Lifetime' & 'Never Let You Down', both peaked in the top ten in the UK in 1999 with Mariama's debut vocal on the latter. They were nominated for 'Best Newcomer' and 'Best R&B Act' in the MOBO Awards, held on 6 October 1999 in the Royal Albert Hall, London and in the 2000 Maxim awards, they were awarded 'The Best British Girls Band' award, beating The Spice Girls and Eternal. 2000 also saw their fifth single and fifth consecutive top ten hit with 'Won't Take It Lying Down'.
With their sixth single 'Not Even Gonna Trip' completed and a second album planned, Mariama Goodman announced she was leaving in August 2000. Célena and Naima bumped-into Heavenli and her return was agreed. They then recorded her vocal for the new single and another chart hit was notched-up. When they appeared at the ballroom on Friday 30th March 2001 they became the ballroom's first live performers of the 21st century.
'I don't know' was released as their seventh single in August 2001 though poor promotion was blamed for disappointing sales as it only made the top thirty. The eighth single 'Talk to the Hand' failed to chart, the album (Harmony) was in limbo and Mercury Records decided to drop the Honeyz.
Following a period of reflection during which the rumour mill was in full flow, they reformed in 2002. In June 2003 Célena released a one-off single 'This is your Night' with her cousin Alani as 'Anotherside'.
In January 2005, The Honeyz sang on an Asian tsunami relief charity single, 'Grief Never Grows Old' with Boy George and Sir Cliff Richard. Shortly thereafter Naima Belkhiati left and Célena's other cousin, Candii Cherry joined. Naima tried her hand at acting and appears in 'Alien Autopsy' (2006).
Billy George - vocals
Mike McNeil - lead guitar
Leroy Bedborough - rhythm guitar
Tippy Paton - bass
Fluff Aitken - drums
Later:
Boots Mowat - guitar, vocals
Davy Briggs - drums
Pete Baillie - drums
Tom Kirkwood - guitar
Kenny Maccallum - guitar
Kev Guthrie - drums
Dunfermline band formed in a local pub called 'Somewhere Else' in 1989 following the demise of 'Ten Tall Men'. They played both locally and strayed as far as Holland in 1992.
The band name came from a former band of Leroy's. They reformed in late 2009 and played a number of gigs following a support for Stiff Little Fingers in 2010 at Velocity. They are still active in 2013.

If you can add any further information to this piece please contact me here
Jim 'The Welly' Kelly - guitar, vocals
Drew Perey - ?
Ray (or Ron?) Cooper - ?
Mike Dolan - ?
Ken Kindlen - ?
Dundee band active around 1965.
The Honours toured the Isle Of Arran circa 1965-67. They did the circuit of dances at Arran village halls (Brodick/Lamlash/Whiting Bay) during the summer months and at the Glasgow September weekend. Their cover versions included 'Land of A Thousand Dances' (better known as a cover by 'Cannibal & the Headhunters' and 'Wison Pickett' etc.)
Jim Kelly joined Lulu's 'Luvvers' in 1967 before moving to 'The Honeybus' in 1968. In 1969 he released a solo single, 'Mary, Mary' before returning to Dundee in 1970 to join 'Sleaz Band'. Around 1973 he teamed up with local band 'Hunters Key'.
If you can add any further information to this piece please contact me here
Mikael Wiehe - vocals, acoustic guitar, soprano sax, flute
Björn Afzelius - vocals, tambourine
Peter Clemmedson - electric guitar, vocals
Povel Randén - piano, vocals
Arne Franck - bass
Per-Ove "Muffe" Kellgren - drums
Albums:
Garanterat individuell (1971)
Vem kan man lita på? (1972)
På väg (1973)
Fri information (1975)
Hoola Bandoola Band (whose bizarre name came from a phrase used in a Disney cartoon featuring Donald Duck) was one of the biggest selling Swedish prog rock bands. Their first album was elected 'album of the year 1971' after which their songs in subsequent albums often had politically Socialist lyrics. After a break of a year or two they reunited in 1975 for the album 'Fri Information', where the Socialist message was even more unequivocal but the reunion was short-lived and they split once more.
Although most agree that they split in 1975 I have a listing for their ballroom appearance on Friday 12th May 1978! If you can explain this anomaly please contact me.
They reunited in 1996, supporting Bob Dylan and headlining their own nationwide tour. Sadly Afzelius died in 1999.

Hamish Stuart - vocals
Owen McIntyre (aka 'Onnie Mair') - guitar, vocals
Graham Maitland - rhythm guitar
Alan Gorrie - bass, vocals
Stewart Francis - drums, vocals
The In Crowd #1:
Jimmy Oakley - lead vocal
Hughie Nicholson - lead guitar
Graham Maitland - rhythm guitar
Diego Danalaise - bass
Alan Kelly - drums
The In Crowd #2:
Jimmy Oakley - lead vocal
Owen McIntyre (aka 'Onnie Mair') - guitar, vocals
Graham Maitland - rhythm guitar
Diego Danalaise - bass
Alan Kelly - drums
The Scots of St.James #1:
Jimmy Oakley - lead vocal
Owen McIntyre (aka 'Onnie Mair') - guitar, vocals
Graham Maitland - rhythm guitar
Norrie MacLean - bass
Stewart Francis - drums
The Scots of St.James #2:
Jimmy Oakley - lead vocal
Owen McIntyre (aka 'Onnie Mair') - guitar, vocals
Graham Maitland - rhythm guitar
Alan Gorrie - bass, vocals
Stewart Francis - drums
Hopscotch #1:
Hamish Stuart - vocals
Owen McIntyre (aka 'Onnie Mair') - guitar, vocals
Graham Maitland - rhythm guitar
Alan Gorrie - bass, vocals
Stewart Francis - drums
Hopscotch #2:
Owen McIntyre (aka 'Onnie Mair') - guitar, vocals
Graham Maitland - rhythm guitar
Alan Gorrie - bass, vocals
Stewart Francis - drums
This band were formed originally in Glasgow as The In Crowd' (not be confused with the London outfit with 'Twink' amongst their personnel).
Original guitarist Hughie Nicholson soon left for 'The Poets' and was replaced with Owen McIntyre (aka 'Onnie Mair').
When they moved to London without Danalaise or Kelly, who were replaced with Norrie MacLean (from 'The Poets') & Stewart Francis respectively. They became the house band at a fashionable club called 'The Scotch of St James' hence the name change to 'The Scots Of St James'.
They cut a single 'Gypsy' (1966) just before Norrie MacLean was replaced with Alan Gorrie (from 'The Vikings'). They then cut a second 7" 'Timothy' / 'Eiderdown Clown' (1967) and embarked on what turned out to be a highly successful tour of Germany. Upon returning home to Glasgow, Oakley parted form the band for a solo career (and a debut single 'Little Girl') and was replaced by Hamish Stuart from 'The Dream Police' and they set off back to London. At this point, they changed their name once more to 'Hopscotch' but Hamish didn't last and returned to Glasgow.
As a four-piece, without Hamish, 'Hopscotch' cut two singles and on United Artists 'Look At The Lights Go Up' / Some Old Fat Man' (20/06/1968) & 'Long Black Veil' / 'Easy To Find' (23/05/1969).
Hughie Nicholson moved from 'The Poets' to 'Marmalade' & then to 'Blue'.
Graham Maitland would later appear in 'Five Day Rain', Hamish Stuart re-joined 'The Dream Police' and would later work with 'Wings'. After he split, Francis, Travis, McIntyre and Gorrie formed 'Forever More' who released two singles & two albums before McIntyre & Gorrie left to join Hamish Stuart once more in 'The Average White Band' and Travis & Francis formed 'Glencoe'.
Info from: 'The History of Scottish Rock & Pop - all that ever mattered' - Brian Hogg & 'Blue Suede Brogans' – Jim Wilkie
Max Houliston - accordion
Ernie Shear - guitar
Joe Mudele - bass
Bobby Orr - drums
This Scottish accordion dance band have made several recordings.
If you can add any further information to this piece please contact me here
Scottish, keyboard oriented, progressive rock outfit including Alan Pratt. they released one 45 single 'In The Land Of Dreams' / 'Ain't Gonna Wait Forever' in 1969.
If you can add any further information to this piece please contact me here
Info from: 'The Tapestry Of Delights Revisited' by Vernon Joynson.

Mississippi-born Thelma is a Grammy Award winning singer, songwriter and actress who has released over 20 albums and regularly appears live more than 200 times annualy.
She's probably best known for her version of the 'Harold Melvin & The Bluenotes' #5 (January 1977) hit 'Don't Leave Me This Way' which she took to #13 only two weeks later in the UK chart and was consequently the first solo female artist at Motown to win the Grammy Award for 'Best R&B Female Vocal Performance'.
Her acting career includes appearances in films such as: 'Death Scream', 'The Seventh Dwarf' and 'And God Created Woman' while she has also appeared in TV's 'Cagney & Lacey'.
She has toured with Cher, spent almost a year touring Australia with the Broadway musical 'Fame' and has performed for the Pope at the Vatican in Rome.
Her humanitarian work for charitable causes including a passionate support of AIDS charities was recognised by the City of West Hollywood who proclaimed Wednesday 29th January 2003 as 'Thelma Houston Day'.
She continues to perform and record.

Austin Howard is a British pop singer from the Stock Aitken and Waterman stable who had the original hit in 1986 with the SAW penned 'I'm the One Who Really Loves You', later covered by Mel & Kim.
If you can add any further information to this piece please contact me here
Johnny Boyce - fiddle
Jim Dunn - accordion
Tommy Bonnar
Later:
John Watt - fiddle
The Howff Band belonged to the Dunfermline area and took their name from the wee folk club venue in Chalmers Street in Dunfermline known as The Howff (Cellar) which operated between October 1961 and July 1968 which was home to The Dunfermline Folksong Club before they relocated some activity to the Ballroom in 1966 until 1974.
Jim would later become part of 'Heritage' and Johnny Boyce is sadly no longer with us.
If you can add any further information to this piece please contact me here
My thanks to Brian Nobile for this info.
Johnny Hudson and the Teen Beats (Showband)
Johnny Hudson - vocals
Johnny Hudson (John Moran) was associated with several Dundee-based outfits such as 'The Rip Tides' & 'The Hi Four' (who later became 'The Poor Souls') but these appearances were earlier in 1963 with the Teen Beats.
They recorded one 7" 45 called 'Charms' / 'Makin' Up Is So Much Fun' on the Decca label (F11679).
Johnny now lives in Toronto, Canada and was in Dundee's Chambers Bar for a reunion in 2004.
If you can add any further information to this piece please contact me here




Poster 1 On Stage at Velocity 1 On Stage at Velocity 2
(John Murray) (John Murray)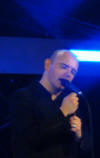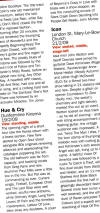 Velocity Poster Pat Kane 1 Pat Kane 2 Gig Review
(John Murray) (John Murray)
Patrick Kane (Cry) – vocals / lyrics
Gregory Kane (Hue) – piano / keyboards / guitar / music
Scots brothers Patrick and Gregory Kane, both from Coatbridge in Strathclyde, formed Hue And Cry in 1986 and released their debut single, 'I Refuse' the same year. Their aim has always been to blend politically charged socially aware lyrics with a smooth soulful, jazz orientated sound but few took notice until 1987 and their second release, 'Labour Of Love' peaked at #6 in the UK chart. Three moderately successful singles followed with 'Strength to Strength' in 1987, a re-released 'I Refuse' and 'Ordinary Angel' in 1988 along with their debut album in 1987 'Seduced and Abandoned' which achieved a #22 spot in the UK. The traditionally difficult follow-up album 'Remote' was released together with a free album 'The Bitter Suite' in 1988 and performed even better at #10.
In 1989 their recounting of the alleged true story of a woman who went out to buy a packet of cigarettes only to end-up on a train leaving her old life behind provided a #15 hit with 'Looking For Linda'.
They followed this success with the 'Violently' EP (#21) and another single in 1989 'Sweet Invisibility'.
Their third album, 'Stars Crash Down' (1991) again hit the #10 slot and featured contributions from Eddi Reader and James Prine (Deacon Blue). 1991 also saw reasonable success with the single, 'My Salt Heart' & EP 'Long Term lovers of pain'.
In 1992 the self-produced fourth album, 'Truth and Love' album failed to break into the top thirty and the accompanying single 'Profoundly Yours' barely charted at #74 and was gone in a week.
However both brothers have more strings to their bows. Patrick has been a television presenter, author and music journalist and was elected the Rector of Glasgow University over Tony Benn. His personal politics have moved from the Labour Party to Scottish Nationalism and he has been instrumental in forming the 'Artists For An Independent Scotland' organisation supported by other Scottish notables such as Fish.
Meanwhile Gregory Kane has become known for composing soundtracks & studio session work.
Though they have abandoned the singles market, they continue to record as Hue And Cry and have released a further four soul / jazz albums between 1994 & 1999 along with the inevitable 'Best Of' compilations.
They won the 'Lifetime Achievement' award at Scotland's Tartan Clef Awards in 2005 and they've performed alongside U2, James Brown, Van Morrison, Madonna and Simply Red.
September 2008 however, has seen the first studio album of new pop material in 16 years and they're back on the road to promote 'Open Soul' with the 'Open Road' tour which kicks-off at The Kinema in Dunfermline on February 19th 2009, eight years after their last visit to the venue in 2001.
Two reviews of their 2009 Velocity appearance can be found here
Vocalist with The Tommy Sampson Orchestra amongst many others.
If you can add any further information to this piece please contact me here




Maurice Greer - drums
Bill Ward - lead guitar
Dave Hartstone - guitar
Frank Hay - bass

The Human Instinct evolved from 'The Four Fours' in 1966 New Zealand when founder member Trevor Spitz decided not to split while the others sought their future in England. His place was taken by Maurice Greer. En-route to Southampton in the UK, they changed their name to 'The Human Instinct' as they played their way to a discounted fare. Having found an agent they were soon supporting Jimi Hendrix, Cat Stevens, Jeff Beck and the Small Faces in some of the more prestigious, well known venues.
Upon returning home to NZ, they began recording a debut album in 1969. They would release four albums and several singles (none of which saw UK chart action) throughout a career which included seventeen different line-ups before splitting in the mid seventies.
Maurice reformed the band in the late nineties and some material was re-released.

Billy Connolly - guitar, banjo, vocals
Tam Harvey - guitar
Aly Bain - fiddle
Gerry Rafferty - guitar, vocals

Billy Connolly was in a band called 'The Skillet Lickers' in the late 1960s, singing Carter Family and Jimmy Rogers stuff, before meeting Tam Harvey, a plectrum guitarist who had played in rock groups. They formed The Humblebums, and at one point Shetland fiddler Aly Bain was a brief "unofficial member". Gerry Rafferty joined the group just before Harvey left, and he and Billy recorded at least two albums together. Rafferty went on to Stealer's Wheel and hit parade success, while Connolly enchanted the world with his improvisational stand-up comedy. Tam Harvey went on to play with 'The Other Half' and form the Fife-based High Speed Grass with David Craig.

The Humblebums' recordings include: 'First Collection of Merry Melodies', 'The Humblebums' & 'Open Up the Door'.

Sadly Gerry Rafferty died, aged 63, on January 4th 2011.

Info courtesy of: www.nigelgatherer.com

Billy Hunter & His All-Star Band

Billy Hunter - trumpet
Horace Demarco - alto saxophone, clarinet
John Graham - tenor Saxophone
Jack Sinclair - double bass
Tommy Wallace (senior) - drums
David Jack - vocals

Billy Hunter & His All-Star Band were in fact The Topnotchers without Billy Hunter's brother Cecil, who was the Kinema Ballroom's manager May 1959 - 1973 and would become infamous locally as 'the man who turned down The Beatles'! Billy on the other hand received a medal award from The Melody Maker as The Best Trumpet Player In Scotland!

Tommy Wallace (senior) is father to Tommy Wallace (junior) who played drums with The Red Hawks. He also has three other sons and a grandson, all of whom play drums! Tommy Wallace (senior) still plays occasionally, at the tender age of 87!

Horace Demarco went on to form Horace Demarco & The Kool Beats including David Jack, who played at the ballroom 125 times. Horace also appeared on Scottish TV in the sixties.

If you can add any further information to this piece please contact me here

Andrew Irving - vocals
Allan Dougall - bass
Robert Swan - rhythm guitar
Bob Hislop - lead guitar
Robert Dougall - drums
Watty Robertson - lead guitar

Formed around 1962, The Hurricanes were from Linlithgow, West Lothian and they often played in the borders region of Scotland when not at the ballroom. When Ned Hislop left the band to move out to Canada in 1965, Alan Dougall invited Watty Robertson to take over lead guitar. He stayed for about a year.

If you can add any further information to this piece please contact me here

Jimmy Hutchison was born in Frobost, on the island of South Uist, Scotland and lived there for the next ten years speaking both Scots/English & Gaelic before moving to Perth.
His understated, usually unaccompanied, singing style is traditionally Gaelic though the words are most commonly Scots and despite his undoubted popularity, he has remained a full-time joiner and draughtsman.
He was a member of The Great Fife Roadshow with artists such as: Barbara Dickson, Rab Noakes, Pete Sheppard, Artie Trezise, Cilla Fisher, John Watt, Davey Stewart, Davie Craig, Noel Farrow and Jim Herd, playing folk clubs & village halls.
If you can add any further information to this piece please contact me here