Biogz
'I'
Here you will find some short biographies (biogz) of solo artists whose surname commences with this letter or bands with names commencing with this letter (omitting any commonly used prefix such as 'The').
Click on the name below or scroll down the page at your leisure.
Ian van Dahl
Idlewild
If
Ignatz
Hamish Imlach
The In Crowd
The Incredible String Band
The Index
Insect Bites
The Internationals
The Interstate Roadshow
Tippa Irie
Iron Maiden
Iron Virgin
Isa and the Filthy Tongues
The Islanders
The Ivy League

Annemie Coenen - vocals
You'd be forgiven for assuming I've got this biog listed incorrectly under 'I' rather than 'D' for Ian's surname, however 'Ian van Dahl' isn't a male soloist, in fact nothing could be further from the truth. 'Ian van Dahl' is a project name fronted by beautiful vocalist Annemie Coenen, who co-writes most of the songs, backed-up on stage by two great dancers from the Belgium danceschool 'The Move'.
Annemie Coenen was born in Herk-de-Stad, Belgium, on 14th July 1978 and even as a young girl she had ambitions to attend fashion school in Antwerp. To finance this goal, Annemie began several part-time jobs, including gigs at a carwash, a factory and in a doctor's office. A couple of hard-earned holidays with friends in Ibiza, Spain resulted in a change of musical tastes from Lenny Kravitz and Prince to dance, house and trance!
Returning home she recorded a demo and an A&R exec at a Belgian music label was arranged for her to record a vocal track written by the fledgling 'Ian van Dahl'. 'Castles in the Sky' was released in summer 2001 and was an instant hit with a #3 UK chart position in July 2001.
The debut album, 'Ace', (June 2002) went 'gold' in the UK in only three weeks and included eight tracks written by Annemie. Two more UK top ten singles followed with 'Will I' & 'Reason' facilitating tour dates in many diverse countries. Awards followed though their second album 'Lost and Found' (2004) failed to make a UK chart appearance. A third album is planned and extensive touring continues throughout 2005 & 6 with dates in the USA and in the UK in 2007.
Roddy Woomble - vocals
Rod Jones - guitar
Allan Stewart - guitar
Gareth Russel- bass
Colin Newton - drums
Others:
Phil Scanlon - bass
Bob Fairfoull - bass
Gavin Fox - bass
Roddy Woomble, Colin Newton and Rod Jones met at a party and the embryonic idea of forming a band was kicked around. Phil Scanlon was recruited later because he owned a bass and the resultant band were named Idlewild (after the quiet meeting place in the 1908 Canadian novel 'Anne of Green Gables' by Lucy Maud Montgomery) in the December of 1995.
Their first songs were written with gloves on because their practice room was so cold and the first gig on 16th January 1996 took place for 30 friends in the Subway Club, Edinburgh. Others followed and they land a monthly residency in Edinburgh's Cas Rock Cafe. In mid 1996 they record 'House Alone', 'Suicide' and 'Paranoid' and this helps them spread their wings to the west with some Glasgow shows. Later in October 1996 they record 'Self Healer', 'Queen of the Troubled Teens' and 'Faster' and release a self financed 7" single on the 'Human Condition' label released on March 17th 1997 and gains some interest from the likes of Radio One DJ Steve Lamacq.
Earlier that year 1997 Phil Scanlon leaves and later becomes a highly successful chemical engineer in the USA and is replaced by fan & friend Bob Fairfoull. Later that year they venture down to London for some showcase gigs where they are famously and affectionately compared to "a flight of stairs falling down a flight of stairs" and some higher profile supports result. Recording continues with a second single 'Chandelier' (released in December 1997) and 6-track mini album 'Captain' (released in January 1998) which helps to land them a deal with Food Records/EMI transforming them into busy professional musicians and they go off on their first UK tour, supporting pop punk band 'Midget'.
1998 also sees another single 'Satan Polaroid' and their first full length album 'A Film for the Future' (released in April) and amid continued touring they also release singles 'Everyone Says You're so Fragile' and 'I'm a message' before a second album 'Hope is Important' is released in October. They also tour with Ash and appear in the States and Japan before the year is out.
Single 'When I Argue I See Shapes' (UK chart #19) is released in early 1999 and they tour Europe with 'Placebo' then 'The Manic Street Preachers', picking up accolades such as 'Britain's best live band'. A change of direction follows much song writing back home and they are invited to play at the opening of the Scottish Parliament in Edinburgh. They play extensively at home, in Europe and USA and continue to record.
The next single 'Actually it's Darkness' sees them break the top 30 in the UK and their first 'Top of the Pops' appearance follows along with a Chanel 4 documentary. The next album '100 Broken Windows' (released on 15th April 2000) goes silver in the UK and they go touring with Muse in Europe before releasing singles 'These Wooden Ideas', then 'Roseability' and touring with 'Placebo' again.

'100 Broken Windows' is named "the number one album you didn't hear in 2000" by American music magazine 'Spin' and the US release it one year after the UK in April 2001 and perform 'Little discourage' on the 'The Late Show with David Letterman'.
The next single 'You Held the World in your Arms' enters the UK charts at #9 in 2002 and a headline UK tour precedes the next album 'The Remote Part' which enters the UK charts at #3 and goes gold. Touring moves to Europe for 4 months and includes an arena appearance with Coldplay. In September bassist Bob Fairfoull leaves the group to join Degrassi and is replaced with Gavin Fox and live additional guitarist Allan Stewart joins the band full-time. The Scottish Sunday Herald name Idlewild band of the year 2002.

In 2003 they tour Australia and cement-in the new guys. 'The Remote Part' is released in the US and their headline tour takes 9 weeks. US dates with 'Pearl Jam' follow as does an opener for 'The Rolling Stones' at the SECC in Glasgow. They then head to Los Angeles to record the next album 'Warnings/Promises' from which their 4th top 20 chart single 'Love Steals us from Loneliness' comes. The album receives 'cool' reviews. Inevitably touring continues both in the UK, Europe and elsewhere including openers for 'U2', 'REM' and 'The Pixies' before the US promotion of 'Warnings/Promises'.
2006 was the year Idlewild took some time out from the public eye while Roddy & Rod explored folk more seriously to write and release Roddy's album 'My Secret is my Silence' and also the year when Gavin Fox was replaced by their 4th bassist, Gareth Russell.
The next album 'Make Another World' is released in March 2007 and they tour Japan and the UK once more. A greatest hits compilation 'Scottish Fiction - Best of 1997-2007' (including a live DVD) and rarities collection 'A Distant History - Rarities 1997-2007' are released. They finish 2007 with an appearance at Edinburgh's hogmanay celebrations win the best festival act award at the Tartan Clef awards.
In December 2008 they played all of their studio albums in full at five gigs in Glasgow' 'King Tut's Wah Wah Hut' and in 2009 released a new album 'Post Electric Blues'. Some more solo material is in the pipeline too.

J.W. Hodkinson - vocals, percussion
Lionel Grigson - keyboards, vocals
Dick Morrissey - saxophones, flute, vocals
Dave Quincy - saxophones
Daryl Runswick - bass
Terry Smith – guitar
Spike Wells - drums
Later:
John Mealing - keyboards, vocals
Jim Richardson - bass
Dennis Elliott - drums
Cliff Davies - drums, vocals, synthesizer
Dave Greenslade - keyboards
Dave Wintour - electric & acoustic guitar, bass, vocals
Pete Arnesen - keyboards
Kurt Palomacki - bass
Steve Rosenthal - guitar, vocals
Fi Trench - piano
Gabriel Magno - keyboards
Walt Monaghan - bass guitar and vocals
Mike Tomich - bass guitar
Geoff Whitehorn - guitars and vocals

Described by 'Billboard' as "unquestionably the best of the so-called jazz-rock bands", this seven-piece British jazz fusion outfit formed in 1969.
Favourable comparisons have been made with with Chicago and Blood, Sweat & Tears. Extensive European and American tours were undertaken.
Eight studio albums were released: 'If' (1970), 'If2' (1970) 'If3' (1971), 'IF4' (1972), 'Waterfall' (1972), 'Double Diamond' (1973), 'Not Just Another Bunch of Pretty Faces' (1974) & 'Tea Break Over, Back on Your 'Eads (1975).
They split in 1975.
'Forgotten Roads: The Best of IF' followed in 1995 and live albums in 1997 'Europe '72 (Live) and 'Fibonacci's Number: More Live IF' in 2010.



Kingdom Come Ignatz (the cartoon mouse)
Dave Amos - vocals
Audrey Craig - vocals
Gordon Dougall - keyboards
Gerrard Lohan - guitar
Derek 'Dek' Reid - bass
Des Travis - drums
Pauline Carlin - vocals
Ignatz rock / soul outfit toured throughout the UK. Repertoire included: 'Breakfast At Tiffany's', 'I Don't Care', 'Emergency', 'Go Out & Get It'. Their guitarist once described their sound as "jute mill reggae".
They were named after a cartoon mouse from the 'Krazy Kat' American cartoon strip - a sort of 'Tom & Jerry' with attitude - the kat was in love with the mouse but all the mouse wanted to do was hurt the kat in as many ways as possible.
Info from Dunfermline fanzine 'Kingdom Come' Issue No6 January 1978 and from Des Travis himself!
Hamish Imlach was one of the greats in the Scottish folk scene of the 1960s to 1980s. Although he was born on 10th February 1940 in Calcutta, he was a Scotsman and a Glaswegian of note. He had a huge reputation for generosity and is fondly remembered by all who met him. According to Ewan McVicar, Hamish Imlach was "...one of the founders of the Folk Revival in Scotland, a raconteur who taught Billy Connolly, a singer who taught Christie Moore, a blues guitarist who taught John Martyn". He died on New Year's Day 1996.
Info courtesy of: www.nigelgatherer.com
At age sixteen, the legendary folk/rock singer/songwriter John Martyn carried Hamish's guitar to gigs in return for guitar lessons!
The In Crowd #1:
Jimmy Oakley - lead vocal
Hughie Nicholson - lead guitar
Graham Maitland - rhythm guitar
Diego Danalaise - bass
Alan Kelly - drums
The In Crowd #2:
Jimmy Oakley - lead vocal
Owen McIntyre (aka 'Onnie Mair') - guitar, vocals
Graham Maitland - rhythm guitar
Diego Danalaise - bass
Alan Kelly - drums
The Scots of St.James #1:
Jimmy Oakley - lead vocal
Owen McIntyre (aka 'Onnie Mair') - guitar, vocals
Graham Maitland - rhythm guitar
Norrie MacLean - bass
Stewart Francis - drums
The Scots of St.James #2:
Jimmy Oakley - lead vocal
Owen McIntyre (aka 'Onnie Mair') - guitar, vocals
Graham Maitland - rhythm guitar
Alan Gorrie - bass, vocals
Stewart Francis - drums
Hopscotch #1:
Hamish Stuart - vocals
Owen McIntyre (aka 'Onnie Mair') - guitar, vocals
Graham Maitland - rhythm guitar
Alan Gorrie - bass, vocals
Stewart Francis - drums
Hopscotch #2:
Owen McIntyre (aka 'Onnie Mair') - guitar, vocals
Graham Maitland - piano/organ, vocal
Alan Gorrie - bass, vocals
Stewart Francis - drums
Formed in Glasgow, this band should not be confused with the London outfit with 'Twink' amongst their personnel.
Original guitarist Hughie Nicholson soon left for 'The Poets' and was replaced with Owen McIntyre (aka 'Onnie Mair').
When they moved to London without Danalaise or Kelly, who were replaced with Norrie MacLean (from 'The Poets') & Stewart Francis respectively. They became the house band at a fashionable club called 'The Scotch of St James' hence the name change to 'The Scots Of St James'.
They cut a single 'Gypsy' / 'Tic Toc' (1966) just before Norrie MacLean was replaced with Alan Gorrie (from 'The Vikings'). They then cut a second 7" 'Timothy' / 'Eiderdown Clown' (1967) and embarked on what turned out to be a highly successful tour of Germany. Upon returning home to Glasgow, Oakley parted form the band for a solo career (and a debut single 'Little Girl') and was replaced by Hamish Stuart from 'The Dream Police' and they set off back to London. At this point, they changed their name once more to 'Hopscotch' but Hamish didn't last and returned to Glasgow.
As a four-piece, without Hamish, 'Hopscotch' cut two singles and on United Artists 'Look At The Lights Go Up' / Some Old Fat Man' (20/06/1968) & 'Long Black Veil' / 'Easy To Find' (23/05/1969).
Hughie Nicholson moved from 'The Poets' to 'Marmalade' & then to 'Blue'.
Graham Maitland would later appear in 'The Fleur De Lys' & 'Five Day Rain'. Hamish Stuart re-joined 'The Dream Police' and would later work with 'Wings'. After he split, Francis, Travis, McIntyre and Gorrie formed 'Forever More' who released two singles & two albums before McIntyre & Gorrie left to join Hamish Stuart once more in 'The Average White Band' and Travis & Francis formed 'Glencoe'.
Info from: 'The History of Scottish Rock & Pop - all that ever mattered' - Brian Hogg & 'Blue Suede Brogans' – Jim Wilkie

Robin Williamson - vocals, guitar, harp, banjo, fiddle, flute, penny whistle, etc.
Clive Palmer - banjo
Mike Heron - rhythm guitar
Later:
Christina 'Licorice' McKechnie - harp, violin, percussion
Rose Simpson - bass, violin, percussion, vocals
Malcolm Le Maistre - various
Gerard Dott
Stan Schnier
Jack Ingram
Graham Forbes
John Gilston
Bina Williamson
Lawson Dando
Claire Smith
The Incredible String Band was a Scottish psychedelic folk band formed in 1965.
Palmer left after the first LP. Mike and Robin carried on as a duo. Mike's 'Painting Box' from 5000 Spirits is now a club standard.
They played at the legendary Woodstock festival and produced a sequence of hippy influenced folk albums until 1974 when they split until reforming between 1999 and finally splitting again in 2006.
Note this Robin Williamson is NOT the brother of Roy Williamson of 'The Corries' as often stated (though Roy did have a brother called Robin) ... though just to complicate things ... The Corries did perform & record 'October Song' which was written by Robin Williamson of The Incredible String Band
Note that though Roy did have a brother called Robin ... this is NOT Robin Williamson from The Incredible String Band as is often stated (though just to complicate things ... The Corries did perform & record 'October Song' which was written by Robin Williamson of The Incredible String Band!
Gillie Cutkelvin - vocals
Colin MacKellar - guitar
Brian McNally - keyboards
Billy McGhee - bass
Mike Galloway - drums
Later:
Phil Beeson - vocals
Brian Spence - guitar
Billy McGee later joined Scottish band 'RAF' in the early eighties, Gillie Cutkelvin also played with Maxi's Taxi from the same timeframe as The Index and Brian Spence later joined 'Bilbo Baggins'.
My thanks to Billy McGhee for the information above,
If you can add any further information to this piece please contact me here
'Matt Vinyl & The Decorators' formed in 1977 in Edinburgh.
Matt Vinyl (Mathew Black) - bass
Dave Christie - vocals
Joe Telford - guitar?
Roadie - John MacDonald
Formed in Edinburgh in 1977, 'Matt Vinyl & The Decorators' recorded a 7" flexi disc 'Useless Tasks' on 'Housewife's Choice' in the same year. They played 'The Roxy' (London) on Sunday 26th February 1978 with 'Muvvers Pride' / 'The Plague' / 'The Public' & 'French Lessons'. Their self-penned song 'Love, Forgiveness and Deception' was a regular live set piece. Other songs included: 'Sex & Violence' & ' Working For The JCP'. They would later rename as 'Insect Bites'.
Matt Vinyl (Mathew Black) - bass
Colin Bendall - guitar
Joe Telford - guitar?
Mike Baillie - drums
Later:
Murray Fergusson - vocals
(previously with 'The Family On Holiday')
After Insect Bites split sometime in 1980, Joe Telford went on to play in 'Epsilon' with Drew Farmer and John ? of the Cheetahs and Robert Sandall from a band called 'London Zoo' who went on to be a VH1 presenter and a music journalist for the Sunday Times.
In late 1979 Matt was the singer in a band called 'Fun City' with Ronnie Mackinnon of 'The Valves' - guitar, Gary (later of 'The Exploited') - bass and Callum (Plastic Mac) MacKay from 'The Scars' on drums.
Mike Baillie also played with 'Abnormal Load' (with Speccy Potter - guitar & Johnny Thornton - bass (and eventually later in The Skids).
I'm indebted to Kirstine Burnett for much of the above.
If you can add any further information to this piece please contact me here

Bob Maggiora - accordian, keyboards, vocals
Steve McGinnis - bass, tuba, vocals
Portor Goltz - percussion, vocals
Jan Meere - horns, keyboards, vocals
The Internationals perform traditional dance music from: Germany, France, Switzerland, Italy, the Netherlands, Czechoslovakia, Yugoslavia and from their base in America, even including a little rock 'n' roll. Bob, Steve, Portor and Jan yodel and sing in several different languages while wearing authentic European costumes.
Bob and Portor began performing together professionally while still in high school in 1967. They went on to win the California Talented Teen contest in 1969, winning a recording contract and cutting their first records at Action Recording.
Steve joined in 1973 and Jan is the most recent addition. They have performed on stages all over the USA and Europe.
The Internationals are the nucleus of the 'Chico Bavarian Band' a 21 piece Oktoberfest style brass band who also play 'big-band' style music from the '30s and '40s. They have recorded several albums.
Nine-piece psychedelic beat group, 'The Interstate Roadshow' released a 7" single 'Grindy Grind' / 'All I Wanna do is Love You' (1969) on 'President' label for Admiral Records in the UK, while the songs were reversed to 'All I Wanna do is Love You' / 'Grindy Grind' for the German release a month later.
If you can add any further information to this piece please contact me here

Born 'Anthony Henry', 'Tippa Irie' was instrumental in developing the fast talking style chat now used by rappers like Busta Rhymes. He toured extensively with his DJ friend Pato Banton throughout the 80s, both going solo in the early 90s and reuniting again 10 years later. Tippa's late sister was MC Miss Irie.
Tippa has produced more than 15 albums though none have charted here in the UK, though his singles have faired better, 'Hello Darling' (1986) at #22 being his first and most successful. His US career has been much more fruitful with several #1 hits.
He hosts his own weekly London radio show & he remains one of the most respected & requested Reggae entertainers.
Clive Burr - drums
Paul Di'Anno - vocals
Blaze Bayley - vocals
Dennis Stratton - guitar
Doug Sampson - drums
Paul Cairns - guitar
Paul Todd - guitar
Dave Mac - guitar
Tony Parsons - guitar
Dennis Wilcock - vocals
Terry Wapram - guitar
Thunderstick - drums
Tony Moore - keyboards
Barry Purkis - drums
Ron Matthews - drums
Bob Sawyer - guitar
Terry Rance - guitar
Paul Day - vocals
Dave Sullivan - guitar
Bruce Dickinson - vocals
Dave Murray - guitar
Adrian Smith - guitar, vocals
Janick Gers - guitar, vocals
Steve Harris - bass
Nicko McBrain - drums
Iron Maiden's impressive discography includes more than: 35 singles (one #1 and 13 other top ten) & 32 albums (3 #1s and 18 other top ten).
A traditional heavy metal band, Iron Maiden were originally formed in London by Steve Harris, Paul Day, Dave Sullivan, Terry Rance & Ron Mathews on Christmas day 1975, however some months later the line-up was: Steve Harris, Dave Murray, Paul Di'anno & Doug Sampson. Their first recorded outing was 'The Soundhouse Tapes' EP cassette which led albeit indirectly to a deal with EMI in 1979.
Clive Burr replaced Sampson and Dennis Stratton replaced Tony Parsons and their debut single 'Running Free' reached #34 in February 1980 followed by their eponymous debut album which saw #5. Bucking the trend of interest in punk, they led a new wave of British heavy metal. By the time the #1 album 'The Number Of The Beast' (1982) had been released, Di'anno had been replaced by Bruce Dickinson & they were joined on stage by their mascot 'Eddie'. Massive worldwide tours and many successful releases have followed. In 1992 hilarious paranoid controversy followed the release of 'Bring Your Daughter to the Slaughter' amongst the moral guardian fossils of England which of course only fanned its popularity.
Dickinson left for a solo career and was replaced by Blaze Bailey.
At their gig at the ballroom on 17th May 1980, they were accompanied by DJ Neal Kay and support band Praying Mantis.
The set list was a follows:
The Ides Of March / Sanctuary
Prowler
Wrathchild
Remember Tomorrow
Charlotte The Harlot
Killers
Another Life
Transylvania
Strange World
Innocent Exile
Phantom Of The Opera
Iron Maiden
Running Free
Drifter
I've Got The Fire
Women In Uniform
Stuart Harper - vocals
Laurie Riva - lead guitar
Gordon Nicol - guitar
Marshall Bain - bass
John Lovatt - drums
Iron Virgin were an Edinburgh pop / glam / prog rock band formed in 1972 who hardened up their original moniker 'Virgin' with the addition of the prefix 'Iron' to reflect a harder image. In 1973 Decca's producer Nick Tauber (who worked with Thin Lizzy) described them as "the best live band I've seen since The Move". Their early appearance has been described as having a 'Clockwork Orange' feel, while they later adopted American football shirts and chastity belts!
As Nicol told The Guardian in 2002: "We used regular crash helmets, painted them, and added aluminium tubing around the face to look like faceguards. And we bought oversized T-shirts, used foam for padding, then [Harper] sewed numbers on the shirts. With our bright yellow loon pants and platform boots we looked quite a sight."
They released two Deram singles: 'Jet' / 'Midnight Hitcher' (Feb 1974) & 'Rebels Rule' / 'Ain't No Clown' (Jun 1974). Their version of 'Jet' was overshadowed inevitably by McCartney's own version when released as a single.
They played at the Kinema Ballroom twice in 1972 and once each in '73 & '74'.
If you can add any further information to this piece please contact me here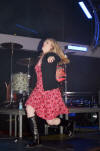 © Ian Sloan © Ian Sloan © Ian Sloan © Ian Sloan
Stacey Chavis - vocals
Martin Metcalfe - lead guitar, backing vocals
Fin Wilson- bass guitar
Derek Kelly - drums
Edinburgh-based post punk / psychobilly / surf band Isa and the Filthy Tongues include; Martin Metcalfe, Derek Kelly & Fin Wilson who are all ex-Goodbye Mr Mackenzie / Angelfish (whose fourth member was Shirley Manson now Garbage).
They list their influences as: The Pixies, Echo & The Bunnymen, Nick Cave, Link Wray, The Kinks, Angelfish & Goodbye Mr. Mackenzie and they have worked with Blondie, The Ramones & The Talking Heads.
They released an album 'Addiction' in 2006 and re-released it in November 2008 and have just completed work on a movie by Richard Jobson called 'New Town Killers' which was premiered in Leicester Square Odeon. Official release date March 2009.
Richard wrote the lyrics to the Theme song and Martin Metcalfe sings lead vocals on the track (this will be released as a single in Jan 2009).

The band also have a new album to be issued in March 2009.

The song 'Big Star' is to be featured in a Hollywood movie called 'Spread' starring Ashton Kutcher and directed by David Mackenzie (due out March 2009).
Set list for the Kinema gig on December 18th 2008 with The Rezillos + Bruce & Jamie Watson:
Nae Tongues
Dreamcatcher
Trouble
Why Did You Leave Me?
Finders Fuckers
Celebration Girl
City of Love
Jim's Killer
Sorority Girl
Big Star
I'll Do What I Want To
Hard
Info from Isa and the Filthy Tongues myspace

Iain MacKintosh - banjo
Jim Craig
Nancy Craig
Pete Furnish - double bass
John Noble - guitar
Eddie Pollard - guitar
Alex Hutton
Jim and Nancy Craig, who seem to have been the main members of The Islanders, lived in the Mount Florida area of Glasgow, Jim being a University lecturer. They started out with a concert party ran by Charlie Sweeney in Pollock Community Centre in Glasgow (they returned in 1969 to play in a benefit concert). Nancy left the group when she became pregnant.
When The Islanders started in about 1964 they included a very young Iain MacKintosh, who went on to a successful solo career. The bass player was Pete Furnish; he drove a Mini Cooper, and to get his double bass into the car he had to take out the front seat, while his girlfriend had to sit in the back. Pete was in the group "...from the time that the banjo player left because his pawnbroker business was keeping him too busy..." Pete left in 1968/9 to a job in motor sport, moving to Northern England. After a stint as a chartered accountant, Pete has now retired, but still plays bass, mainly in jazz combinations.
Other members of the group included guitarist John Noble, who worked for the civil service in London from the mid-60s-mid-70s. He continued to play guitar and gave lessons. John was replaced by Eddie Pollard. By 1968 Iain MacKintosh had left, and subsequently Alex Hutton was an active member. The Islanders featured in a BBC television series called 'The Making of America' (or something similar) in the mid-1960s. The series was presented by a University history professor and each week they performed one or more songs related to the unfolding story.
Info courtesy of: www.nigelgatherer.com

John Carter - vocals
Ken Lewis - guitar, vocals, songwriter
Perry Ford - vocals
Bill Clarke - bass
Tony Burrows - vocals
Neil Landon - guitar
Robert Young - vocals
Jon Brennan - bass, vocals
Dave Buckley - drums, vocals
Mike Brice - guitar, vocals
Birmingham born John Carter and Ken Lewis had previously been the inspiration behind the uncharted Carter Lewis And The Southerners (an early 1960s, rock band). The pair were skilled songwriters who had first tasted success with Mike Sarne's 'Will I What' which featured Billie Davis. There is no doubt that their ear for a good pop song had at least as much to do with their success as their experience as singers. They had developed a close harmony style similar to that adopted by the Hollies and always put on a good vocal performance. In fact the group became a vehicle for publishing the songs that stemmed from the Carter-Lewis partnership along with competent contributions from Perry Ford. They wrote and performed for the BBC's "Easy Beat" and "Saturday Club" and provided backing vocals on such hits as The Who's 'I Can't Explain'.
However, John Carter decided that he'd had enough and was replaced by a friend called Tony Burrows following the release of their fifth single. Tony Burrows had previously sung with the Kestrels in the company of Roger Cook and Roger Greenaway. This enabled the group to keep going until Ken Lewis too decided to pull out. The Ivy League had one further hit without their two accomplished songwriters before being transformed into the 'Flowerpot Men' in 1967 (whose memorable hit 'Let's Go to San Francisco' reached number 4 in the UK singles chart) with Messrs Carter and Lewis working purely as songwriters, arrangers, producers and studio based musicians. The new group was almost as short lived as 1967's 'summer of love' and soon disappeared. Carter and Lewis then pursued their careers as writers of songs and jingles, never emerging again into foreground 'pop'.
Lewis & Carter wrote several 1960s hits including Herman's Hermits' 'Can't You Heart My Heartbeat', Brenda Lee's 'Is It True?', the Music Explosion's 'Little Bit o' Soul', and Peter & Gordon's 'Sunday for Tea'.
Later successes included 'Beach Baby' (a #13 UK chart hit for First Class in 1974).
Many thanks to www.45-rpm.org.uk & David Adamson of Paradox.