Biogz
'M'
Here you will find some short biographies (biogz) of solo artists whose surname commences with this letter or bands with names commencing with this letter (omitting any commonly used prefix such as 'The').
Click on the name below or scroll down the page at your leisure.
(The Rt. Hon.) Jimmy MacBeath
Macbeth Periscope
Grace MacCleaver's Broadcast Band
Ewan MacColl
Josh MacCrae
Gerry MacKenzie
Iain MacKintosh
Bobby MacLeod
Jim MacLeod & His Band
Iain MacPhail and His Band
Iain MacPhail and His Broadcasting Band
Iain MacPhail's Scottish Country Broadcasting Band
Madness
Mafia
The Magic Lantern
Mahatma Kane Jeeves
Tommy Makem
Makossa
Mama's Little Children
Man To Man
Manfred Mann
Mangas Colorado
Kelly Marie
The Mark V
Marmalade
The Marshmallow 400
Mass Consensus
Matrix
Al Matthews
Maxi's Taxi
May Blitz
John Mayall's Bluesbreakers
The McCalmans
The Ian McCallman Folk Group
Lyn & Graham McCarthy
The Chris McClure Set / Section
George McCrae
Alastair McDonald
Matt McGinn
Fraser McGlynn and his Broadcasting Band
Jim McHarg's Scotsville Jazz Band
George McIntyre
Robin McKidd
The McKinleys
Pat McNulty
The McPeakes
Morris McPhillips
Me & Them
Medicine Head
The Memphis Roadshow
The Meridians
Merlin
The Merseybeats / The Merseys
Mickey Finn
Middle Age Spread
The Migil Five
Jimmy Miller
Garry Mills
Kevin Mitchell
Modern Faces
The Mojos
Moll's Myre
Jay Mondi
Zoot Money (And The Big Roll Band)
Monolug
Matt Monro
The Montanas
The Moody Blues
Christy Moore
Mike Moran
Morgan
Dave Moses
Mott The Hoople
The Move
The Mudlarks
Noel Murphy
Olly Murs
The Music
Jimmy MacBeath (aka The Rt. Hon. Jimmy MacBeath)

Jimmy MacBeath was born in the North-east of Scotland in Portsoy, Banffshire in 1894 and, like most of his generation; he began work as a farm servant at the age of 13. He was fee'd at Brandon's Fair (a local hiring fair) to a farm at Deskford and for his first six months as a halflin he received, over and above his keep, four pounds for his pay. For the second half of the year the pay was raised to the princely sum of five guineas. After some years of farm work, he began a life of travel which took him the length of Britain from Shetland to the Channel Isles - and over to Ireland and Canada. In 1951 he was 'discovered' by Alan Lomax who was on one of his first collecting trips to Scotland.
Jimmy's repertoire included a wide range of traditional songs of the area, but he was particularly famed for his renditions of comic songs and bothy ballads. The bothy ballad, with its direct sentiment, realistic humour and, on occasion, bitter irony, is to many the typical song of North-east Scotland. In his latter years Jimmy MacBeath, who died on 6th January 1972, had become known as one of the country's finest bothy ballad singers. During the 1960s he was invited as a guest artiste to many of the Scottish folk clubs and I remember several magnificent nights in the Star Hotel in St Andrews - on one occasion when he was joint guest with the great Aberdeen ballad singer Jeannie Robertson and most of the resident singer/ organisers of the Aberdeen Folk Club.
In his younger days on the farms life was hard, the hours long, and the food and conditions often little better than that of the farm animals. Only the close-knit community life, the homemade entertainment, and the resilience of the human spirit made such an existence bearable. The meanness of some of the farmers with both food and money made matters worse: "Some farms were very tight wi the food - oh yes, very! Very tight wi the food! Some farms were very good wi the food again. But it was slavery days all the same. You workit the whole six months before you got any money at all. Oh they wouldn't work that way now, no, no."
To escape this drudgery, many joined up and Jimmy enlisted in the local regiment, the Gordon Highlanders, in time to serve in the trenches in World War I. His army career, some of it in the RAMC took him to England, Ireland and Egypt as well as France. During the depression he was obliged to go on the road where his singing talent, developed in farm bothies and army barrack rooms, stood him in good stead, supplementing the spasmodic wages of seasonal labour. Despite all his wanderings Jimmy remained a North-Easter at heart, always returning to his native district.
In the summer of 1951 while on a collecting trip, Hamish Henderson, who had recently joined Edinburgh University's School of Scottish Studies, and Alan Lomax, the American folklorist, found Jimmy in Elgin and brought to our notice one of Britain's finest traditional singers and one of the major influences on the Scottish folk song revival.
One song that Jimmy introduced to the folk revival of the 1960s was that great song of the open road 'Tramps and Hawkers'. The song was included in Peter Hall's biopic on Jimmy in a 1966 edition of Chapbook and Jimmy's own rendition of the song is on 'Jimmy MacBeath: Wild Rover no More'. The song has since been recorded by several singers and folk bands including Jim Reid's fine version with the Foundry Bar Band on Foundry Bar Band and a recent recording on a Battlefield Band album Battlefield Band: Across the Borders.
Jimmy was also famed for his singing of one of the finest of the 'serious' bothy ballads (in the Greig-Duncan Folk Song Collection: GD 408) - The Hairst o Rettie - a song that tells of the men bringing in the harvest on the farm of Rettie just along the coast from Jimmy's birthplace at Portsoy in Banffshire. This famous song tells of the change over from the scythe to the back delivery reaper, which took place in a big way in the middle 1800s. Jock Duncan, who has recorded the song on his album, Jock Duncan: Ye Shine Whar Ye Stan!, remembers coming across Jimmy singing the song outside the beer tent at the Oldmeldrum games when it was revived after the war in 1947.
Jimmy had a wry sense of humour and a fund of bawdy stories and songs. "The happiest days I spent in my life wis rowed in the airms o' anither man's wife". His version of 'John Anderson My Jo' performed at St Andrews Folk Club in 1967 was even more graphically bawdy than the famous version in Robert Burns' Merry Muses of Caledonia.
By Peter Shepherd: www.springthyme.co.uk
In the twenties, he tramped the length and breadth of Scotland, and further, with his close companion and musician Davie Stewart with whom he would form a friendship that lasted the rest of their lives. (They both died in 1972).
Note this is a different Davie Stewart to the Davey Stewart who played at the ballroom with The Great Fife Roadshow.
Ken Jensen - lead guitar, vocals
Adrian Vettese - bass, vocals
Jim Horn - drums
Alan Gregory - drums
Macbeth Periscope were a three-piece heavy rock covers band from Montrose in Angus, Scotland formed in September 1967 from the ashes of The Blackhawks, though Jim was later replaced by drummer Alan Gregory.
In Christmas of 1969, they decided to join the ranks of The Tommy Sampson Band and took up a residency at The Salutation Hotel in Perth where Tommy's band numbered around thirteen including a six-piece brass section. This was not the end for Macbeth Periscope though who continued to play occasional gigs of their own and also to present the heavier numbers requested by Tommy Sampson's audiences.
Macbeth Periscope were lured away to the states in early 1971 (for seven weeks as it turned out) after impressing American entrepreneur Tom Gooby who was with the US Navy stationed in Scotland. While in the US, they released a single 'Murdering man' / 'Leaving' (1972) both sides written by their bassist Adrian Vettese, recorded at Craighall studios in Edinburgh and pressed in Norfolk Virginia by a small private label called Brock Records. The band played gigs in Virginia, Washington DC and North Carolina and the record got some air-play on a few American rock radio stations. In 1973 they rejoined The Tommy Sampson Band for a short time before they went their separate ways.
Alan Gregory, the drummer went on to play with a number of other bands including Caledonia. Alan then went on to teach drumming around schools in Glasgow; sadly he died a few years ago.
Adrian went on to play with many bands after Macbeth Periscope split up and only stopped performing regularly two years ago. He brought out a Scottish Album under Saltire Songs with his old friend Accordionist Stuart Anderson, and has currently been working with Stuart on both a Country Album and what he describes as his Alternative Album. Still keen on recording and writing material, he has also been collaborating on other projects.
Ken Jensen formed 'KJB' (Ken Jensen Band) in 1974. In 1985 ken joined forces with his brother Ian to form the duo 'Mandate' who still play today.
(Adrian Vettese's cousin is Peter-John Vettese of Jethro Tull & Foreigner. He has also worked with Ian Anderson, Go West, The Pet Shop Boys, Simple Minds, and the Bee Gees).
Their name had no particular significance beyond the desire for an unusual, memorable name with a somewhat Scottish flavour.
I'm much indebted to Ken Jensen for much of the information above.
Grace MacCleaver's Broadcast Band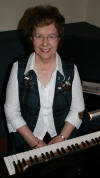 Grace is a keyboard player, currently playing with The Glenfarg Scottish Dance Band.
If you can add any further information to this piece please contact me here.

Ewan MacColl was born Jimmie Miller in Salford, Lancashire to Scots parents on January 25th 1915 & died in London, October 22nd 1989. He was a singer/songwriter, folk music collector, record producer, playwright & actor.
Though probably best known as the author of the song 'The First Time Ever I Saw Your Face', he played a vital role in initiating and extending what is now called the 'folk song revival' in Britain. For sixty years, he was at the cultural forefront of numerous political struggles, producing plays, songs and scripts on the subjects of apartheid, fascism, industrial strife and human rights. He had a large impact on the North American folk music scene as well, not only through his songs but also through the numerous articles he wrote on the subject for U.S. publications.
His daughter, Kirsty MacColl placed a number of songs on UK charts over the years ('Fairy tail Of New York', 'A New England' etc) and was a backup singer on recordings by such top acts as Simple Minds, the Rolling Stones, Talking Heads, Robert Plant, Van Morrison, and Morrisey.
In 1956 he met and fell in love with Peggy Seeger of the North American folk singing Seeger family. It was for her that he wrote 'The First Time Ever I Saw Your Face', which many singers recorded during the 1960s until Roberta Flack's cover version took it to the top of the charts. It reached Number One in Billboard magazine the week of March 25, 1972, and stayed there for five more weeks. In the Grammy voting for 1972, Flack received the award for Record of the Year while MacColl accepted the trophy for Song of the Year. In England, the song also won an Ivor Novello Lyndon Award in 1973: note the spelling!
MacColl wrote an estimated 300 songs, many of them created for theatrical or media-oriented programs. Among his best-known songs are 'Dirty Old Town' about his childhood town of Salford, 'The Shoals of Herring', 'Freeborn Man', 'My Old Man', 'The Thirty-Foot Trailer', 'The Manchester Rambler'. Many of these songs were born out of MacColl's work in folk clubs. In 1953 Ewan and such notable folk stalwarts as Alan Lomax, Bert Lloyd and uillean piper Seamus Ennis founded the Ballads and Blues Club, later known as the Singers Club. The latter club launched the careers of many young singers and groups until it closed in 1991. Ewan sang there regularly until just a week before his death.
By the late 1950s MacColl's marriage with Jean Newlove had split up and Peggy and Ewan were joined both in personal and public life, becoming well known as a singing duo. They toured in Britain and abroad as singers of traditional and contemporary songs from 1957-1989. Between 1959 and 1972, they had three children: Neill and Calum (both musicians) and Kitty (who works in desk-top publishing and public relations). They gave concerts, conducted workshops and toured widely, singing traditional and contemporary songs. They wrote scripts and music for films and commercial television shows. Their involvement in and influence upon both theory and practice in the British folk revival was legendary.
From the late 1950s through the 1980s, MacColl was a prolific recording artist completing dozens of albums of traditional and contemporary songs both as a soloist and with other artists, mainly Peggy. A complete discography may be found on Peggy Seeger's website, see below.
In 1965 they founded the Critics Group, a cooperative company of revival singers interested in studying and combining folk singing and theatre techniques. Seeger and MacColl were avid folksong collectors, chiefly among gypsies and travellers in Britain. They produced two anthologies: Travellers' Songs of England and Scotland and Doomsday in the Afternoon., a profile of the Stewarts of Blairgowrie, a singing family of Scots travellers.
In 1979 Ewan suffered the first of many heart attacks. Nevertheless he continued to work, tour, lecture and write songs. In 1980 he wrote his last play, The Shipmaster, a story of a sailing ship captain who cannot adapt to the coming of steam. It was in many ways analogous to his personal and professional life as his health was deteriorating. In 1987 he began writing his autobiography, Journeyman, which he completed a year later. On October 22, 1989, he died of complications following a heart operation. The following year Sidgwick and Jackson published 'Journeyman', but it went out of print when MacMillan bought the company. It may be re-published in the near future.
In the summer of 1989 he recorded his last album with Peggy, 'Naming of Names' (Cooking Vinyl, 1990). His sons Calum and Neill assembled a compilation of their father's music, 'Black & White - The Definitive Collection' (also Cooking Vinyl, 1990). 'Ossian' has also re-issued a number of his early collections of Scottish songs.
Info from: www.pegseeger.com
Famously, Ewan wrote the following piece in 'Sing Out' magazine in 1965: "I am still unable to see him as anything more than a youth of mediocre talent. Only a completely non-critical audience nourished on the watery pap of pop music could have fallen for such tenth-rate drivel. The cultivated illiteracy of his topical songs are the embarrassing fourth grade schoolboy attempts at free verse."
And just who was the target of this vitriolic tirade? Bob Dylan!

The late Josh MacCrae was a highly respected folk singer/songwriter who was in a band with friends Matt McGinn and Hamish Imlach and was a member of The Reivers. He was also a teacher at the Adelphi Terrace School in Glasgow. He recorded 'Talkin' Army Blues', (June 1960) 'Wild Side Of Life' (November 1960) & 'Messing About On The River' (February 1961).
If you can add any further information to this piece please contact me here
Gerry MacKenzie is a Scottish radio presenter and entertainer who self-styles himself as 'The Tartan Terror'. He is known for his catchphrase "Keep taking the tartan tablets missus" and for playing "Kelty Clippie" every week on Radio Forth for six months no doubt considerably assisting in it's commercial promotion.
If you can add any further information to this piece please contact me here

Iain MacKintosh's career as a Scottish folksinger and guitarist got off to a dismal start. When a friend asked for guitar lessons, MacKintosh gladly obliged. "But within a week, he was better than me," he said. "So I bought a banjo." The banjo is not an instrument often linked with Celtic traditional music, but MacKintosh -- who dislikes the "traditional" label anyway -- made it his own. "This was in 1959," he recalled. "Just about that time I saw Pete Seeger play in Glasgow. He was terrific ... and I fell in love with the instrument. I knew it was for me."
His music is dominated by an eclectic mix of cultures. "I don't like to put a label on it," he said. "I'm not traditional. I'm not completely contemporary either. I sing a real mixture, songs I can believe in." Drawing mostly from the Scottish and American folk traditions, MacKintosh said his music sometimes tells stories and is often political. Some songs, for instance, relate to the Scottish efforts to regain independence from England. "I try to find songs that say what I want them to say," he said. "If I can't find one, I'll write one."
MacKintosh also played concertina, harmonica and the electric bagpipe in his shows. The electric bagpipe, he explained, "looks like a Walkman with a tube coming out of it. People don't take it seriously." MacKintosh didn't always take himself seriously either, often poking fun at himself with whimsical tunes. Audiences at his live performances and people picking up any of his dozen or so solo albums could expect to hear humour mixed with melancholy as he ran through tunes well suited for adults and children alike. "I'll make them think a bit for sure," he said of his music. "I'll make them sing a bit, I'll make them smile a bit. Hopefully they will listen and think about what they hear."
Info From: www.rambles.net
Known as 'The Quiet Man of Scottish Folk Music' he performed as a solo artist, with 'The Other Half' and with singers Brian McNeill and Hamish Imlach. Sadly, Iain died on Monday 28th August 2006.

Alasdair Robert Campbell MacLeod' was born in Tobermory, Isle of Mull in 1925. He was a keen piper and was playing pibrochs by age 12. He also became an accomplished melodeon player and formed a band with other local musicians to play local dances on Mull.
Their popularity grew and by the late 1940s they decided to turn professional, playing much further a field, recording for Beltona, Parlophone & Phillips and making regular radio & TV appearances, notably 'The White Heather Club' as well as touring Canada, USA and in 1956 an appearance at a World Youth Fair in Moscow.
In 1958 Bobby retired from full-time musicianship and returned to the family hotel (The Mishnish) in Tobermory though other recordings followed and he invited other musicians to join him such as: Angus Cameron, Charlie Cowie, George Hill, Ian Holmes, Jim Johnstone, Fenwick MacDougall, Pibroch MacKenzie, Jimmy Ritchie, Billy Thom and two of his sons, Robert and Alasdair.
He would often play in the hotel and at occasional local gigs & functions such as The Caledonian Hotel, Oban during the Mod in the 1980's. His original compositions included 'Murdo MacKenzie of Torridon', 'Finlay J MacDonald', 'John Robertson's Strathspey', 'The Lothian Waltz', 'Jean's Reel' and a famous arrangement called 'After the Games'.
Bobby MacLeod died in January 1991.
Jim MacLeod & His Band (aka The Jim MacLeod Band)

Jim MacLeod - piano, vocals
Tommy Ford - accordion
Jim Cleland - accordion
John Sinton - double bass
Hebbie Gray - fiddle
Alex Doig - drums
One of the best known Scottish dance bands, Jim MacLeod & His Band have over forty years experience – Beatles producer George Martin produced their first recording in the fifties! MacLeod & his band were regular guests at Balmoral Castle, playing for Her Majesty Queen Elizabeth and heads of state at the great Scottish balls. The band has made numerous TV appearances and radio broadcasts, and were regular hosts on the Hogmanay (Scottish New Year) party shows
Iain MacPhail and His Band / and His Broadcasting Band / Scottish Country Broadcasting Band

Widely regarded as leading the top Scottish Dance Band, Edinburgh's Iain Duncan MacPhail began 'playing' his father's button accordion at the age of four after discovering the instrument underneath his parent's bed!
Described as "one of the greatest innovators on the Scottish music scene" Iain MacPhail made his mark with an original approach to orchestration, syncopation & chord formations, while he and his band have been described as "consummate performers of music for Scottish Country Dancing."
Iain played on and released several albums.
Sadly Iain died in 2009.

Ghoulz (2011)

Graham "Suggs" McPherson - vocals
Mike Barson - keyboards
Mark Bedford - bass
Chris Foreman - guitar
Lee Thompson - saxophone, vocals
Chas Smash - horns, vocals & 'nutty' dancing
Dan Woodgate - drums, percussion
Formed in 1979 this London based SKA-flavoured '2-Tone' band, whose sound became known as 'nutty', garnered a huge following as the ska revival became the next big thing after punk/new wave. Their name was inspired by the 'Prince Buster' hit of the same name. They achieved 32 UK hit singles including the #1 'House of Fun' and an almost consecutive string of 16 top ten hits. Madness found the top ten with 7 of their 14 UK hit albums and the #1 spot twice. They spent more weeks on the UK chart in the 1980s than any other group.
From 1983 they began a decline which would result in their ultimate demise in 1988, Suggs becoming a TV presenter and releasing some solo work, however they reformed in 1992 for two shows at London's Finsbury Park, repeating the feat in successive years.
Dougie Martin - guitar, vocals
Gordon McGlone - alto saxophone
Peter McGlone - tenor saxophone
Alan McGlone - saxophone
Gordon Dougall - keyboards
Gerry McGrath - bass, vocals
Donny Couts - drums, vocals
RnB/Soul band oiginally from Dundee.
If you can add any further information to this piece please contact me here

Jimmy Bilsbury - vocals, piano
Ian Moncur - bass
Peter 'CoCo' Shoesmith - lead guitar
Alan Wilson - drums
Later:
Alistair 'Bev' Beverage - guitar, vocals
Peter Garner - guitar, vocals
Mike 'Oz' Osbourne - bass, vocals
Harry Paul Ward - drums
Note - They dropped the 's' suffix to their name around 1969 when they played the ballroom.
Emerging in 1966, pop group 'The Magic Lanterns' (from Lancashire) used to be called 'The Sabres', then 'The Hammers'. They released two albums 'Lit Up With The Lanterns' (1969) & 'One Night Stand' (1971) in the UK and a US only album 'Shame Shame' in 1969. There were also some ten 45's between 1966 & 1972. Their sole UK hit 45 was 'Excuse Me Baby' #44 (July 1966).
They folded around 1971.
Sadly Jimmy Bilsbury died in Bonn in March 2003.
Info from: The Tapestry of Delights - The Comprehensive Guide to British Music of the Beat, R&B, Psychedelic and Progressive Eras 1963-1976, Vernon Joynson ISBN 1 899855 04 1
Moon - vocals
Sheria - vocals
Alan Murphy - guitar
George Nash - keyboards
Steve Humphries - bass
Harry Hughes - drums
The name is a satirical take on a phrase a gentleman may use when addressing his butler upon leaving his home i.e. "My hat, my cane, Jeeves". It was also one of several pseudonyms used by the actor W.C. Fields.
During 1972 - 1973 they played fairly frequently at The Marquee in Wardour St, Soho, London. Two remarkable dates are Thursday 5th October 1972 - they were supported by Judas Priest and on Monday 23rd July they were supported by Queen! They also played Windsor Home Park Arts Festival on 23rd September 1972 with 'Hawkwind', Arthur Brown, 'The Pretty Things', 'The Pink Fairies', Renaissance, Brewers Droop & Motleigh.
Their name was shortened to simply 'Mahatma' around February 20th 1973.
Drummer Harry Hughes joined after the split-up of Edinburgh band The Clouds in mid 1972.

'The Godfather of Irish Music', Tommy Makem, was born on 4th November 1932 in Keady County Armagh Northern Ireland to Sarah Makem who was a respected folk singer. When the family all moved to New York in the 1950's he joined The Clancy Brothers to perform as 'The Clancy Brothers with Tommy Makem' and they signed to Columbia Records in 1961. Tommy and Joan Baez were elected 'the most promising newcomers on the American folk scene' at The Newport Folk Festival, also in 1961.
The Clancy Brothers with Tommy Makem went on to pack venues such as The Carnegie Hall (the Manhattan one!) and appear on prestigious TV shows like The Tonight Show & The Ed Sullivan Show. In 1969 Tommy left to commence a solo career and performed at the ballroom twice in 1971 (the first of these supported by Billy Connolly).
In 1975 he began another Clancy association when he began performing with Liam Clancy, recording several times as 'Makem and Clancy' until 1988 when he decided to go solo again.
Though he is best know as a singer/songwriter whose compositions include: 'The Rambles of Spring', 'Gentle Annie', 'Four Green Fields' & 'The Winds Are Singing Freedom', his poetry has earned him the oft quoted moniker 'The Bard of Armagh'.
Tommy still performs and records from his adopted home of Dover New Hampshire. 'The Makem Brothers' (sons Shane, Connor and Rory) are now also musicians.
Sam Achampong - vocals, keyboards
Dave Allan - vocals, guitar
Benny Tetteh-Lartey (aka Benedict) - bass, vocals
Alan Knox - ?
Makossa were based in Edinburgh and played many prestigious venues.
They released a 7"single 'reggae Star' / 'Do Ya Wanna Boogie' (1982)
If you can add any further information to this piece please contact me here
Mama's Little Children
Dave Ward - vocals
Mick Bryant - lead guitar
John Shaw - guitar, saxophone
Graham Jones - bass
David Kerr (aka Charlie Chuck) - drums
Later:
Brian Sture - Keyboards
John McCoy - bass
Exclusive autobiography from Graham Jones:
In the very early 60's myself and Mick Bryant (lead guitar) worked together at Burtons in Leeds. We both had a love of the music of that time. I was trying to teach myself the bass guitar. With three of his friends, namely Dave Ward (singer) and two others one of whom was called Scott Wolstenholme (drums), we started to practice and form a group. Scott's father was a High Court Judge and he was ferried to practice in a Rolls Royce; I should point out that at this time our ages were 15-16 years. We never played any paying gigs, just practiced. Scott and the other lad then left and were replaced by two new members (sorry but cannot remember their names). We were now starting to get work in working men's clubs and pubs playing the hits of the day. Mick's dad was our unpaid booking agent.

Leeds at that time was not well known for producing top class groups, the exceptions were The Cherokees, The Cresters and last but not least the fantastic Dawnbreakers who were our heroes and who we met up with a number of times in the coming years. We were now getting work on a fairly regular basis but the two new lads (drums & rhythm) decided we were not ambitious enough and left to form a new group. A new drummer and guitarist were found. I cannot remember the drummers name but the guitarist was called Derek. Our groups name was The Dakotas. After about a year the drummer left to join The Apaches (Harrogate) and he was replaced by David Kerr (now the comedian Charlie Chuck) who was to be our final drummer. Mick Bryant then left and he was replaced by John Shaw (lead guitar and trainee sax). At this time due to Billy J Kramer we changed our name to The Gleneagles.

By now we were fed up with playing in working mens clubs and wanted to play to younger audiences. Musically we changed to soul and tamla songs and now started to play dance halls, youth clubs, ice rinks and pubs like the Fforde Green which were well known for live music. At this point as Mick was no longer in the band I acted as Manager and, as I was now 17 years old with a driving licence, I drove our new acquired Commer van.

By now we were playing gigs nearly every night of the week and still holding down day jobs. After a while our rhythm guitarist left us and Mick rejoined which gave us two quality guitarists. We also changed to our final name "Mamas Little Children" (my idea and a play on the Rolling Stones song, Mummy's Little Darling"). We were all keen except John to turn fully professional and so the rest of us went to audition for a contract to play in Germany. We passed and two weeks later had given up our jobs and were on the ferry to Germany. We also acquired a manager, Mark Jordan Enterprises of Shipley (later manager of Smokie).

We returned to England in February 1967 and started the grind of one nighters all over the UK. We also added an organist to our line up, Brian Sture (later to play bass in Pickettywitch). Sometimes we would top the bill and other times we would support other acts, namely Karl Denver, The Ronettes, Little Peggy March, The Crying Shames, Riot Squad, Pinkerton's Assorted Colours etc. – frankly we had a ball but in order to survive the summer we needed to pass the Butlins audition and unfortunately we failed. The agent said we might cause a riot????

I did not want to return to Germany and at this point the band split up. Dave Ward and David Kerr reformed Mamas Little Children and went back to Germany. The shame is that Cyril Stapleton, the A & R man at (I think) Pye Records had started to take an interest in us.

Those were great times in a great era.
All the best.

Graham Jones.
In 1967, John McCoy arrived at the Mama's Little Children guitarist auditions only to find he was too late as the post was filled, so he auditioned on a bass that was there, filled that vacancy and went down the nearest music shop to trade-in his six string and AC30 for a Fender Precision and a Selmer Goliath Rig! He was now a professional musician!
They toured the US military bases as a soul review with go-go dancers playing a catalogue of Stax soul material while in the German clubs like the Star Club in Hamburg, they ditched the dancers and played a rock set of Who, Stones, Chuck Berry etc and released one obscure single.
John had to quit around a year later though because he was legally under-age! He later became known for his formidable stature and has been called (the 'Big Bad Bald Bassist') and went on to play with a wide variety of artistes and bands such as Welcome, Curtis Muldoon, Zzebra, Scrapyard, Belladonna, Francis Rossi, Mike Hugg, Curved Air, Atomic Rooster, Gilllan, Bernie Torme, Sledgehammer, U.K.Subs, Mammoth & Guy-McCoy-Torme (GMT) etc.
After returning from Germany when they split around 1968, David Ward continued entertaining for many years as a successful and popular club-land vocal entertainer by the name of 'Bartholomew'. He now runs Goldring Photography in Wakefield which he established around 1985.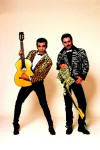 Miki Zone
Paul Zone
Man To Man were New York brothers Miki and Paul Zone who had previously been in a band called 'The Fast'. Having formed another band they abandoned their first name, 'Man's Favourite Sports', as another outfit claimed ownership, so they originally became 'Man 2 man' (with a '2').
Their biggest hit, 'Male Stripper', (produced by Man Parrish) was released in September 1986, peaking at #4 after two re-releases in July 1987, however Miki Zone died of spinal meningitis on Wednesday 31st December 1986 and so never knew of their success.
Paul Zone then decided to alter the band's name to 'Man To Man' and remove any sexual ambiguity suggested by the previous hit and recorded an overtly gay flavoured single, with a cover of the Grace Jones song 'I Need A Man'.

Manfred Mann - keyboards
Paul Jones - vocals, harmonica
Mike Hugg - drums, vibes, keyboards
Mike Vickers - lead guitar, alto sax, flute
Dave Richmond - bass
Tom McGuinness - bass, then guitar
Jack Bruce - bass
Klaus Voorman - bass
Mike D'Abo - vocals, keyboards
This R&B outfit had two distinct phases of chart success. The first phase was with Paul Jones who left the group in the summer of 1966. He was replaced by Mike D'Abo which marked the beginning of an equally successful second round of chart hits.
The band had been started by Manfred Mann shortly after his arrival in Britain in 1961. He had joined up with percussionist Hugg to produce the jazz and blues group 'Mann Hugg Blues Brothers'. However after expansion of the group to a five piece, they simply became Manfred Mann taking their name from the enigmatic keyboard player. The addition of Jones was notable because it was he that steered the group wholeheartedly to R&B.
Although their first singles didn't chart, success came with '5-4-3-2-1' which was co-written by Jones, Hugg and Mann. The success of the single was helped enormously by its adoption to introduce the TV Pop show 'Ready Steady Go'. A stream of hits followed including two number ones, the second of which coincided with the departure of Paul Jones. He had decided that his future lay in a solo career but, although starting reasonably well, it turned out not to be a wise move. The band auditioned a handful of singers to replace Jones, including Rod Stewart and Zoot Money. However, it was the lead singer of the hitherto unsuccessful 'Band Of Angels' that got the job. This was a traumatic time for the group because they had to sustain the loss of Vickers as well as Jones; they also changed their recording label to Fontana and added bassist Klaus Voorman.
They didn't have to worry for long. Their first 'D'Abo/ Fontana' single 'Just Like A Woman' and its follow up 'Semi-Detached Suburban Mr James' were both major hits. The latter record had originally been entitled 'Semi-Detached Suburban Mr Jones', but they had modified the name in case any fans thought it was an intended slight against their former harmonica playing vocalist. By the end of the 1960s the group split up despite their continued commercial success. Mann and Hugg continued in a new guise as 'Emanon' then 'Chapter Three' before moving on to form 'Manfred Mann's Earth Band'.
Info courtesy of: www.45-rpm.org.uk
In the 1990s they reformed much of the original line-up, though notably without Mann, as 'The Manfreds'.
Robert Lindsay - vocals
Kenny Munro - guitar
Jim Brown - bass
Tommy Peebles - drums
Glasgow-based (all original) rock/funk outfit from 1971 who supported Colosseum (fronted by Chris Farlowe at the time) here at the Kinema where they were incorrectly billed as just 'Colorado'. A good tight band who only lasted about 9 months, due in part perhaps allegedly, by personalities?.
Robert went on to join Poly / Hombre), Anthem / Brooklyn), Sha-Boom, Street Party and went on to front another versatile wedding/party/function covers band in Glasgow called 'Bronx'.
Many thanks to Robert for the info above.
Kelly Marie's 'Feels Like I'm In Love' hit the number one spot, but after two weeks at the chart summit, the Police dethroned her with 'Don't Stand So Close To Me'. 'Feel's Like I'm in Love' would go on to spend four months on the British chart, selling more than 500,000 copies and earning her a gold disc award.
Born Jacqueline McKinnon in Paisley, Scotland on 16th October 1957, Kelly first came to prominence by winning the television talent contest 'Opportunity Knocks' on four occasions under the name Keli Brown and was subsequently signed by Pye Records in 1976.
One of her earliest singles for the label was 'Who's That Lady With My Man'. Whilst it missed out on the chart honours in the UK, where artists such as Tina Charles were established as the reigning disco divas, it powered its way into the charts across Europe, earning Kelly her first gold disc award in France. Follow up hits such as 'Run To Me' (a top thirty success in the Netherlands), 'Make Love To Me' (a number 2 hit in Australia and something of a club favourite in America) and 'If I can't Have You' kept her name hot around the globe even if domestic reception was lukewarm.
Info From: www.paisley.org.uk
She did however have three other UK chart singles with: 'Loving Just For Fun' (1980) #21, 'Hot Love' (1981) #22 and 'Love Trial' (1981) #51.
Gerry Macpherson - vocals
Manny Charlton - lead guitar (lead vocal on 'Baby What's Wrong')
Andy Clement - rhythm guitar
Dunc - vocals
Gus - keyboards
Hendo - bass
Harry Carmichael - drums
The Mark V included Manuel 'Manny' Charlton of Mike Satan & The Hellcats, The Red Hawks, The Marshmallow 400, The Shadettes and Nazareth.
When Manny Charlton was asked why their band was called the Mark V, his reply was: "I don't know where the name Mark V came from, we either had four or six guys in the band never five", although this is patently incorrect there were five at one time.
There was a considerable resistance in London to signing any act from Scotland in the early 1960's and so to publicise the plight of Scottish Bands and their own name in particular, 'The Mark V' marched from Edinburgh to London by way of a demonstration in the manner of the Jarrow Marchers. By the time they reached Market Harborough, Fontana were convinced and signed them but the resulting single 'Tango' / 'Baby What's Wrong' Fontana TF 513 (1964) did little to change anything. Manny Charlton explains, "in the end this only alienated and aggravated music-biz tensions even more".
Incidentally, 'The Mark V' have sometimes been confused with 'The Mark Four' who later became 'The Creation'. In fact both sides of the afore-mentioned single were mistakenly included on a compilation album 'The Mark Four / The Creation (Eva 12005)
Gerry MacPherson also played with The Red Hawks
Harry Carmichael also played with Mike Satan & The Hellcats
I'm indebted to Gerry Macpherson for some of the detail above.
(The) Marmalade

Dean Ford (Tommy 'Nippy' McAleese) - vocals
William 'Junior' Campbell - lead guitar
Pat Fairlie - guitar, 6 string bass
Graham Knight - bass
Alan Whitehead - drums
Later:
Hugh Nicholson - guitar
Dougie Henderson - drums
Mike Japp - guitar
Joe Breen - bass
Sandy Newman
Charlie Smith - guitar
Garth Watt-Roy - guitar
Ian Withington - guitar
Stu Williamson - drums
Alan Holmes - guitar
This Glasgow band started life in the early 1960s as Dean Ford & The Gaylords. They were originally: Dean Ford (vocals); William 'Junior' Campbell (lead guitar); Pat Fairlie (guitar/6 string bass); Bill Irving (bass) & Raymond Duffy (drums). Bill Irving was later replaced by Graham Knight. The band moved to London around 1966 and Mr Duffy quit to be replaced by Alan Whitehead - a postman from Orpington. Duffy guests on the Poets 'Wooden Spoon' and later joined Mathews Southern Comfort and Gallagher and Lyle.
The band now changed their name to 'The Marmalade' - the manager's idea - and they carried a Robertson's Jam 'Golly' trademark on the bass drum skin. Often disparaged as the Scottish Tremeloes this was a grossly unfair tag. After 'Reflections', their biggest hit, and the follow up album Junior left to take up a place at the Royal College of Music and was replaced by the talented songwriter Hugh Nicholson from The Poets. At one point they turned down the opportunity to record 'Everlasting Love'!
Whitehead was sacked at the end of 1970 at the instigation of Nicholson and replaced by his mate from his former band, Dougie Henderson. Ford was quoted at the time as saying Whitehead could be recognised around town by the big footprint on his bum. In the notes to 2000's double CD covering the Decca period Ford expresses regret at this handling of the affair.
With Nicholson in the driving seat a sense of fun returned to the band's sound with hits such as 'Cousin Norman' and 'Radancer' but they also wanted to be taken seriously as an albums band and the second Decca offering 'Songs' is well worth having for numbers like 'Empty Bottles and 'Bad Weather' alone. The latter was a Nicholson composition from his days with the Poets. Around this time, 'The' was dropped from the name, but Marmalade could not shift LPs and Nicholson left. In an interview with the NMS's Fred Dellar he said that the singles band tag was just too strong to fight. We don't suppose that a lightweight name like 'Marmalade' helped either in that 'heavy' era. Nicholson went off to form Blue with his old Poets mate Ian McMillan. Before Nicholson got out, Pat Fairley left to manage the publishing catalogue. He later worked in that line in the USA and now runs a bar in LA called the Scotland Yard.
A period of inactivity on the recording front ensued while Mike Japp, was enlisted to replace Nicholson. New singles were issued 1n 1973 but failed to chart. The NME described the new boogie sound of Marmalade as, "poor mans Status Quo". Knight then left having recorded most of the 'Our House is Rocking' LP' which seems to have been delayed for a year. Marmalade were at one time touring as a three piece until Joe Breen once of the Dream Police came in on bass. The hits failed to return and next thing there were two versions of the Marmalade were on the road, Knight having started up the 'Vintage Marmalade' to knock out the old hits in contrast to the official band with their heavier act. Eventually in '75 Dean Left to go solo and Knight was left the name and a clear field.
By January 1976 the band, consisting of Knight, Whitehead again, and Sandy Newman, once in the well known (in Scotland anyway) Chris McClure Section, were back in the charts with 'Falling Apart at the Seams'. Also in this version of Marmalade was Charlie Smith ex drummer of Dream Police and the Poets. However, here he was on guitar. He used to come out from behind his kit in his Dream Police days to do a version of Joni Mitchell's Carrie on acoustic guitar. He must have preferred drumming to strumming for the following year saw him on a drum stool again in Blue and Garth Watt-Roy took his place for the LP released on the strength of the 'Seams' hit. For 1978's LP '..doing it for you', Knight and Newman were joined by Ian Withington, guitar, and Stu Williamson, drums. By 1980, Charlie Smith was back with Alan Holmes (guitar) on the US only album 'Marmalade'.
The line up has varied from time-to-time over the years since but Newman, Knight and associates are still operating today. Alan Whitehead went into nightclub ownership. In 1976 and 1978 Dean had a fling with Blue and he is on the Alan Parsons Project's 1978 'Pyramid' LP. Later he moved to LA and was running a chauffeured limo service there. Last heard of recording a single with the remnants of The Sensational Alex Harvey Band in 1991. Junior Campbell is from the back of his solo album 'Second Time Around'. See the 'LP & CD Reviews' link. After a couple of decent singles, his solo career went flat. He wrote a few numbers for the 1980 US only 'Marmalade' LP and did the theme music to the Thomas the Tank Engine children's TV series.
Info by courtesy of www.rockingscots.co.uk
Marmalade and had 12 hit singles including Scotland's first #1 hit, the Lennon-McCartney penned 'Ob-La-Di Ob-La-Da' and seven other top ten hits.
Their third single 'I See The Rain' was declared by Jimi Hendrix to be his favourite single of 1967!
Dean Ford released a solo album before moving to the states.
Brian Blellock - vocals
The Brian Marshall Foundation were based in Perth.
Brian Blellock emigrated to New Zealand in the early seventies.
If you can add any further information to this piece please contact me here
Brian Sheridan - vocals
Watty Robertson - lead guitar
(Manuel) Manny Charlton - guitar
Colin Bates - keyboards
Alex Smith - saxophone
Gerry MacPherson - bass
Tommy Wallace - drums
The Red Hawks folded around 1967 and reformed with Brian Sheridan (from The Golden Crusaders) on vocals and Gerry MacPherson on bass and renamed as The Marshmallow 400 a name that perhaps reflected the times and their sound better amongst their contemporaries such as Marmalade.
Manuel 'Manny' Charlton also played with Mike Satan & The Hellcats, The Red Hawks, The Shadettes and Nazareth.
The Marshmallow 400 were sacked from their residence at the Kinema on New Years Day 1968 when their keyboard player Colin Bates played 'The Sash' to an audience including a couple of bus loads of Glaswegians! Cecil Hunter was none too pleased and mayhem ensued.
They split soon after.
If you can add any further information to this piece please contact me here

Marco Barresi
Jamie Brown - bass
Calum Cummins
Scotty Anderson
Scotty Russell
Dundee band who describe their sound variously as Christian Rock/Minimal Techno? or Alternative / Melodramatic Popular Song / Rock? - Work it out guys!

If you can add any further information to this piece please contact me here

Tom Baird
Nick Zesses
Dino Fekaris
Matrix were a pop trio ensemble, comprised of Tom Baird, Nick Zesses & Dino Fekaris who produced an eponymous album, 'Matrix' (1972) and one single 'Streakin' Down the Avenue' / 'Commercial Break' (March 1974) both on Motown.

Tom Baird later joined another pop trio called HUB featuring the drummer & bassist of Rare Earth. He died after a boating accident in 1975.
If you can add any further information to this piece please contact me here

Al was born in Kings County hospital, Brooklyn New York, on the 21st of November 1942. The first time he ever laid eyes on a stage, he was on it. He was four years old & involved in a 'Mock Wedding'. He was the groom; another little girl was the bride. He remembered the sound of applause, got hooked and has been ever since.
He spent six years in the United States Marine Corps and holds thirteen combat awards and decorations, including two purple hearts. He was the first black marine in the first marine division in Vietnam, to be meritoriously promoted to the rank of sergeant and served with Kilo battery, fourth battalion, 11th Marines, First Marine Division, of that he is very proud.
In 1971 he arrived in the UK with only a guitar & worked as a folk singer, eventually meeting Pierre Tubbs. Pierre wrote a song for him called 'Fool', which became a top ten hit in more then fifteen countries in Europe and a #16 in the UK. Pierre and Al have been writing together ever since.
He was the first black voice on BBC Radio 1. He worked for London's 'Capital', for ten years, where he hosted many programs, including his award-winning program, 'When The Spirit Moves', which won 'Best Gospel Music Program' six years running.
He is also an accomplished actor with many TV and film credits.
Info From: www.almatthews.co.uk




l-r Gillie Cutkelvin / Martin Speck / Brian Anderson / Fred White / Dino Casser / Tony Brown

Dino Cassar - vocals
Gillie Cutkelvin - vocals
Martin Speck - Hammond organ, guitar
Tony Brown - saxophone
Brian Anderson - bass
Fred White - drums
Later:
Donald Marshall - lead guitar
John Rutherford - guitar
Dougie Boggie - drums
Mike McKenzie - drums
Manager Tommy McDonald
Edinburgh-based covers band 'Maxi's Taxi' started as a three-piece in early 1968, playing at the Clermiston Inn before moving on to tour the dance hall scene with new recruits Dino Casser on vocals and his cousin Tony Brown on sax.
The name had no particular significance beyond they thought it sounded 'catchy'.
Gillie Cutkelvin was playing with Tam Paton's band 'The Index' and was asked to join as they wanted to two black vocalists to play soul covers like Sam & Dave for example.
They were taken under the management of Tommy McDonald (who also managed Edinburgh band 'The Reflections' who appeared on Opportunity Knocks) and their road crew consisted of a Road Manager and two Roadies not to mention a Fan Club Secretary to handle all their affairs.
They played all types of covers but predominantly soul such as 'I'm Your Puppet' (Sam & Dave), 'Resurrection Shuffle' (Ashton Gardener & Dyke) and The Funky Chicken (Rufus Thomas). They played venues like The Kinema usually on Friday nights, The JM Ballroom in Dundee on Mondays & Tuesdays, the American Naval Base at Gareloch one weekend each month and The Blue Webb Club in The Salutation Hotel Perth.
They travelled all over Scotland to Aberdeen, Aviemore, Dunfermline, KirkConnell, Portpatrick etc and supported The Chris McClure Section on many occasions and played every club in Edinburgh such as Bungy's, Frisco's, The Place and of course 'The International Club' (aka 'The Nash').
They loved playing the Kinema "a great venue" where they always got a great reception.
As can be seen above, personnel changed as time went on Dino and Gillie went on to form a band called Django who released two singles 'Let's Drift' / I Understand (1983) & 'South Of The Border (Down Mexico Way)' / My Love' (1986) , then Gillie joined The Drifters and he is now a solo artist known as Gillie Leroy Jones.
My thanks to Fred White.

Jamie Black - guitar, vocals
Tony Newman - vibes, drums
Terry Poole - bass
Reid Hudson - bass, vocals
Albums:
May Blitz (1970)
Second of May (1971)
Tony Newman had previously played with Sounds Incorporated and the Jeff Beck Group. His powerhouse drumming suited this heavy rock act's loud aggressive sound, which was liberally laced with echoed feedback guitar. The group was known for their heavy, blues-tinged, lumbering progressive rock style, typical of the era.
They soon came to the notice of progressive label Vertigo Records who saw May Blitz as being in the same vein as Black Sabbath and Uriah Heep, both of whom were signed to the label. Their debut self-titled LP was released in mid-1970 and contained seven lengthy self-composed tracks, distinguished by the use of echoed feedback guitar playing from Black.
Though not a chart success, original vinyl copies of the album complete with gatefold sleeve and Vertigo's famous 'swirl' logo, now command prices in excess of £50 on the collectors' market. Just over six months later, in early 1971, they released their second LP, "The 2nd of May" which again came in a highly collectable gatefold sleeve. However, the eight tracks, again, mostly written by all three members, failed to live up to the power and excitement of the first album and so shortly after its release they disbanded.
Tony Newman later worked with David Bowie, Marc Bolan, Mick Ronson, Whitesnake & Chris Spedding and has remained an in-demand session musician. Jamie Black went on to play with F.B.I. in the late '70s.
Info from: The Tapestry of Delights - The Comprehensive Guide to British Music of the Beat, R&B, Psychedelic and Progressive Eras 1963-1976, Vernon Joynson ISBN 1 899855 04 1
Mark Brennan - liner notes of the Repertoire reissue of "The 2nd of May" 1994



1968 pic Autographed Kinema Ticket
(My thanks to Bob Smith)
Clockwise from the top - John Mayall, Stephen Thompson, Mick Taylor & Colin Allen

Line-ups:
John Mayall - vocals, keyboards, harmonica, guitar
Just about everyone else - various instruments
John Mayall was born 29th of November 1933 in Macclesfield, a small English village near the industrial hub of Manchester--a far cry at that time from the black American blues culture we are familiar with today. The eldest of three from humble working class origins, and in the shadow of WWII, this skinny English lad grew up listening to his guitarist father's extensive jazz record collection and felt drawn to the blues. Strongly influenced by such greats as Leadbelly, Albert Ammons, Pinetop Smith, and Eddie Lang, from the age of 13 he taught himself to play and develop his own style with the aid of a neighbour's piano, borrowed guitars, and second-hand harmonicas.
John Mayall's first brush with fame, however, was not for his music. As a teenager, he decided to move out of the house, and, showing the signature eccentricities and artistic qualities that have added to his legendary status, he moved into his backyard tree house. This gained him notoriety enough to receive newspaper attention. Even more so, since, upon returning from a stint in Korea, he brought his first wife Pamela to live with him there.
From an art college training, to three years with the British Army in Korea, to a successful career in graphic design, his blues singing and playing took a back seat until he reached the age of 30. From 1956 until 1962, John was performing publicly on a part-time basis fronting The Powerhouse Four and, later on, The Blues Syndicate. It was then that Alexis Korner's Blues Incorporated pioneered what was to become known as The British Blues Boom of the Late 60's. Alexis was quick to encourage and help John make his move to London where he soon secured enough club work to be able to turn professional under the name John Mayall's Bluesbreakers. After a couple of years and a constant turnover of musicians, he met his soul mate in Eric Clapton, who had quit the Yardbirds in favour of playing the blues. This historic union culminated in the first hit album for the Bluesbreakers and resulted in worldwide legendary status.
After Clapton and Jack Bruce left the band to form Cream, a succession of great musicians defined their artistic roots under John's leadership, and he became as well known for discovering new talent as for his hard-hitting interpretations of the fierce Chicago-style blues he'd grown up listening to. As sidemen left to form their own groups, others took their places. Peter Green, John McVie and Mick Fleetwood became Fleetwood Mac. Andy Fraser formed Free, and Mick Taylor joined the Rolling Stones. As Eric Clapton has stated, "John Mayall has actually run an incredibly great school for musicians".
When they played the Kinema the line-up was:
John Mayall - vocals, keyboards, harmonica, guitar
Mick Taylor - guitar
Stephen Thompson - bass
Colin Allen - drums
Mick Taylor went on to play with The Rolling Stones
.(The previous line-up included Tony Reeves, Jon Hiseman, and Dick Heckstall-Smith who left to form Colosseum).
In 1969, with his popularity blossoming in the USA, John caused somewhat of a stir with the release of a drummer less acoustic live album entitled "The Turning Point", from which his song "Room To Move" was destined to become a rock classic. He received a gold record for this album. Attracted by the West Coast climate and culture, John then made his permanent move from England to Laurel Canyon in Los Angeles and began forming bands with American musicians. Throughout the 70's, John became further revered for his many jazz/rock/blues innovations featuring such notable performers as Blue Mitchell, Red Holloway, Larry Taylor, and Harvey Mandel. He also backed blues greats John Lee Hooker, T-Bone Walker, and Sonny Boy Williamson on their first English club tours.
The year 1979 proved to be a pivotal, transitional, and climactic year for John Mayall, both personally and professionally. With the public climate being at an all-time low for blues music, Mayall struggled to keep his live and recording career afloat. Personally, however, he began the 20+year relationship with his current wife Maggie (Parker, née Mulacek), a singer/songwriter from Chicago who had been hired with Harvey Mandel's band as Mayall's backup. And extreme misfortune came his way when a brush fire destroyed his hand-crafted and legendary Laurel Canyon home, taking with it his scrupulously-kept diaries, his father's diaries, master recordings, extensive book & magazine collections, Mayall artwork, and much much more. Determined to rise from the ashes, Mayall persevered.
Motivated by nostalgia and fond memories, in 1982, John (together with Mick Taylor and John McVie) decided to re-form the original Bluesbreakers for a couple of tours and a video concert film entitled Blues Alive, which featured Albert King, Buddy Guy, Junior Wells, Etta James, and Sippie Wallace and others. A whole new generation of followers could get a taste of how it all sounded live two decades before at the birth of the British Blues explosion. By the time Mick and John had returned to their respective careers, public reaction had convinced Mayall that he should return to his driving blues roots. As John McVie returned to Fleetwood Mac and Mick resumed his solo career, Mayall returned to Los Angeles to select his choices for a new incarnation of the Bluesbreakers. Officially launched in 1984, it included future stars in their own right, guitarists Coco Montoya and Walter Trout, as well as drummer Joe Yuele, who is still john's rhythmic mainstay.
With onstage popularity gaining each year, the 90's kicked in with the release of several John Mayall albums that have set new standards in rock blues: "Behind The Iron Curtain", "Chicago Line", "A Sense of Place", and the Grammy-nominated "Wake Up Call" that featured guest artists Buddy Guy, Mavis Staples, Albert Collins, Mick Taylor. In 1993, Texas guitarist Buddy Whittington joined the Bluesbreakers and over the years he has energized the band with his unique and fiery ideas. Making his recording debut on Mayall's "Spinning Coin" album, he proved to be more than equal to following in the footsteps of his illustrious predecessors. After that, they released two modern classics: "Blues For the Lost Days" and "Padlock On The Blues", (the latter co-produced by John and his wife Maggie, featuring a rare collaboration with the great blues legend John Lee Hooker, who had been Mayall's close friend since the early 60's). These albums have all garnered great reviews, critical and popular acclaim and represent Mayall's ongoing mastery of the blues and his continuing importance in contemporary music. In addition, Mayall released three CD's through his own private label, Private Stash Records. They are "Time Capsule" (containing historic 1957-62 live tapes-no longer available), "UK Tour 2K" (live recordings from the Bluesbreakers 2000 British tour), and a selection of solo performances from John entitled "Boogie Woogie Man". Mayall continues to strive to remain true to the timeless music that first inspired this skinny young British lad, living in the shadow of WWII, to teach himself the guitar, harmonica and piano so many years ago.
This millennium has proved to be as productive so far. 2001: On "Along For The Ride", Mayall re-teamed with a number of his former mates, including Peter Green, Mick Taylor, Mick Fleetwood and John McVie, as well as ZZ Top's Billy Gibbons, Jonny Lang, Steve Miller, Billy Preston, Steve Cropper, Otis Rush, Gary Moore, Jeff Healey, Reese Wynans of Steve Ray Vaughan's band and Shannon Curfman for an amazing display of blues power at its finest. Produced by David Z, this album featured Mayall duets with soul great Billy Preston, blues legend Otis Rush and young blues/rock teen sensation Shannon Curfman. "Along For The Ride" also features the first appearance together in over 30 years by Bluesbreakers alumni Peter Green, Mick Fleetwood and John McVie, who last appeared together as members of the original Fleetwood Mac.
In 2002: Mayall with the Bluesbreakers, again produced by David Z., recorded the August 27, 2002 release "Stories", which debuted the Billboard blues charts at #1, and followed it with an extensive world tour.
2003: John Mayall turned 70 years old. After extensive touring, John Mayall and The Bluesbreakers capped it off at a 70th Birthday celebration in Liverpool, with a concert in aid of UNICEF and featuring Eric Clapton, Mick Taylor and Chris Barber. This concert was filmed, recorded and released as a DVD and double CD in December 2003. To top off the year, BBC aired an hour-long documentary on John Mayall's life and career, entitled "The Godfather of British Blues".
2004 shaped up for John Mayall and The Bluesbreakers with yet another full year of touring and the release of TWO more DVD's ("Cookin' Down Under" and "Godfather/Turning Point") and another CD ("The Turning Point Sound Track").
2005: Recorded and released his 55th album, "Road Dogs", with his band. As for the man himself, the father of six and grandfather of six, now 72, John Mayall who was just awarded an OBE in this year's Queens Honours list, and shows no signs of slowing down and plans to keep the blues alive for many years to come.
Info From: www.johnmayall.com
The Ian McCalman Folk Group (later aka 'The McCalmans')
Ian McCalman - voclas, guitar, weirdolin, bodhran
Hamish Bayne - vocals, mouth organ, flageolet
Derek Moffat - vocals, guitar
Nick Keir - guitar, mandolin, flageolet, mouth organ, vocals
Stephen Quigg - guitar, mouth organ, bodhran, vocals
Few bands can pinpoint exactly when they first met, but Ian McCalman, Hamish Bayne and Derek Moffat could because they were registering for entry to Edinburgh College of Art on Tuesday 6th October 1964. Conversation led to the discovery of a common interest in folk music which led to the formation of a band with which they would accomplish great popularity both on the Scottish folk music scene and worldwide for over forty years.
They developed a style characterised by a tight three-part harmony vocal, virtuoso instrumentalism and a dry self-deprecating wit.
Sometime during 1968 'The Ian McCalman Folk Group' became simply 'The McCalmans'.
In 1982, Nick Keir (formerly with Finn mac Cuill) replaced Hamish Bayne who left to make concertinas and Stephen Quigg replaced Derek Moffat during a period of illness from which he never recovered. Derek died, aged 54, on the 21st of October 2001. The McCalmans continue to tour & record frequently.
Their albums number 27 from 1968 to 2006.

Unusual Australian duo backed by a full band and orchestra performing a strange amalgam of folk/rock mixed with beat music and swingin' pop with both singing. They wrote original songs, performed covers and adapted traditional material. They appeared on ABC's longest-running TV show 'Thank Your Lucky Stars' on Saturday 28th May 1966 with host Jim Dale and other guest artists: Sandie Shaw, Brian Poole, Unit 4+2, Jimmy Young & Tony Jackson.
Singles:
Seven Doves / Out After Me - 1965
I Can't Help But Wonder / There's Got To Be Love - 1966
The Turkey's Trial / Bitter Withy 1966
I Think It's Going To Rain / Once I Was - 1968
Scarborough Fair- Canticle / Wild Berries - 1968
Friends with you / Song of the night – 1973
Album:
Bitter And Sweet - 1967
'Bitter And Sweet' is very rare now and can command prices in the £200 bracket.
The Chris McClure Section (aka The Chris McClure Set)
Chris McClure - vocals
Alan Montgomery - guitar
Jim McIsaac - keyboards
Andy Cumming - bass
Ian Ogram - drums
Later:
Rab Howat - guitar
Chris was a member of 'The Fireflies' in 1965, then in 1966 he went solo with 'The Dying Swan' (Decca) – music by Tchaikovsky, arranged by Jonathan King, 'I'm just a country boy' / 'Hazy People' (Polydor) in 1967 and 'The answer To Everything' / 'Meditation' (Polydor) in 1968. He then formed 'The Chris McClure Set' who played at the ballroom once in '67 and again in '68 before they returned as 'The Chris McClure Section' in 69 and continued until at least 1974 if not 1977.
By 1978 Chris McClure had a solo career on the social club and cabaret circuit as 'Christian'.
Keyboard player with Chris McClure for eight years, Jim McIsaac, moved to Dunfermline in 1986 from East Kilbride and became the Entertainments Manager at the Carnegie Hall.

Born in Florida, 1944, George McCrae was instrumental in the early Disco sound of the 1970's.
His first smash, 1974's Rock Your Baby inspired the disco soul sound that became prevalent on radios and dance floors of the seventies. Written by Harry Casey and Richard Finch of KC & the Sunshine Band and released on Henry Stone's T.K. label, the song was named Song of the Year by Rolling Stone Magazine, Record World, British's Cash Box and the Dutch Music Poll and sold in excess of 52 million copies.
His follow up, was the double-sided hit I Can't Leave You Alone/I Get Lifted. Other singles followed but couldn't hit the dizzy heights of his earlier success. He continues to write and perform to sell out concerts around the world.

In addition to Television, Radio & stage appearances world wide, Alastair is a prolific recording artiste. His performance programme is selected from a vast repertoire of traditional, contemporary & original material.
Born in Glasgow in 1941, Alastair emigrated to Australia with his family at the age of eight & growing up there, during a period in the outback, developed an interest in "home made" entertainment. Four years later he returned to Scotland just in time to be excited by the emerging pop scene & in particular, skiffle" music, a fusion of American folk song with overlaid jazz influences, spearheaded by Lonnie Donegan. With a variety of local groups, he played in hospitals, old folks` homes, Churches, ceilidhs & even back court concerts for political campaigns & for many of his young years was a leading banjo player in the jazz scene of the period (winner of the award for best banjo player Elgin Jazz Festival 1962).
As the years passed, Alastair`s musical horizons extended & in 1973 he was invited to co-host a new TV show of Scottish music entitled "Songs of Scotland" in the company of baritone Peter Morrison, with whom he has maintained a working relationship to this day. After only a few screenings, the viewing public responded so positively that the series continued year upon year, taking Alastair`s music into variety shows, pantomimes & plays throughout Scotland - and the world. Alastair`s commitment has always been to entertain, but he has fought to do so on terms he believes to be valuable. "Give them what they want..." is a maxim that he finds quite unacceptable. He strives instead to offer that which he considers to be wholesome, helpful, uplifting, cautionary, loving & entertaining - "Filling time for an audience & not just passing it!" he says.
Alastair McDonald has been a performer on a full time basis since 1970 & has built up a successful career not only in his native Scotland, but on numerous occasions has been invited to take his own style of musical entertainment to locations as diverse as America, Canada, Germany, Denmark, Israel, Thailand, East Africa & the Arab Emirates. Never one to be easily tied down to pigeon-hole categories, he is probably best known as "...the folk singing jazz banjo-player from Scotland..." except for those areas in which he's known as "...the Scottish jazz banjo-playing folk singer..."
Alastair's radio & TV credits are too numerous to list here, likewise his record & tape releases, but even without these, the fact that he was invited twice within the space of three years to front a coast to coast touring show across Canada & the United States (every state except Hawaii & Alaska!) must surely speak for itself. His concert programme can vary from a Scottish historical ballad to a humorous music hall ditty - from a Gaelic lament to a hand clapping American Negro Gospel song - not mere versatility for its own sake, but rather a genuine desire to share some of the very best at an entertaining & contextual level. You will find Alastair McDonald equally at home in a jazz club, folk club, variety show, theatre, concert hall or Church - not because he tailors his performance to the venue of the moment, but rather, as a confessing Christian, believes that a solid, entertaining, wholesome, uncompromising, thought provoking repertoire should know no bounds or require an apology wherever it may be performed.
Info From: www.wellbankhall.co.uk

Glasgow born, in 1928, Matt McGinn became one of the most important, influential and popular topical songwriters in the UK. After gaining a diploma in economics and political science, he trained as a teacher and taught in Rutherglen for three years. He entered the folk business after winning a song contest with a song entitled "The Foreman O'Rourke." After a fortuitous meeting with Pete Seeger in 1961 his music was championed in the United States and Seeger arranged for McGinn to be part of a concert performance at Carnegie Hall where McGinn met a young Bob Dylan.
His involvement in the folk revival of the 1960's was soon augmented by a career as a humourist and playwright while he also had passionate political beliefs. He was a prolific songwriter, especially of songs concerning his experiences of life in Glasgow.
Matt died on January 6th 1977 as a direct result of smoke inhalation and although his parents brought him up to be a Roman Catholic he later abandoned religion. The large congregation at his funeral sang the Communist anthem 'The International'.
Fraser McGlynn and his Broadcasting Band

Fraser McGlynn - button accordion
Davie Scott - fiddle
Sandy Black - bass
Duncan Mackay - piano
Willie Robertson - drums
Fraser McGlynn was born and brought up in the village of Tarbert in Argyll. He started playing the button key accordion at the age of 13. Teaching himself both to play and read music, he won the Scottish Accordion Championship at Perth in 1962 and again in 1966.

His band was formed in 1965 and they passed the BBC broadcasting audition the following year. Regular broadcasts followed and in the early 1970s they recorded two LPs with Scotia. The band travelled extensively, playing at dances, concerts and accordion clubs.

Of the original band members, sadly Duncan Mackay and Willie Robertson are no longer with us. Davie Scott has long since retired but Sandy Black has come out of retirement to play bass in Fraser's youngest son Ryan's broadcast band.

Fraser still plays regularly as a duo with his oldest son Kevin on drums, but has more or less retired from the accordion club scene - he concentrates his musical efforts now more on tuition.
Info from www.musicscotland.com/cd/Fraser-Mcglynn-And-His-Scottish-Dance-Band
Jim McHarg's Scotsville Jazz Band
Jim McHarg (born James McHarg) in 1927 in Glasgow started playing drums then played banjo before specialising in double bass. He played his first gigs in Bournemouth with 'The Pine City Stompers', before returning to Scotland in the early 1950s and leading 'The Clyde Valley Stompers' from 1952 to 1953. He moved to Canada in 1956 and returned to the UK in early 1960. In 1961 he worked with Dick Charlesworth for a few months and then formed his own band in 1961. He then toured for a year before emigrating to Canada, where he lived and played in Vancouver, then in Toronto from the late 1960s.
In 1962 McHarg was sacked from his own 'Jim McHarg's Scotsville Jazz Band' by the other members and replaced on double bass by Jack Bruce later of Cream.
If you can add any further information to this piece please contact me here
John Warburg & Ghoulz (2006)
George McIntyre (aka Geordie McIntyre)

A Glaswegian of Highland and Irish descent, his lifetime involvement in song, ballad and poetry is reflected in his singing, collecting and songwriting.
His early years as a radio and television technician and later as a Modern Studies teacher, coupled to his passion for the outdoors have in diverse ways fueled and complemented his central interest in folk music.

He has an extensive repertoire and has sung at clubs and festivals in most corners of Britain and Ireland and more recently in the USA.

From: http://www.alisonmcmorland.com/geordie.asp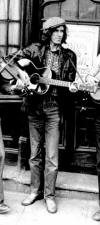 Robin McKidd was a member of 'High Speed Grass' in Falkland, Fife around 1971: Robin McKidd (lead vocals, fiddle, guitar), Davie Craig & Tom Harvey. They hailed from Fife and were a subset of the famous 'Great Fife Road Show'. Rab Noakes was known to fill in on vocals occasionally.
If you can add any further information to this piece please contact me here

Jeanette McKinley - vocals
Sheila McKinley - vocals
Jeanette and Sheila McKinley were from Edinburgh and had performed with 'The Fabulous Falcons' (from Glasgow) all over Scotland throughout 1963, then signed to EMI Records. They released four records as sisters: 'Someone Cares For Me' / 'Million Miles Away', 'When He Comes Along' / 'Then I'll Know It's Love' & 'Sweet And Tender Romance' / 'That Lonely Feeling' all in 1964 and 'Give Him My Love' / 'Once More' in 1965. The latter was written by fellow Scot, Donovan who also plays guitar on the recording. They also provided vocal talents on recordings by artists such as The Rolling Stones, The Hollies & Ringo Starr.
They also had Jimmy Page (of 'Led Zeppelin' of course) playing guitar on some of their discs and supported 'The Beatles' on some of their Scottish dates. Later they moved to Germany and renamed as 'The McKinley Sisters' singing in German, then both girls had hits on the continent, Sheila as a soloist and with 'The Les Humphries Singers and Jeanette with a band called 'Windows' who had a #1 chart hit in Germany with 'How Do You Do'.
Sadly Sheila died December 2014 aged 71.



Born in Rutherglen near Glasgow to Irish parents, Pat McNulty's maternal grandfather and great-grandfather from Co. Monaghan had both been uilleann pipers, though Pat himself began playing tin whistle, fiddle and piano before taking up the pipes in the 1950s.
In the following decade he dominated the All-Ireland pipes championship, winning the title on six occasions. Naturally, he was an original member of the NPU and was the first person to be recorded by Brendan Breathnach who had set himself the task of taping all pipers present. Back in Britain, Pat founded a similar, if smaller group, SOUP (the Society of Uilleann Pipers) and continued to play at folk clubs and festivals, while also broadcasting on radio and TV. His most noteworthy appearance, however, was as the first piper to appear in a British concert hall with a full orchestra when he featured in John Tavener's A Celtic Requiem.
His own first album appeared in 1976, but the only one currently available is Autumn Apples where, in part he uses a full set of Egan flat pipes from the mid-19th century. McNulty exhibits striking employment of drones and regulators throughout and the reels Music of the Forge/Stoney Steps, learned from Séamus Ennis and Leo Rowsome respectively, are glorious piped dance music. Other pieces include the grand lament from Co. Limerick, Slan Le Maighe, and several of McNulty's own, such as the air Doohamlet Church, celebrating his forbears' village.
Info From: thereelbook.com

Francis McPeake - pipes, vocals
Francis McPeake II
James McPeake
Kathleen McPeake
Francis McPeake III
Tom McCrudden
Tomás O Canainn - pipes
Tommy Gunn - fiddle
The McPeake family of Belfast were one of the few Irish pre-ballad boom groups. That they were better-known abroad than at home is illustrated by a story told about a conversation between Bob Dylan and Bono of U2 in 1984. The legendary singer asked what Bono thought of the McPeakes. The Dublin-born Bono had never heard of them.
The group was built up around the grandfather, Francis I, who had studied pipes under the blind Galway piper John Reilly, and had won prizes at the 1908 Belfast Feis and the 1912 Oireachtas. His musical career began as a triangle player in a flute band of which his brother John was a founder member, around 1898.
He acquired a set of O'Mealy pipes and developed the unique facility of being able to sing and play at the same time, a combination repeated with great success by The Fureys and Planxty (albeit using both a vocalist and piper).
The family group, composed of Francis (Da), his sons Francis II and James, and grandchildren Kathleen, Francis III and Tom McCrudden, achieved considerable international success and won the Eisteddfodau in 1958, '60 and '62. In the 1950s they played as the Seamus McPeake Ceili Band, with which piper Tomás O Canainn and fiddler Tommy Gunn played at one time or another.
On the suggestion of Pete Seeger they made a two-month tour of the United States in 1965, when Francis (Da) was 80, and played for President Johnson in the White House. They have also performed in Moscow. Other admirers included Van Morrison and John Lennon who once asked Francie to teach him the uilleann pipes and almost bought a set from him.
The group featured vocals, two uilleann pipes, two harps, banjo, guitar and tin whistle. A year later Seeger came to the Whitla Hall in Belfast for Francis senior's farewell concert.
Their most famous song, 'Will Ye Go, Lassie Go', written by Francis Senior, was recorded by The Clancys and The Byrds in the 1960s and Rod Stewart (after copyright hiccups were sorted out) in the 1990s, but they also passed other folk songs on into the tradition. Another song they performed, 'Purple Heather', was recorded by Van Morrison.
Francie II suffered an accident to his right hand in the early 1970s which meant the end of his career as a full-time performer, but he never gave up playing altogether.
Although the group ceased to play for some time after the death of Francis I in 1971, they formed a new line-up in the 1980s which did club work in the North.

On the Record
Shoe the Donkey, Francie McPeake with The Clonard, 1989
At Home with the McPeakes, Fontana, 1967
The McPeake Family, Topic, 1962
The McPeakes, Prestige, 1960
The Rights of Man, Francie (Da) and Francie II, 1952
Info From: www.iol.ie/~ronolan/mcpeakes.html

Edinburgh musician, Morris McPhillips sang and played bodhrán and Appalachian dulcimer in a British folk band called 'Kempion' with David Oxley (fiddle, bouzouki and mandolin), Mark Wallis (guitar, bouzouki, mandolin and tenor banjo) & Duncan Hudson (tin whistle and flute). They toured Britain and Europe during the 1970s and recorded a number of albums. Their repertoire contained mostly Celtic Irish and Scottish traditional music with some English music too.
If you can add any further information to this piece please contact me here
Info From: www.musicaviva.com


Advance promotional copy
with the sides reversed
A five piece UK band with George Davies on vocals. I assume that he was 'me', but I don't think 'them' was Them!
Singles included: 'Feels So Good/ I Think I'm Gonna Kill Myself' (banned by the BBC), 'Everything I Do Is Wrong/ Show You Mean It Too' & 'Get Away/ Tell Me Why' all from 1964.
Info courtesy of: www.45-rpm.org.uk
They appeared twice on the famous sixties TV show 'Thank Your Lucky Stars' and completed one national tour before disappearing.
If you can add any further information to this piece please contact me here
John Fiddler - vocals, guitar, piano, drums
Peter Hope-Evans - harmonica, jew's harp, mouthbow
Medicine Head were an English blues/rock duo formed in 1968 in Stafford, England, though there were a variety of supporting musicians too such as Tony Ashton (ex Ashton, Gardner and Dyke) & Keith Relf (ex Yardbirds).
They were initially signed them to John Pell's 'Dandelion' record label where they recorded the first three of a career total of six albums, the rest being on Polydor. None charted and they split in 1977.
Hope-Evans has worked with Pete Townshend amongst others and Fiddler with 'British Lions' and 'Box of Frogs'. Fiddler sometimes records & tours with the name and the hits.
UK chart singles:
'(And The) Pictures in the Sky' - #22 (1971)
'One and One is One' - #3 – (1973)
'Rising Sun' - #11 – (1973)
'Slip and Slide' - #22 – (1974)
Hamish McGregor - clarinet
Tommy Lister - trumpet
Bob Heatlie - saxophone
Gordon Cruikshank - tenor saxophone
Originally 'Hamish McGregor and the Clansmen', 'The Memphis Road Show' were a 10-piece RnB/Soul band from Edinburgh.
Bob Heatlie was a superb musician who penned the smash hit "Japanese Boy" sung by Aneka and worked with / wrote for with many performers such as Cliff Richard and Shakin' Stevens. He was also a member of many bands including 'Rockin' Chair'.
Tommy Lister also played with 'Tommy Lister & The Dunfermline City Jazzmen'.
If you can add any further information to this piece please contact me here
Born in Paisley, Gerry Rafferty worked with beat groups 'The Meridians' and 'Fifth Column' before joining Billy Connolly in 'The Humblebums' in 1969.
If you can add any further information to this piece please contact me here
Pete Hughes - vocals
Glenn Tipton - vocals, guitars, organ
Peter (Mars) Cowling - bass
Steve Palmer - drums
Trevor Foster - drums
Frank Walker - bass
Andy Wheeler - bass
Formed in 1971 and split in 1972, heavy metal outfit from Birmingham, Merlin were originally known as 'Shave N' Dry', featuring Glenn Tipton (keyboards & guitar), Dave Shelton (bass), Pete Hughes (vocals) & Barry 'Spence' Scrannage (drums). They supported 'Curved Air' at the ballroom on Sunday afternoon 3rd October 1971. Later that year they would rename again as 'The Flying Hat Band' and headline at the ballroom in 1973 when Wizzard refused to play.
If you can add any further information to this piece please contact me here



The Merseybeats The Merseys The Merseys
Tony Crane - vocals, guitar
Billy Kinsley - bass, vocals
David Elias - guitar, vocals
Frank Sloane - drums
John Banks - drums
Aaron Williams - guitar
Johnny Gustafson - bass, vocals
Ken Mundye - drums
Bob Packham - bass, vocals
Allan Cosgrove - drums, vocals
Dave Goldberg - keyboards, vocals
Adrian Crane - keyboards, guitar
Lou Rosenthal - drums
The Merseybeats were created during 1962 from the remnants of a previous group called the Mavericks in which Crane and Kinsley had been members. The new group became a popular local act and soon became signed to Brian Epstein in the rush to find Liverpool talent. However, the relationship with Epstein did not last long because the group's ideas on the direction they wanted to take clashed with the Beatles' manager. Their stage act was a good deal closer to rock and roll than the ballads that they recorded for their 45s. Nevertheless, they managed #28 with their first release and broke the top ten with "I Think Of You". Although their subsequent releases were generally well crafted and gained reasonable chart placings, they never quite managed to produce another really substantial hit.
By 1966 record buyer's taste for the Mersey sound was beginning to fade and the prospect of a further hit was probably dying too. The group split up, but Tony Crane and Billy Kinsley decided to try as a duo and suitably abbreviated their name to 'The Merseys'. The new sound worked well and Crane and Kinsley actually had their biggest success in this guise with 'Sorrow' which took them to #4 during the spring of 1966. However, despite a few more tries, it would be the last hit that the pair would have together.
The Merseybeats later reformed with new personnel under the stewardship of Tony Crane and have been active at 1960s nostalgia concerts for many years and still are. Although vocalist/bass player Billy Kinsly had attempted a solo career even during the time that the Merseybeats were at the top, he did not split from Crane for long until the mid 1970s- but he has subsequently been reunited with the group on many occasions.
Info from: www.45-rpm.org.uk & www.merseybeats.co.uk
Norrie Whitelaw - vocals
Eck Paton - guitar
? - keyboards
Charles 'Chic' Clark - bass
Bob Kennedy - drums
Local Fife covers band.
Many thanks to David burns for the above info
If you can add any further information to this piece please contact me here
Dougie Wright - guitar
A local band from Dunfermline, Dougie Wright had been with 'The Ambassadors' (aka 'Ross Devlin & The Ambassadors') in the mid sixties. Dougie went on to play with Trevor Forster (of 'The Falcons') in 'Scope' before joining 'Middle Age Spread'. He is sadly no longer with us.
If you can add any further information to this piece please contact me here
Mike Felix - drums, lead vocals
Gilbert Lucas - piano
Lenny Blanche - bass
Red (Stan) Lambert - guitar
Alan 'Earl' Watson - saxophone
Norman Langford - saxophone
Mike Felix, Gilbert Lucas and Lenny Blanche had originally started out as a three piece jazz combo before adding Red Lambert to the line-up. At this point they became the Migil 4, making the unusual name up for the group from the first two letters of founders Felix and Lucas' Christian names. It was in this new guise that their style took a turn towards rhythm and blues. However, it was the addition of saxophonist Alan Watson - thus becoming the Migil 5- that allowed them to create a fuller sound. It was this line-up that produced their only UK top ten hit, "Mockin' Bird Hill". It is notable because, although the group came out of the North London area, it adopted a strong 'ska' beat which was then still unusual outside of the West Indies.
Apart from one further minor hit in a similar lilting style to Mockin' Bird Hill, the group were unable to find much more success on record. They continued to prove popular live performers, but the original quintet began to fall apart beginning with the defection of drummer/ lead vocalist Mike Felix who wanted to try his hand on his own (he cut two unsuccessful solo singles). The Migil 5 went on playing until 1971 with Norman Langford replacing Alan 'Earl' Watson - who left in 1969 to run a Canvey Island pub. In fact the group seems to have generally drifted towards Essex - Lenny Blanche started a successful restaurant (The Boatyard) at Leigh On Sea and Gil Lucas moved into the business of pub and entertainment management, but didn't give up his music. Up until the time of Gil's untimely death he was still playing in a trio in the Palm Tree, Mile End. So sadly we are not going to see the original Migil 5 on the nostalgia circuit.
Info courtesy of: www.45-rpm.org.uk
Jimmy Miller - piano, vocals, band leader
Jimmy Miller first came to public notice in his early teens as accompanist to his violinist brother, Willie, in Harry Gordon's shows at Aberdeen's Beach Pavilion. They secured a broadcast in Children's Hour and when impresario Jack Hylton heard this he immediately booked them for his London show, Life Begins at Oxford Circus.

Next they went on tour with Mrs Jack Hylton's Band with Willie in the string section and Jimmy playing piano and handling the vocals. Willie went on to become one of London's top session musicians while Jimmy continued on the variety halls as a member of the all-star Ambrose Octet alongside such luminaries as Vera Lynn and Max Bacon.

At the start of the Second World War the Royal Air Force was the youngest of the three services and possibly because of this it had the most enlightened attitude to dance music - the pop music of it's day.

Director of Music Wing Commander R.P. O'Donnell, MVO, let it be known that if dance band musicians of military age were to volunteer to join the RAF he would see to it that they were formed into five-piece units to entertain at the various RAF stations up and down the country. Set apart from the hundreds who joined in this way were the thirteen selected to become the RAF's Number One Dance Orchestra - The Squadronairs. The largest number to come from any one big-time band were the eight who joined up with Jimmy Miller from the Ambrose Orchestra - at that time generally acknowledged as the best in the land. They were the cream of their profession and no civilian bandleader of the day could have afforded the salaries necessary to keep them together.

"But the RAF got us for five bob a day," Jimmy recalled with a grin when we spoke about those days. Apart from his musical ability, Jimmy had talent as a personable singer and the rest of the band voted him leader, although he was only a Leading Aircraftman at the time - the lowest of the low. Legend has it that he was promoted sergeant after some RAF top brass heard him rehearsing the band and giving directions to lead trumpet Tommy McQuater, who was a corporal, but Jimmy's own recollection was that he was made a sergeant so that he could sign the rest of the band into the sergeants' mess for a dram after the show.

"It didn't matter what rank we were anyway," Jimmy told me ruefully. "We were all "acting, unpaid".

For six years the Squadronairs played at camps up and down the country, and on the Continent as the Allied troops advanced into Germany, broadcasting frequently and making a regular stream of records. Post war they kept together as a co-operative unit, making regular appearances at Glasgow's Green's Playhouse ballroom, but the big-band scene was in decline and one by one the band's stars left to take up the more lucrative and settled life their talents could command as session musicians in London. Trombonist George Chisholm, for example, left the band to become a successful comedian in the long-running Black and White Minstrel Show, although he always preferred to be known as a musician.

Jimmy Miller stayed with the band till 1949 before leaving to take up a post with Carroll Gibbons and the Savoy Hotel Orpheans at London's Savoy Hotel. He took over this band for a few years following Carroll Gibbons' death in 1955 and later worked as a conductor for several London shows. He even quit the profession altogether for a spell to manage a businessman's club but music always remained his first love and he was playing piano for local schoolchildren till shortly before his death.

"It's been a great life," he told me the last time we spoke. "I wouldn't have missed it for anything."

Jimmy Miller died last year aged 85. He was survived by his wife, Mary, and sons Martin and Gordon. Mary told me Tommy McQuater (only survivor of original Squads) was at the funeral and he played Auld Lang Syne on trumpet for Jimmy. A nice touch, don't you think?
Recalled by Jimmy Brown here: http://www.memorylane.org.uk/previous_articles.htm#Jimmy Miller
British pop singer Garry Mills (born 13th October 1941 in West Wickham, Kent, England) released several singles from May 1959 through to May 1962.

Three of these charted in the UK, commencing with his best known hit, 'Look For A Star' / 'Footsteps' (March 1960) which reached #7, followed by 'Top Teen Baby' / 'Don't Cheat Me Again' (Sept 1960) UK #24 and 'I'll Step Down' / 'Your Way Is My Way' (May 1961) which peaked at #39.
The song 'Look for a Star' (composed by Tony Hatch using the pseudonym 'Mark Anthony' as he was a serving soldier at the time) was written as the theme song to the horror film, Circus of Horrors (1960) and recorded by Mills in the UK for Imperial records. A US version was quickly recorded & rushed out, sung by Nashville session artist Garry Miles (aka Buzz Cason and singer with The Statues) on Liberty Records in the same month and was almost identical in treatment though the Miles (US version) has perhaps a smoother delivery. This caused understandable confusion which is alleged to have been deliberate. The single's sleeve even suggested that the US version featured in the film whereas while it is true to say the song itself did feature in the film, it's in the guise of the UK Garry Mills original version!
A third and again similar vocal version was recorded and released by Deane Hawley in the US and an instrumental version by Billy Vaughn both in 1960.
Garry Mills' Singles:
'Hey Baby (You're Pretty)' / 'You Alone' (May 1959)
'Seven Little Girls Sitting In The Back Seat' / 'The Night You Became Seventeen' (Oct 1959)
'Living Lord' / 'Big Story Breaking' (Dec 1959)
'I Am The Great I Am' / 'Rhythm In Religion' (Dec 1959)
'Teen Angel' / 'Running Bear' (Feb 1960)
'Look For A Star' / 'Footsteps' (Mar 1960) UK #7
'Comin' Down With Love' / 'I'm Gonna Find Out' (Jun 1960)
'Top Teen Baby' / 'Don't Cheat Me Again' (Sep 1960) UK #24
Look For A Star EP - 'Running Bear' / 'Comin' Down With Love' / 'Jimmy's Girl' / 'Seven Little Girls' / 'Teen Angel' / 'Look For A Star' (Jan 1961)
'Who's Gonna Take You Home Tonight?' / 'Christine' (Feb 1961)
'I'll Step Down' / 'Your Way Is My Way' (May 1961) UK #39
'Bless You' / 'Footprints In The Sand' (Sep 1961)
'Treasure Island' / 'Sad Little Girl' (Dec 1961)
'Save A Dream For Me' / 'Never Believed In Love' (May 1962)

Kevin Mitchell was born in St Columb's Wells, Derry City, and grew up in Springtown Camp and the Creggan Estate. From a very early age he was interested in Irish songs, music and dance. He followed this interest at every opportunity and, while involved in learning the Irish language, an opportunity arose to learn traditional songs first-hand from traditional singers. He met Seán Gallagher initially through the language, and then he encouraged Kevin to enter the traditional singing competition at Derry Feis. He also helped Kevin learn songs and introduced him to several of his relatives who gave him ballads, which he still sings.
Later he attended Friday night ballad sessions in Buncrana where he was fortunate to meet a host of singers with good songs, including Corny McDaid, who gave him many fine songs and ballads. He finally settled in Glasgow in 1969.
He has continued to search out songs throughout the years and has appeared at many clubs and festivals in Britain, Ireland, Canada and the USA.
Kevin's previous recordings include; 'Free and Easy' & 'I sang that Sweet Refrain'.
Info From: www.mustrad.org.uk

Monty (Lee Montgomery) - vocals, guitar
Mick (Mike O'Reilly0 - lead guitar
Jim (Jamie Macfarlane) - bass
Gaz (Gary Heany) - drums, percussion, vocals
Modern Faces are a Dunfermline four-piece whose influences include The Beatles, Paul Weller, Small Faces, The Who, The Stones, OCS, Kasabian, The Music etc.
Previous gigs include Alan McGee's Death Disco, Alan McGee's Greasy Lips Manchester, The Dublin Castle London, Glasgow's O2 Academy, The Alhambra Dunfermline and Velocity Dunfermline to name a few!

The band have supported original Oasis member Bonehead's band The Vortex, Sergeant, The Law, The Troubadours, Attic Lights and The Complete Stone Roses.

On Sat 3rd April 2010 the band launch their first EP in Velocity, Dunfermline to an expected sell-out crowd of 850 people! With support from Manchester band The Vortex and more. The EP will be available to buy on CD on the night and also available to download from ITunes.
Info from http://www.myspace.com/themodernfaces


My thanks to Stuart Prentice for this image
Keith Carlson - bass
Nicky Crouch - lead guitar
Stuart James (Slater)
John Conrad (Bob) - drums
Terry O'Toole - piano
Aynsley Dunbar - drums
Lewis Collins - bass
The Mojos were one of the few Merseyside groups to be signed to Decca. They had originally called themselves the Nomads and still had Adrian Wilkinson on lead guitar at the time they cut their first single, becoming the Mojos. He was soon replaced by Nicky Crouch, who had previously played with a group called Faron's Flamingos who had themselves cut two unsuccessful singles on the Oriole label. After their first single failed to chart the Mojos departed for Hamburg following the trail well worn by so many UK rock and roll bands of the period. While they were actually in Germany they cut their second single, 'Everything's Alright' which was penned by the group themselves. The record became the group's only top ten hit.
The Mojo's next single, written by their pianist O'Toole, and its follow up both made the chart. However only the first hit comes near to capturing the excitement of their live act. At the end of 1964 the group's line up changed dramatically, losing Keith Carlson (bass), Terry O'Toole and John Conrad (drums). However they continued to record as a four-piece benefiting from the addition of a new drummer, Aynsley Dunbar and a bass player called Lewis Collins. None of the band's subsequent recordings sold very well including one attributed to 'Stu James and the Mojos', and it finally broke up in January 1967. Lewis Collins became a professional actor and is best known for his part in the TV series 'The Professionals'.
Info courtesy of: www.45-rpm.org.uk
I have two line-ups:
Alan Brown - lead vocal, lead guitar
Gerry McFarlane - guitar, vocals
Colin Paterson - vocals
Gerry McFarlane - guitar, vocals
Chic Ballantyne - bass
James McDonald - drums


Collen Bell - lead vocals
Allan Brown - guitar, vocals
Andy McBride - bass
Des Barkey - drums
Can you clarify the info and add some more?
Glasgow band active in the early seventies, from Shawfield I believe, played at the Kinema 15 times.
I understand the name may be associated with a burn which flows under the pitch at Hampden from between the South and West stand (at the Mount Florida end) and comes out under the East Stand (the Aikenhead Road end).
Alan & Des went on to play together later in a Hamilton band called Cascade who were later resident in the Glasgow Rangers club next to Ibrox park for a few years and recorded a single 'My Child' / 'Who Is It?'. Des wrote a song called 'Merry Christmas to Mr Christmas' which was recorded by Radio Clyde's 'Tiger Tim'.
Sadly I understand Des Barkley passed away some years ago.
If you can add any further information to this piece please contact me here
Julie Morrison is a prolific, versatile, successful singer/songwriter who has had hits in Europe, America and Asia.
She has sung as:
'Julie Morrison'
'Jay Mondi'
'Julie Zee'
'Jay Jay'
'Discoscience'
'Three Drives featuring Julie Morrison'
'Stonebridge featuring Jaysoul & Julie Morrison'
'Napt featuring Julie Morrison'
She has written for:
'Louise'
'Darude'
'Melanie Brown'
'Kaya Jones'
'Kumi Koda'
'Emma Soraya'
She has co-written with many different artistes too including Victoria Beckham & Boyzone.
She appeared at 'Hollywood Boulevard' as part of the sixth and last 'Hit Man and Her' show recorded at the venue, singing her single release 'Get Sweet Love' on 5th August 1990.
Zoot Money (George Bruno) - vocals, organ
Andy Summers (Somers) - guitar
Paul Williams - bass, vocals
Nick Newell - tenor sax
Johnny Almond - sax
Colin Allen - drums
Zoot Money's musical career began in his home town where he rapidly became a popular local attraction. It was there that he formed his first line up of the Big Roll Band during 1961. However, Zoot decided to try his luck with Alexis Korner in London and spent a period with Blues Incorporated before moving on again and producing a new line up of Big Rollers during 1964. These included the impressive guitarist Andy Somers (who had temporarily changed his name from Summers at about this time).
Although the band had a reputation for producing excellent R&B, it was probably their crazy stage antics that generated most of their popularity and they were sought after live performers. Sadly, Zoot never quite managed to capture the same sense of fun on his recordings and none of their excellent singles made any impression except the wonderful 'Big Time Operator'.
Zoot split the band again during 1967 and resurfaced with Somers and Allen as 'Dantalian's Chariot', hoping to carve out a new niche in psychedelia. When this didn't work out- perhaps Zoot's image stood in the way of him being taken seriously- Zoot and Andy decided to join Eric Burdon's 'New Animals' which looked set for success in the US. Andy Somers subsequently established himself with the 'Police' (the band, not the constabulary!) and the eccentric Zoot has contributed to a great many bands both as a member and in sessions over the decades since.
Info courtesy of: www.45-rpm.org.uk


L-R: Arthur, Mick
Jim, Jock & Tony
Jim Brennan - vocals
Mick Brennan - acoustic guitar, mandolin
John (Jock) Penman - acoustic guitar
Johnny O'Donnel - Banjo, electric guitar, pedal steel guitar
Bill Adcock - bass
Arthur Allison - guitar
Kip McBay - bass, piano
Johnny O'Donnel - ?
Monolug were a busy acoustic/electric folk covers band formed in 1972 in the Fife village of Kelty by guitar-playing friends Mick Brennan & Jock Penman along with Mick's brother Jim & Bill Adcock who joined from 'Kaywana Stock' after they split.
Their name is reputed to have come from an affectionate reference to a bass player (before Bill) who auditioned but didn't quite cut it as he was deaf in one ear!
They began with a wholly acoustic sound, but they slowly morphed into a more electric outfit as the popularity of electric-folk increased with the likes of Fairport Convention, Trees and their good friends, The JSD Band. Johnny O'Donnel joined sometime later from 'Blackthorn'.
I understand they used to do a little comic skit where Bill left the stage because of a purportedly weak bladder, only to return and add a heavy bass to what was an a cappella rendering of 'Da Doo Ron Ron'.
They made some good amateur recordings but were never signed despite touring extensively throughout the folk club circuit, in probably every club in Scotland alongside the best of their contemporaries such as 'The Laggan', 'Gaberlunzie' and the aforementioned JSD Band.
They held down a residency at the ballroom between November 1973 and October 1974 and ran the Folk Club during that time before playing regularly at the Bellville Hotel across the road in Pilmuir Street for more than a year.
They gradually grew weary of the format and a desire amongst some members to rock it up a bit may have contributed to their demise which came sometime in 1977.
Kip McBay later formed 'Biocar' with Pat Kelly (both ex 'Joe's Diner') before providing PA & forming road crew for The Skids. They later founded 'Sound Control' (which became the UK's biggest supplier of musical instruments and equipment). Pat was its Managing Director, while Kip is with rival firm 'Guitar Guitar'.
Jock, Mick & Jim went on to form a rock band called 'The Rolling Sapolas' with Tony Duffy & Terry Wallace (the son of Tommy Wallace of The Topnotchers). They may have supported Nazareth in the Ballroom but I don't yet have a date (maybe 09/10/84?), however they did play the ballroom as simply The Sapolas on on Sunday 5th October 1986.
Jim Brennan became a Labour Councillor in Kelty & spokesman for Arts & Leisure (now retired), while Mick roadied all over the world with a variety of artists before setting up his own recording studio/rehearsal rooms at 'The Substation', a converted church in Rosyth.
I'm much indebted to Mick Brennan, Bill Adcock & Stevie Starr for the information above and to Tony for the pic




The Dunfermline Press
Saturday 28th April 1962.
Matt Monro was born Terence Parsons on December 1st 1932 in Shoreditch London.
He became employed as a driver- among other things- after his discharge from the army, but sought work as a part-time singer wherever he could. This included making advertising jingles for TV commercials. He was given his first real break as a singer on Cyril Stapleton's 'BBC Showband' radio programme and through this eventually secured a contract to record, but his output received little attention. He had developed a reputation for a singing voice that was frequently compared to Frank Sinatra, and although this was overstated it did lead to attention from EMI. Future Beatles' producer George Martin was looking for a suitable singer to use as a 'spoof' Sinatra on a forthcoming comedy recording of Peter Sellers. This was with Parlophone which was a label that EMI used for its comedy output during the late 1950s, but was also now signing, more serious artists- indeed it would shortly include the Beatles on its roster. Monro's singing voice thus appears on the famous goon's 'Songs For Swingin' Sellers'.
Matt's first release on the new label didn't do much better than his previous efforts, however the next two both made the top ten and the guys at Decca and Fontana must have wondered where they went wrong. At a time when younger record buyers were turning to beat groups, Matt had to work hard for his hits. However, they did come and his rendition of the Lionel Bart penned 'From Russia With Love'- from the Bond movie of the same name- also gave his international status a boost. By the end of the 1960s Matt's singles career seemed just about over, but he managed one further hit during 1973 with 'And You Smiled'.
Despite the lack of a market for his singles, Matt continued to be popular with his albums and TV work through the 1970s. He also worked the nightclub scene and had done well enough with his records in the USA to do so there as well as in the UK. Sadly, Matt Monro died from cancer during 1985, thus robbing Britain of one of its most revered performers.
Info courtesy of: www.45-rpm.org.uk
He was sometimes affectionately referred to as 'The Singing Bus Driver'.
John Jones - lead vocals
Bill Hayward - lead guitar
Terry Rowley - guitar, keyboards
Graham Crewe
Later:
Jake Elcock
Graham Hollis
Sludge Lees
George Davies
Described as high-energy pop, similar in style to The Tremeloes, this Wolverhampton band were best known for their lone US hit 'You've Got To Be Loved' though it was never promoted there. Jones & Rowley left briefly 1968 - 1970 for a spell with Trapeze before returning.
Most of their records were released on the Pye label between 1965 and 1969 and they included elements of comedy and a mime act in their stage show!
They did a six-week nationwide tour with 'The Walker Brothers', 'The Troggs', 'Dave Dee, Dozy, Beaky, Mick and Tich' and 'Clodagh Rodgers'.
In 1998 a 26 song best-of album was released (titled after their hit single) including songs written by Andrew Lloyd Webber (now Lord Webber), Tony Hatch & Jackie Trent.
Info from: http://www.localhistory.scit.wlv.ac.uk/articles/InBetweenTimes/Page0.htm#contents
Denny Laine - guitar, vocals
Mike Pinder - keyboards, vocals
Ray Thomas - vocals, flute percussion
Clint Warwick - bass, vocals
Graeme Edge - drums, percussion
Rodney Clark - bass, vocals
Justin Hayward - guitar, vocals
John Lodge - bass
Patrick Moraz - keyboards

The Moody Blues has enjoyed a lengthy career, performing in a variety of styles and with a mixture of personnel.
Despite the fact that the group were mostly from the Midlands and came together in Birmingham, they soon based themselves in London. Their first single did nothing, and is now a collector's item, but their second release rapidly went to the #1 spot. This was 'Go Now' a magnificently made cover of the Bessie Banks original. Despite this early rise to the top they struggled to repeat the success but were rewarded with only lowly chart positions on their subsequent singles.
By 1966 Denny Laine and Clint Warwick decided to quit and were replaced by Justin Hayward (b. 14th October 1946, Swindon) and John Lodge (b. 20th July 1945, Birmingham. Laine reappeared some years later as an important member of Paul McCartney's Wings. This major change in the group's personnel made no immediate improvement in the process of making hit records.
However the reformed group did produce the highly regarded 'Nights In White Satin' which reached the #19 spot on its first release. Its re-release in 1972 would reach UK #9 and US #2 spots. The new line-up diverted from the more conventional R&B of their earlier work and pursued an ambitious, if not controversial, path blending a classical style into their output. They consequently became respected as one of the most innovative and long lasting groups to emerge during the 1960s.
Info courtesy of: www.45-rpm.org.uk

Christy Moore was born in 1945. The eldest of six children, he grew up in Newbridge, Co Kildare. Both his sister Ailish and brother Barry (Luka Bloom) are singers. His father had a grocery shop and was deeply involved in local politics. Early influences included his mother's singing and Clancy Brothers recordings. On meeting the settled traveller John O'Reilly and the Grehan Sisters in Boyle he became aware of the large body of songs in the tradition held by people all around the country.
After leaving school he went to work as a bank clerk. A transfer to Miltown Malbay in Co Clare in 1964 brought him into regular contact with Willie Clancy and Micho Russell who he would meet in later years on their European travels. For a brief spell he was involved in a duo with Donal Lunny called the Rakes of Kildare. He had known Donal Lunny through school and in the early 1960s they were in a group in Newbridge called The Liffeysiders.
During a bank strike in 1966 he went to England, as many striking officials did, but didn't return when the strike was settled three months later. Doing general labouring work, he frequented the folk clubs and the Irish music pubs where he met Seamus Ennis, Margaret Barry, Luke Kelly and traditional musicians. In 1971 he teamed up with Andy Irvine, Liam Og O Floinn and Donal Lunny among others, to record the Prosperous album.
This led to the formation of the group Planxty and the recording of the album of the same name. The first of the big folk and traditional groups of the 1970s, Planxty combined singing with Irish dance music on Liam Og O Floinn's uilleann pipes, backed up by acoustic guitar and bouzouki chords first developed by Sweeney's Men in 1966. After recording two more albums he left Planxty and went solo. Planxty was reformed in 1979 and Moore and Lunny rejoined the group for a couple of years.
With Donal Lunny and others he formed Moving Hearts in February 1981, a folk and jazz/rock group which released their first album Moving Hearts that same year. The album was a number one hit in Ireland. Along with the piping of Davy Spillane, the group combined saxophone, electric bass, keyboards and drums. The band blended contemporary sounds with new ballads tackling political issues such as the North, nuclear power and the Anti-Apartheid campaign. While these songs went down well with a younger, liberal-minded generation, they lacked Luke Kelly's clear commitment to socialist ideals. They were most closely associated with the successful campaign against the building of a nuclear power plant at Carnsore Point in Co Wexford and their electrifying Hiroshimo, Nagasaki is a memento of the Irish anti-nuclear campaign. The group continued until 1984 with Mick Hanley and Flo McSweeney on vocals.
After their second album Dark End of the Street, Christy Moore left Moving Hearts in 1982 and has been performing solo since. He returned to the folk format and with Donal Lunny in support, produced the album The Time Has Come in 1983 and Ride On in 1984. The latter and The Spirit of Freedom (1985) included strong republican songs at a time when younger people in the South were turning strongly against the Provisional IRA's war campaign. Included with the witty numbers such as Lisdoonvarna were songs about hunger striker Bobby Sands. He ceased to support the Provos after the bombing atrocity in Enniskillen.
His later albums were made up of more contemporary and pensive songs, utilising writers like Johnny Mulhern, Wally Page Johnny Duhan and Jimmy McCarthy.
In 1991 he became the first solo artist to sell out ten consecutive nights at the huge Point Theatre, Dublin. In 1994 he was the subject of a Late Late Show tribute on Teilifis Eireann and in 1996 he released Graffiti Tongue. It included his own compositions and a song North and South of the River, co-penned with Bono of U2, which reflected the mood of reconciliation leading up to the Northern truce.
He suffered a heart attack in 1987. In December 1997 Christy Moore cancelled his Irish tour because of illness. In April 1998 he announced that he was retiring from live performances for at least a year. His stage comeback was abandoned in October 1999 due, it is believed, to his heart condition and prospects of his return to live performances look bleak. However, in summer 2000 he turned up with Donal Lunny as a guest performer at an Andy Irvine gig in Dublin. His most recent album Traveller was released in late 1999. Christy is married to Val and they have three children. A biography, One Voice, was due out in late 2000.
©Ronan Nolan. 2000.
Info from: www.iol.ie/~ronolan/moore.html

Since graduating from London's Royal College of Music he has had a distinguished career in many different areas of the music business.

As a keyboard player, arranger, musical director and producer, he has worked with many of the world's superstars including, Sir Paul McCartney, Stevie Wonder, Paul Simon, George Harrison, Robert Plant, Sir Cliff Richard, Julio Iglesias, Placido Domingo, Jose Carreras, Dionne Warwick, Ashford and Simpson, Kate Bush, Montserrat Caballe, Ozzy Osbourne, Oliver Nelson, Jack Jones, Wayne Shorter, Ringo Starr, Carly Simon, Dusty Springfield, Gladys Knight, Rod Stewart, George Michael, Extreme, Joe Cocker, Lemar and Queen.

Mike has been a member of many bands, including Blue Mink, Stone The Crows (later the Maggie Bell Band) and Gillan.

Other live engagements have been as Piano/Musical director and conductor to Leo Sayer, Lulu, Elaine Paige, Russell Watson, Rod Stewart.

A songwriting collaboration with Lynsey de Paul in 1977 led to Mike and Lynsey representing the UK in that year's Eurovision Song Contest.


Mike worked a great deal with the late Freddie Mercury and their major collaboration was the album Barcelona which features Montserrat Caballe and Freddie together. Mike and Freddie wrote all the material (Sir Tim Rice co-wrote lyrics on three tracks) and the album was co-produced by Mike and Freddie. Queen also recorded tracks written by Mike and Freddie.

Mike's credits as a record producer include four albums for Elaine Paige. Other recordings include work for/with Gino Vanelli, Extreme, Heart, Survivor, Montserrat Caballe, George Harrison, Freddie Mercury, Queen, Placido Domingo, Georgie Fame, Lemar, The Hollies, Martine McCutcheon, Lulu, The Celtic Tenors and a number of theatre and movie soundtrack albums.

As a Filmscore composer, Mike wrote and orchestrated a number of motion picture scores for George Harrison's company Handmade Films including the cult film Time Bandits directed by Terry Gilliam, The Missionary and Water.

Other film credits include Deathwish 3, The Bitch, The Greek Tycoon, Top Secret, Betrayal, Whoops Apocalypse, Sherlock, 'Blessed-pick a life…any life' and soon to be released, an animation film entitled A Fox's Tale. Future film projects include A Fox's Tale 2, Whisky Robber and Colorado Kid.
He has composed original music for over 100 networked productions including Harry's Game, Taggart, Sharman, Sex, Chips and Rock n' Roll, El Cid, Chandler and Co, The Scarlet Pimpernel, The Contract and Bombmaker. Documentaries include This England and Never and Always for Denis Mitchell, and Colossus for Jacques Cousteau .

In Musical Theatre, Mike's credit's include Production Musical Director on the rock musical Time at the Dominion starring Sir Cliff Richard and Sir Laurence Olivier. He continued working with Sir Cliff as Production Musical Director on Heathcliff. Mike produced the London cast album of the King & I for Warner Records, following an earlier success with Piaf, both starring Elaine Paige.

Conducting credits include concerts and recordings with the London Symphony Orchestra, the Royal Philharmonic Orchestra, the B.B.C. Concert Orchestra, the Utah Symphony Orchestra, the Tokyo Philharmonic, the Sydney Symphony Orchestra, the Adelaide Symphony Orchestra, the Wellington Symphonia and the Budapest Philharmonic.

Mike recently was musical director for 'One Night With Rod Stewart" at the Royal Albert Hall. Also last year he completed two world tours as musical director/conductor and pianist for Russell Watson and Elaine Paige.

Mike has currently just finished composing the score for 'Blessed' a film by Storm Pictures starring James Nesbitt which goes on general distribution in 2008 and latest credits include scoring a new production for Touchpaper films titled Octavia, a screenplay based on a Jilly Cooper novel and scheduled for network transmission in 2008.

Mike is Professor of Jazz Piano at the Royal College of Music in London and 2007 finished with him being awarded the Gold Badge of Merit from the British Academy of Songwriters and Composers.
Info from http://www.musicbureaulibrary.com/_content/moran_cv.html
Morgan Fisher - Keyboards
Tim Staffell - guitar & vocals
Bob Sapsed - bass
Maurice Bacon - drums
Morgan Fisher, (former Hammond Organ player with The Love Affair), formed the short-lived classical rock band 'Morgan' in November 1971 with Maurice Bacon and Bob Sapsed (also ex Love Affair) when they split along with vocalist Tim Staffell from 'Smile', (the band that became 'Queen').
They recorded two albums for RCA, 'Nova Solis' (1973) & 'Brown Out' (unreleased until 1976 and only then in the USA). The latter was re-titled 'The Sleeper Wakes' when it was released in the UK and was the first release on the Cherry Red label.
They split in 1973 with Fisher joining British glam rockers 'Mott The Hoople' after a brief spell with The Third Ear Band. He then stayed with the Hoople off-shoots 'Mott' & 'the British Lions'. Fisher later played keyboards on Queen's 1982 tour of Europe.
Dave Moses sang for nine years with Johnny Silvo as 'The Johnny Silvo Folk Group' (Johnny Silvo, David Moses & Roger Evans) & 'Silvo And Moses'
If you can add any further information to this piece please contact me here
Ian Hunter - piano, guitar, vocals
Mick Ralphs - guitar
Verden Allen - organ
Dale Griffin (aka Buffin) - drums
Ariel Bender - guitar
Mick Ronson - guitar
In May 1969, a band from Hereford in the west of England auditioned for Guy Stevens and Island records. He liked them, but not the singer, so he advertised for a singer/pianist. Ian Hunter, who was neither, and who nearly didn't turn up for the audition, got the job. They toured the UK relentlessly, and their explosive stage act soon gained them a live following few bands get. But they couldn't sell albums, and so after four crazed but poor selling albums they split, in March 1972.
Later that year long-time fan David Bowie persuaded them to reform, offering them 'All The Young Dudes' since they had turned down 'Suffragette City' twice! Switching to CBS, and with 'Dudes' a hit on both sides of the Atlantic, Mott finally found the success that had eluded them for so long. But the new musical direction didn't rest easily with some band members, and the line-up started to change.
Verden Allen left the band early in 1973 and this may explain their non-appearance at the ballroom on Sunday 14th January. He was becoming increasingly upset that his songs weren't being used and that "the image was replacing the music", and it was felt within the band that Allen's vocals couldn't stand up to the scrutiny of live or recorded performance. During a show on the tour, his on-stage insults and arguments with Hunter reached the point where he just stormed out. Mott had always been a democratic band - they wouldn't sack Allen unless they all agreed - but this time they felt compelled to accept his resignation.
Out went Mick Ralphs, in came Ariel Bender. Despite huge live success he was less than inspiring in the studio, and he lasted just one album. In came Mick Ronson, but far from being the band's saviour he proved the catalyst in the band's destruction as finally Ian himself realised he had had enough.
The remnants recruited a new guitarist and a new vocalist, but despite a name change first to Mott, then to British Lions it was never the same, and they finally disbanded for good in 1979.
Ian, meanwhile, has enjoyed a varied and successful solo career, working on and off with Ronson until Mick sadly died of cancer in 1993. 1997 saw Ian come back with a vengeance, with a brilliant new album and a string of UK gigs in the spring and autumn. He has continued to tour regularly - another good album in 2001 was followed by live DVDs in 2003 and 2005. The Ian Hunter story is still being written...
Info From: www.hunter-mott.com
Mott The Hoople played the ballroom on Sunday 17th January 1971 and were billed to appear almost exactly two years later on Sunday 14th January 1973 but the gig was cancelled as described above. (Ticket price was to have been 75p!).
Carl Wayne - vocals
Roy Wood - guitar, vocals
Trevor Burton - guitar, vocals
Chris 'Ace' Kefford - bass, vocals
Bev Bevan - drums vocals
Richard Tandy - keyboards, bass
Jeff Lynne - guitar, piano, vocals
Rick Price - bass, vocals
Bill Hunt: woodwinds, horns, keyboards
Phil Bates - guitar, vocals
Trevor Burton - guitar, vocals
Neil Lockwood - keyboards, vocals
Phil Tree: bass - vocals
Gordon Healer - guitar, vocals
Formed in December 1965, The Move were proof that Birmingham was part of the sixties beat boom along with Liverpool, Manchester, London and Newcastle. They were a product of the psychedelic era, but perhaps inevitably were heavily influenced by the Beatles work of the time. Despite this they were one of the most innovative groups to gain a chart presence and even today their work sounds musically inventive.
Chris 'Ace' Kefford and Trevor Burton decided to leave the group after the first few successful singles. These included 'Flowers In The Rain' which gained notoriety for its inclusion of a picture of the Prime Minister of the day, Harold Wilson - taking a bath. The group were successfully sued and their royalties for this particular record went to charity. Despite personnel losses, and acquisition of Jeff Lynne, it was evident that Roy Wood had become the group's driving force.
The hits went on into the 1970s, but by the summer of 1972 the group had evolved into the 'Electric Light Orchestra'. Wood left shortly afterwards to move his inventive musical talents to the raucous 'Wizzard'.
Info courtesy of: www.45-rpm.org.uk

Fred Mudd - vocals
Jeff Mudd - vocals
Mary Mudd - vocals
Luton vocal band, The Mudlarks consisted of two brothers and their sister. A recording contract with Columbia quickly followed on from their appearance on the popular '6-5 Special' television show.
They released 18 singles between 1958 & 1964 and had three hits in the UK, two of which hit top ten. ('Lollipop' was a No 2 hit in May 1958).
The public voted them 'Britain's Top Vocal Group of 1958 in a New Musical Express poll.
Fred Mudd married Leila Williams who was Miss Great Britain 1957 & in 1958 she co-hosted the new BBC children's programme 'Blue Peter' with Christopher Trace.

Noel Murphy is a Kerryman. Born in Killarney in November 1943, his family moved to Dublin in 1950, where they still live. He came to London in 1962. Whilst working at various jobs he started going to folk-clubs, and having spent a short apprenticeship as a floor-singer, became a full-time folksinger in 1964. He was well prepared for his vocation - in his schooldays he'd been an actor, a drummer and a goalkeeper.
His easy going humorous style soon got him plenty of work, including being the first resident at the all-night 'Les Cousins' club in Soho, where he compeered and performed alongside the likes of Alexis Korner, Ralph McTell, Sandy Denny, Bert Jansch, Alex Campbell and many, many more good companions.
Folk-clubs were sprouting up all over Britain, and Noel was opening many of these clubs. He started going abroad in 1965, when he busked to Greece and back, and has since taken his songs and stories to over 50 countries.
His first recording came out in 1966 on Columbia, and he subsequently recorded albums for Fontana, Village Thing, M.F.P., Plant Life, and R.C.A. In 1987 he had a hit with his single 'Murphy and the Bricks', and now runs his own label 'Fine Hairy Rope Records'.
He was joined in 1968 by the 16-year-old banjoist Davey Johnstone, from Edinburgh, touring for 2 years as 'Murf and Shaggis', until they were joined, on double bass, by 'The Strawbs' Ron Chesterman and they became the much-loved and legendary 'Draught Porridge'. Davey went on to become Elton John's lead guitarist and bandleader, and remains such. Noel has appeared on over 300 television programmes and has broadcast on radio, over 2000 times. His TV appearances included 2 comedies, with his dear golfing partner Eric Sykes, for ITV, partnering lan Woosnam on Pro-Celebrity Golf, on BBC2. He also recorded one-man shows for Grampian, Southern, Trinidad and Danish TV.
Noel has always loved sports, especially golf, Gaelic games and Rugby Football. He was a caddie as a youngster, his first handicap was 5 and he became a scratch golfer, playing for both Surrey and Middlesex in the '70's. He has held or shared 6 different course records, has had 14 holes-in-one, and has partnered over 70 Ryder Cup players and several Open champions. He was Captain of The Stage Golfing Society in 1978.
Info From: www.martin-kingsbury.co.uk
Olly Murs




Olly Olly at Velocity Olly at Velocity


Essex-born Oliver "Olly" Murs was born on May 14th 1984.
He has played semi-professional football for Witham Town and now works as an energy advisor in a call centre. Previously he appeared on the TV show 'Deal or No Deal', where he won £10 after swapping his box which, it turned out, contained £1,000!
Olly was runner-up to Joe McElderry in series six of the highly popular ITV talent show, 'X-Factor' in 2009 where Simon Cowell said it was "the easiest yes I have ever given" and later in the series Cowell said putting him in the final 12 was "the best risk I have ever taken in my life". Other finalists included Stacey Solomon and John & Edward.
Olly will be performing in the X Factor tour, alongside Joe McElderry, John & Edward, Stacey Soloman and several other finalists and performs at Velocity with
The Kittycat Dolls
from TV show 'Britain's Got Talent'.
Murs was signed to a joint deal between Epic Records and Syco Music in February 2010.

Robert Harvey – vocals, guitar
Adam Nutter – lead guitar
Stuart Coleman – bass guitar
Phil Jordan – drums
Indie-Rock guitar band, 'The Music' was formed in Kippax, Leeds in England in 1999 where they were all still students at Brigshaw High School.
They recorded a demo in 2001 'Take the Long Road and Walk It' which eventually made it to a release later and two EPs followed, 'You Might as Well Try to F*** Me' & 'The People' (2002) while they enjoyed the accolade of being described by the NME as "potentially the most important group since Oasis" and probably enjoyed often being paralleled with The Stone Roses in some respects while Harvey's tone is not entirely unlike that of Robert Plant but uniquely memorable nonetheless.
2002 also saw their brilliant, hauntingly jagged eponymous debut album 'The Music' (#4 UK charts) accompanied by a re-issued debut single and two other cuts which performed respectably but without the issue of cigars. The album just screams with Harvey's pain.
They played Glastonbury in 2003 and completed a second album in 2004 'Welcome to the North' (#8 UK) and released 'Freedom Fighters' as a single.
2005 kicked-off with another single 'Breakin' (#20 UK).
They then 'disappeared' for a while as Harvey battled his addictions and depression.
A new (third) album was released in 2008 'Strength in Numbers' (UK chart position #19) along with the title single (#38 UK) which they are promoting by extensive touring and festival appearances.
Dave Grohl of the Foo Fighters and Perry Farrell of Jane's Addiction are alleged to be fans.
They Played Velocity on Wednesday 22/10/2008 with support from The Chemists.
The set list was:
Take the Long Road
Strength in Numbers
Fire
Truth
Welcome to the North
The Spike
Idle
Human
Freedom Fighters
Drugs
Get Through It
The People
Getaway
Bleed From Within