Biogz
'R'
Here you will find some short biographies (biogz) of solo artists whose surname commences with this letter or bands with names commencing with this letter (omitting any commonly used prefix such as 'The').
Click on the name below or scroll down the page at your leisure.
Radar
Radiation
Radio Arcade
Rainbow
The Ramblers
The Rankin File
Iain Rankin
The Iain Rankin Group
Raspberry
The Ray Summers
The Real Thing
The Red Hawks
The Reflections
Tommy Reilly
The Reivers
The Revellers
Reverend & The Makers
The Revillos
The Revival
The Rezillos
Rhythm & Blues Incorporated
The Rhythmic State
Cliff Richard
Richfield Springs
Right Said Fred
Rioteers
Rip Kirby
Rite Tyme
Tony Rivers & The Castaways
RMN Project
Rock Island Line
The Rockets
The Rockin' Berries
Rockin' Chair
The Rockin' Ravens
Rogue
The Rogues
Rokotto
Rollin' Joe & The Jets
Rosetta Stone
The Roulettes
The Roving Kind
Jimmy Ruffin
The Rutlands
The Ruts
Kris Ryan & The Questions
Ryan Express
Radar

Jim Hart - vocals, guitar
Walter Clerici - guitar
Claus de Luca - guitar
Kevin Broadbery - bass
Michael Rasmussen - drums

Radar (1979-80) was a Danish/Irish/Italian/English new wave band, which played a role in the early Danish punk scene.

The bands' style and expression was relatively conventional compared to punk bands such as the Sods, Brats, No Knox etc.

Radar seems to have emerged from the Rock machine on 25th May 1979. The band played, amongst others, to the large-scale punk festival 'Concert of the Torque' in 1979 and appears on the 'Concert of the Torque' live album from 1980 with numbers 'Someone New', 'Montmartre and Fright'. Radar also played for the exhibition "New Wave Nite" in the Rock machine on January 22. March 1980.

The band played the single concerts in Saltlageret, Rock machine and House in Magstræde m. fl. along with other bands of the early Danish punk scene such as Brats, No Knox, Ballet Mécanique, D-Day and Gate Crashers.

They issued a single 'Up to You' / 'Night Hour Woman' in 1980 on 'Better Day Records'.

Radar was inspired by, among other things, Elvis Costello, The Specials, The Clash, Sex Pistols, Nick Lowe, Dave Edmunds , and Eddie and the Hot Rods and others.

The band changed its name in 1980 to 'The File' during which they played support to The Clash in the Sports House at Østerbro in Copenhagen on 14. May 1981.


Ghoulz (2012)


From Bathgate Bands
Bobby Speedie - lead guitar & vocals
Alastair Speedie - rhythm guitar & vocals
Richard 'Dick' Hewat - keyboard, organ
David Baird - bass
Alistair Stewart - drums
The band was formed by the Speedie brothers in 1966 with friends Davie and Ali. Dick joined in 1968. Essentially the band played school dances, church and scout halls. The music played was all covers of contemporary pop music with mixture of Motown/R&B/Bee Gees. However in the early years the band was an instrumental band covering all the Shadows hits.

For a couple of years in the late 60s the band played at Dounan's School Camp in Aberfoyle to an International Gathering of older students.

The band eventually changed it's name to Spinning Wheel in 1972.
Visit Bathgate Bands
Grant Allan - rhythm guitar, vocals
Conor Young - lead guitar
Jack Yeoman - bass
Andrew Davidson - drums
Formed in 2009, as 'Psychedelic' Radio Arcade are a 4-piece unsigned indie alternative 'schoolboy band' from Cowdenbeath in Fife, Scotland who have supported many local outfits such as The Troubadours, Val Verde, The Ray Summers, Modern Faces, The Vortex and The Law. In early 2010 they headlined Barrowlands 2 and launched a self-published EP at a 400+ sell-out gig.
Influences include 'The View', 'The Beatles', 'Oasis', 'General Fiasco' and many local contemporaries.
Their style has changed recently from their 'Psychedelic' days as did their name (in April 2010).
They split in February 2013 ironically, the day after they played a "ones to watch 2013" gig in protest to promoters killing the music scene.
No ... not the one belonging to Richie Blackmore! They didn't surface till 1975.
This ... band? / artiste? recorded 'Jemaima' / 'Could We Be So Blind' on a demo disc on GL Records
If you can add any further information to this piece please contact me here
Mike Eaton
Johnny Duncan - accordion
Scottish folk duo from Arbroath
If you can add any further information to this piece please contact me here

Iain Rankin - guitar, vocals
Tony Mitchell - guitar
Rick Nickerson - bass
(Ian MacCalman - some recorded backing vocals)
An Edinburgh-based professional group, Rankin File were founded by famed Scottish songwriter Iain Rankin (not to be confused with the author Ian Rankin) in late 1970 and described as "A tight well-balanced and near impeccable band." (THE MELODY MAKER). They toured extensively in the U.K. and Europe, appearing in folk clubs, in concert and at festivals, recording two albums: 'Rankin File' (1971) and 'Mr Sax' (1973) both on 'Circle Records' which were later re-released in a selected compilation 'For the Record' (1992).
They split in early 1972.
Prior to this Iain had played solo around 1967, then with 'The Iain Rankin Group' before forming 'Rankin File'
If you can add any further information to this piece please contact me here
(A Touch of) Raspberry
Rosaleen 'Rosie' O'Connell - vocals
Sandy farmer - vocals
Danny Murray - guitar
Tom (Tuck) Taylor - keyboards, organ
Tom Haycock - bass
Dave Murray - drums
Glen Walker -guitar
6-piece covers/cabaret band from Leven, Kirkcaldy, Methil, Kennoway & Glenrothes who backed Don Fardon ('Indian Reservation') for a couple of years and appeared on Top of the Pops on 29th October & 12th November 1970 presented by Tony Blackburn. These shows have been wiped from the master tapes and copies do not seem to exist.
Rosie joined the existing line-up while still at school in 1969 and in 1970 the band became Don Fardon's backing band ('Indian Reservation'/'Girl'/'Belfast Boy'), touring the UK and Ireland supporting the chart topping artist. They split up in 1972 and the members went on to join various other bands around Scotland. Dave Murray moved to Canada eventually, where he still lives. Rosie moved down to Newcastle upon Tyne immediately after the band split and went on to tour the world with various bands, remaining a professional musician until 2001.
My thanks to Ian Ferguson & Rosie Smith (nae O'Connell) for this information
If you can add any further information to this piece please contact me here
The Ray Summers
Andy Ure - vocals
Andrew (Dougie) Douglas - guitar
David (Davey) Horne - guitar/keyboards/vocals
Chris Jackson - guitar
Billy Kay - bass/vocals
Lee Burgoyne - drums
Falkirk band, The Ray Summers formed in the spring of 2008 to share a love of good music, performing and banter. They have since supported bands such as Sergeant, Alabama 3, Alphabeat, Paulo Nutini, Idlewild and The Automatic, as well as having their own sell-out headline King Tut's gig.
2008 was a year where they received major press interest and the boys have been working hard to keep that interest up by continuing to tour the length and breadth of the country. Firstly heading out to the North of Scotland, as well as their first full English Tour.
Though they don't want to be seen as retro, they admit their influences do include music from the past – even the band's name evokes images of the swinging '60s. And so it should, "It's a tribute to the name of the band my dad was in," said bassist Billy.
They're now one of the biggest unsigned band in Scotland. The summer of 2008 saw the band play their first festivals and major support slots, followed by a huge show in Glasgow, playing in front of 20,000 people, supporting Idlewild and Paulo Nutini. Shortly after, they released their self released EP, 'Tales from Vicar Street', in which they displayed a musicianship rarely seen at their young age.

Chris Amoo - vocals
Eddie Amoo - vocals, guitar
Ray Lake - bass, backing vocals
Dave Smith - vocals
You don't get a more credible start to your career than Eddie Amoo. His band, 'The Chants', made their debut appearance at The Cavern in Liverpool, playing three songs in the middle of a Beatles gig. That was 1962. Fourteen years later Eddie finally had his first hit, as a member of The Real Thing, Britain's first disco band.
Like everyone else in Liverpool, The Chants got a record deal during the Merseybeat explosion of 1963/64, in their case with Pye, but - as Eddie points out - 'they had no idea what to do with a black doo-wop group, they just had no idea.' Over the next decade they released a string of singles, some of them - 'Man Without A Face' and 'Trying Trying' - very good indeed, but all of them unsuccessful.
By the early 70s The Chants were wedded firmly to the cabaret circuit, and Eddie was looking outside the group to satisfy his creativity. He began writing songs with his younger brother, Chris Amoo, and these songs became the basis of the material performed by Chris' group The Real Thing.
The Real Thing appeared on Opportunity Knocks and Top of the Pops, were managed by British showbiz legend Tony Hall, and were critical favourites on both sides of the Atlantic - even so they went through a succession of record companies and flop singles before they finally made it. When they did, it was because of a variety of factors. Firstly, David Essex used them as backing vocalists on his 1975 album All The Fun of the Fair, and on his subsequent tour, for which they were also the support act in their own right. Then the rise of disco made the idea of black British bands more acceptable to the broadcast media and the record industry and finally they were given a perfect pop song by writer Ken Gold: 'You To Me Are Everything'.
The combination took The Real Thing to #1 in Britain in 1976 and Eddie Amoo - who had finally wound up The Chants and joined his brother's band at the end of the previous year - got his first decent break. The fact that 'You To Me' and some of the subsequent releases were more pop than soul may have typecast the group somewhat unfairly, but there were some heavier records as well; Eddie would particularly like to draw your attention to Four From Eight, their 1977 album that comes close to the socio-soul of their hero Curtis Mayfield. (The 'Eight' in the title refers to Liverpool Eight, the district where the band lived.) It also contains their greatest recorded moment, 'Children of the Ghetto'.
The Real Thing are still working on the live circuit and still feature Chris and Eddie Amoo. Go see them, partly because you need to pay respect to Britain's disco pioneers, and partly because they're damn good.
UK Chart Singles:
1976 You To Me Are Everything (#1)
1976 Can't Get By Without You (#2)
1977 You'll Never Know What You're Missing (#16)
1977 Love's Such a Wonderful Thing (#33)
1978 Whenever You Want My Love (#18)
1978 Let's Go Disco (#39)
1978 Rainin' Through My Sunshine (#40)
1979 Can You Feel the Force? (#5)
1979 Boogie Down (Get Funky Now) (#33)
1980 She's A Groovy Freak (#52)
1986 You To Me Are Everything (The Decade Remix 76-86) (#5)
1986 Can't Get By Without You (The Second Decade Remix) (#6)
1986 Can You Feel the Force? (86 Remix) (#24)
1986 Straight To The Heart (#71)
Info from: www.loadofold.com


'The Red Hawks' pictured sometime between 1963 & 1966.
From left: Tommy Wallace junior (drums), Colin Bates (keyboards), Alex Smith (saxophone), Alan Jordan (rhythm guitar/vocals), Ian Burns (bass) & Watty Robertson (lead guitar).
Image courtesy of Brian Nobile.


The label of The Red Hawks' 45 single 'Friday Night'/'Lonely Boy' (ALP 595001) [Andy Lothian Productions] 1966
(Note the misspelling - "Hawkes")
From www.select45rpm.com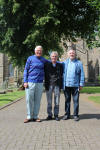 Alan Jordan
Tommy Wallace
Watty Robertson
(July 2014)


Friday Night Lonely Boy
mp3 mp3
Personnel have included:
Alan Jordan - rhythm guitar & vocals (Founder member 1958-1965)
Alex Smith - tenor saxophone, flute (joined September 1958)
Alan Sadler - double bass (1958)
George Mason - guitar (1958)
Bobby Gilfillian - washboard, drums (1958)
Drew Nisbet - drums (joined 1958)
Ian Burns - bass guitar (joined 1959)
Beth Leitch - vocals (joined 1959)
Tommy Wallace (jnr) - drums (joined October 1962)
Colin Bates - electric organ (joined 1963)
Walter 'Watty' Robertson - lead guitar, vocals (joined November 1963)
(Manuel) Manny Charlton - guitar (circa 1965 - 1967)
Billy Hunter - trumpet (1966)
Ed 'Eddie' Martin - trumpet (1966 - 1967)
Brian Sheridan - vocals (joined 1967)
Garry Macpherson - bass

Managers - W Mason (George Mason's father) / Ian Burns
Originally a skiffle band formed in 1958 called 'The Hawks', they won the Scottish Skiffle Championships in Stirling in 1959, beating 48 other bands and in that same year they appeared twice weekly for three months on the STV television series "Dance Party Roof". They soon moved with the times to become predominantly a soul / showband playing chart covers. They have also appeared on a BBC TV variety show and had a fan club with more than a thousand members!
The Red Hawks played The Kinema Ballroom 563 times between 1959 & 1967! They made several radio broadcasts and appeared on television too. They also held residencies at the Cowdenbeath 'Palais de Dance' on Saturdays and Lochore Welfare Institute on Sundays for more than five years. While their regular repertoire consisted of some 25 of the current top 30 and three or four new songs had to be learned every week, they were said to be capable of playing for over four hours without repeating any material!
They supported Craig Douglas, Dev Douglas, Kathy Kirby, Susan Maughan & Billy Fury.
Though the original photo above was taken in black & white, Alan Jordan had it colourised to illustrate their all-red suits. At other times they also had half-red / half-black suits and others in gold lame'.
After recording a couple of songs in the Kinema, they then recorded 'Mods and Rockers' / 'The Highland Twist' (as 'The Fabulous Red Hawks') in 1964 at Craighall Studios in Edinburgh on 'Globe Records' (both tracks written by the band members and produced more or less privately) & the Manny Charlton penned 'Friday Night' / 'Lonely Boy' (ALP 595001) [misspelled 'The Red Hawkes' on the label] at the International Broadcasting Company in London in 1966 which charted at #37 on Radio London's Fab Forty show on Sunday 19th June 1966 (presented by Tony Blackburn). The 'A' side was written by Manny Charlton while the flip was the work of Alex Smith. It was recently seen for sale for £40 on a web site.
'Friday Night' was played 12 times a day for eight weeks on the pirate Radio stations Radio Caroline Radio Scotland & Radio London and they were supported by the then Kinema's owners (Mr & Mrs J. Brewster of Ceres in Fife) who gifted them new uniforms.
ALP, the label started by Andy Lothian, was the first Scottish independent specifically intended for the issue of pop and beat music. "We piloted the Alp launch on two separate fronts. The first front was on the beat side. We launched with a group called The Red Hawks... at that time probably the most dynamic show band type of rock music in the East of Scotland. Very popular 'big band' sound. One number that we all felt was representative of this particular 'big' sound of the time was 'Friday Night'. And 'Friday Night' became the base on which Alp Records was launched."
The ALP disc was to have been the first for a 5-year contract with the Philips Polydor Records backed label for three singles and an album each year!
Tommy Wallace left 1965/66 and emigrated to Australia in 1967 but has since returned to Cowdenbeath in Scotland.
Financial disputes with their manager, Ian Burns, allegedly contributed to their demise and The Red Hawks folded around 1967 and reformed with Brian Sheridan on vocals and Gerry MacPherson on bass and renamed as The Marshmallow 400, a name that perhaps reflected the times and their sound better amongst their contemporaries such as Marmalade. Manuel 'Manny' Charlton (ex Mike Satan & The Hellcats & Mark V) left in 1968 to join The Shadettes who would later become Nazareth.
Tommy Wallace (junior) is the son of Tommy Wallace (senior) who played drums with The Topnotchers and Billy Hunter & His All-Star Band. Tommy Wallace (junior) also has three brothers and a nephew, all of whom play drums! Tommy Wallace (senior) still plays occasionally, at the tender age of 87 (Tommy Snr enjoyed his 92nd birthday in 2010!)
Alan Jordan formed a short-lived band 'The Alan Jordan Five' with Manny Charlton then joined 'The Change', then Alec Sinclair's band at the Aberdour Palais & later 'The KB Showband' before going on to solo work and duetting with David Jack who also sang with Billy Hunter & His All-Star Band and Horace Demarco & The Kool Beats.
Ed 'Eddie' Martin moved to Perth with Tommy Sampson from 1968-1973 at the Salutation Hotel then emigrated to Perth in West Australia in 1973 and was a full-time pro trumpeter until retiring around 2005?
Watty Robertson also had spells with 'The Change' 'Bobby Dene & The Dynamos', The Jim Brown Showband and The KB Bands. He formed 'Paris' in 1973 and won 'The Best Band in Scotland' title in a Daily Record competition in 1975.
Washboard player, Bobby Gilfillian, played for Cowdenbeath and Newcastle United football teams!
Bass player Alan Sadler's brother, Sandy Sadler, was Barbara Dickson's music teacher at High School!
Sadly Alex Smith passed away on 14th Jan 2011.
Gerry Macpherson also played with The Mark V.
I'm much indebted to Bill Nisbet & Tommy Wallace jnr who provided additional information from a copy of 'Scottish Sounds' and to Alan Jordan with which I had a fascinating telephone conversation.
The Reflection
Colin Chisholm - vocals
Kenny Chisholm - guitar
Dougie McKendrick - bass guitar
Kenny McLean - drums

Edinburgh band (managed by Tommy McDonald) who once appeared on TV talent show 'Opportunity Knocks' singing 'Big Yellow Taxi' and achieved 3rd place. The band was active in the early seventies.
Tommy McDonald (from Craigmillar) also managed Maxi's Taxi.
They are also known to have played in Edinburgh at 'Frisco' just off the High Street and 'Casablanca' in Rose Street Lane and 'The Trocadero' in Hamilton.
Colin Chisholm made his first singing appearance at the age of 9 alongside his elder brother Kenny in the band aptly-named 'Tiny and The Titans'. He then formed 'Bilbo Baggins' touring with Mud, The Rubettes, and Bay City Rollers. he then found some success with 'Chisholm & Spence' with his closest friend, Brian Spence, followed by commercial vocal work in session (including with 'Runrig') and in musicals. Colin appeared on the UK TV vocal talent show 'The Voice' on 27th April 2013, mentored by Sir Tom Jones.
Kenny McLean was a publican in Edinburgh
Tommy Reilly - vocals, guitar, piano, drums, harmonica
This young 20 year-old acoustic indie pop singer-songwriter hails from the village of Torrance near Bishopbriggs in East Dumbartonshire close to Glasgow.
He has written and sung for a number of years but only decided to enter the Chanel Four TV 'Orange Unsigned Act' new talent contest in 2008 after friends told him they had also entered. He then went on to win the competition by public vote beating fellow Glaswegians 'Hip Parade' into second place and won £60000, a single release, an album deal with 'Universal' and a multimedia marketing campaign! During the show he became known for his emotionally charged version of The Killer's 'Mr.Brightside'.
He is a genuine new raw talent and what his voice lacks in smooth delivery he more than makes up for with heartfelt, sometimes jagged, pleading honesty and he is yet to acquire any of the affectations and attitudes associated with so many successful musicians.
His debut single, 'Give Me a Call' charted at No.14 in its first week.
I will watch this space.
Enoch Kent - guitar, vocals
Josh MacCrae - guitar, vocals
Rena Swankie - guitar, vocals
Came together in 1958 under the direction of Norman (aka Charlie) Buchan to appear on the television show 'Jigtime', and stayed with the show for 40 weeks. Enoch Kent went on to a solo career, as did Josh MacCrae. Little is known about the third member, Rena Swankie. They released an EP, 'The Work of the Reivers' in 1959 on the Top Rank label.
Info courtesy of: www.nigelgatherer.com
The Revellers (aka The Revellers Dance Band)


Image from Bygone Dunfermline dated November 25th 1994 page XII.
Back Row left to right:
Bill Peters - piano
Davy Hunter - saxophone
Ian Barclay - clarinet
Arthur Hope - saxophone
Ronnie Stark - vocals
"Tonte" Brand - trumpet
Danny Crawford - trombone

Front row:
Jock Finlay - drums
Jock Vance - double bass
The band only played the Kinema twice (in 1962) but prior to that they often played Cowdenbeath Palais de Danse before moving to the St.Margaret's Dance Hall for a residence on Fridays (until if was lost to fire in 1961) and were also resident for some time in Bowhill Institute on Sundays.
Whilst playing at Bowhill in the late 50s, Ronnie Stark formed a skiffle group when skiffle was all the rage. The group consisted of himself, Billy Muir from Lochgelly and "Singer" Wilson from Cowdenbeath.
With the sad loss of Ronnie Stark in 2008, the Revellers are now all deceased.
Many thanks to Doreen Marshall (Ronnie Stark's sister) for the invaluable info above




Jon McClure - vocals
Ed Cosens - guitar
Andy Nicholson - bass
Tom Rowley - guitar
Joe Moskow - keyboards
Stuart Doughty - drums, percussion
Laura Manuel - vocals
Also:
Simon Stafford - trombone

Former members
Dave Sanderson - guitar
Richy Westley - drums
Tom Jarvis - guitar

Reverend and The Makers are an Indie rock band based in Sheffield, England and signed to Wall of Sound. The band is fronted by Jon McClure, nicknamed "The Reverend"
In late 2005, McClure once again collected musicians together for his new project: Reverend and The Makers. like previous bands included co-songwriter Ed Cosens, this time playing (bass). The rest of the makers consisted of Tom Rowley Formerly of milburn (Guitar) Dave Sanderson (guitars), Joe Moskow (keyboards), Richy Westley (drums, ex-Hoggboy) and Laura Manuel (vocals), and occasionally Simon Stafford on trombone.
Sanderson was dismissed in July 2006 after the band completed their first headline UK tour and replaced by Gledhill guitarist Tom Jarvis. At this time a percussionist, Stuart, was also added to the band's line-up. Stuart is the cousin of Eddie the Kid. Early 2009, It was announced that Tom Jarvis has left the band, and has been replaced by Tom Rowley (ex-Milburn), Rowely was already a good friend of McClure, and contributed to the first album by co-writing the tracks "Bandits" and "Miss Brown".
McClure was in the media spotlight for his personal views in July 2009, after an interview in which he commented on Jade Goody's death earlier in the year; "it's sad she died and it's good more girls are getting smear tests but let's not forget she was a talentless racist". He has also been in the media recently speaking out about the UK's involvement in the Iraq war, requesting that fellow musicians, particularly the Artic Monkeys, his contemporaries from Sheffield, focus on real issues and to "not write songs about girls at bus stops any more like me and Monkeys used to do, let's start talking about what's happening man as otherwise you know where we gonna go, we're going down the toilet aren't we?".

Reverend and The Makers released a 9-track demo in 2006, entitled "Ten Songs." The artwork included a tracklist with ten songs, track 10 being "Paris at Night". However this song was not made available for download; it only surfaced on the Internet in August 2007. The demos were recorded at 2Fly Studios, and produced by Alan Smyth, McClure acknowledges the work Smyth put into the demos by accrediting the debut single; "Heavyweight Champion of The World" as McClure/Cosens/Smyth.
Reverend and the Makers' music is a mix of indie guitar pop, electronica and a touch of Madchester-esque funk. Some of the internet demos feature members of other notable Sheffield bands such as Alex Turner (Arctic Monkeys), Tim Hampton (Bromheads Jacket) and Mike Hughes (Little Ze). One of Reverend's inspirations is Manchester performance poet John Cooper Clarke and Reverend often performs his own poems, of a similar style, in between songs during his live sets. One of the B-sides to the debut single "Heavyweight Champion of the World" is a poem entitled "Last Resort" in which John Cooper Clarke and McClure read alternate stanzas. This poem was also duetted live when the band played live at Shoreditch's Spread Eagle in the first tour in May 2006.

Reverend's down-to-earth, cynical and observant outlook on modern-day life are captured in verses and delivered in a Yorkshire accent.

In April 2006, Reverend and the Makers were support to the Arctic Monkeys on their sell-out UK tour (same management), exposing the band to larger audiences and bigger venues. This was followed by their own first UK tour in May and June, selling-out dates in Shoreditch, London and The Plug in home-town Sheffield on the final night. A second tour followed in October 2006, showing great progression as a band. The sound was much tighter and far more advanced than on their previous tour. Jarvis had given a lot more strength to the guitar element and was certainly a catalyst in the progression of the band.

Reverend hosted a monthly clubnight on the first Saturday of every month named "Reverend Soundsystem" at The Plug in Sheffield, and has also hosted one event at Manchester's Po Na Na. The Soundsystem has featured a number of guest DJs such as Mani (Stone Roses/Primal Scream), Peter Hook (New Order), the late Tony Wilson (Factory Records), Andy Nicholson (ex-Arctic Monkeys), Chris McClure (face of the Arctic Monkeys debut album cover (Whatever People Say I Am, That's What I'm Not) and brother of Jon), Terry Hall (The Specials), Milburn, Bez and Arctic Monkeys as well as live performances from The Sunshine Underground, Gas Club, Stoney, 747s, The Hosts and White Rose Movement. The event no longer takes place at The Plug.
Signing to Wall of Sound

Late 2005, fellow Sheffield band Arctic Monkeys released their debut single, and McClure was hounded by major record labels, reportedly offering him sums of up to £150,000 to make an album like Arctic Monkeys. Although McClure was on the dole at this time, he resisted the temptation, and decided to do everything his own way, managing to sell out the 1,000 capacity Plug in Sheffield twice, while still unsigned. It was not until the following year that McClure met Mark Jones in a club in London when he asked him for a lighter. The two got talking and Mark Jones came to see Reverend and the Makers at the next show. Jones reportedly proclaimed the band as the "best band in the world" and signed them to his label Wall of Sound Records.

Reverend and the Makers undertook nationwide tour and date for their first release. The tour included dates in Wakefield, Leeds, Nottingham, Liverpool, Sunderland, Birmingham, Bristol, London, Brighton, Middlesbrough, Stockton, Leicester, Sheffield, Hull, Manchester, Newcastle, Barnsley and a second date in London respectively. The band are also set to play more dates in July and many festivals over the summer period including Glastonbury Festival, Carling Weekend, T in the Park and T4 on the Beach as well as supporting the Red Hot Chili Peppers at Hampden Park, Glasgow A tour to Australia is also scheduled for January or February 2008.

Their first release was the single "Heavyweight Champion Of The World" on May 28, 2007 and featured the B-Sides "18-30" and "The Last Resort" featuring John Cooper Clarke. The single takes its name from a line in "A Kestrel for a Knave" a novel by Barry Hines and another favourite book of McClure. The single is available on both CD and 7" vinyl formats, including a limited edition "White Vinyl." The single was released on download on the May 6, and reached #38 in the UK single chart on download only. The album, entitled "The State Of Things", was recorded over the Christmas period and was released on Wall of Sound on September 17, 2007. The album features songs co-written and performed with Alex Turner of Arctic Monkeys and one track co-written and with guest vocals from Tim Hampton of Bromheads Jacket, other tracks include the vocal talents of Steve Edwards in fact the whole album is steeped in the creativity of the Sheffield music scene.

On April 30, 2007 Reverend and the Makers performed "Heavyweight Champion Of The World" and a cover of Kelis's "Trick Me" on Radio 1's Live Lounge with Jo Whiley. In October 2007, supported by The Ting Tings, they made a tour of Universities in the UK. Former Arctic Monkeys's bassist Andy Nicholson made guest appearances to play bass for a couple of songs, because of McLure's longstanding friendship with the Arctic Monkeys.

On December 8, 2007 they supported Ian Brown on the final leg of his tour, and supported The Verve on December 11 and 13. They also supported in Dublin on October 28 in the Big Top venue in the Phoenix Park. On February 12, 2008 they performed on British singer Lily Allen's chat show Lily Allen and Friends. In March 2008 the band released an EP consisting of three remixes of "Sundown On The Empire", three for the track "18-30" and one for "The Machine" for a total of seven tracks.

On July 26, 2009, they played in their home city of Sheffield, closing the Tramlines festival with an 80 minute gig. In summer 2009 they will be supporting Oasis on the biggest ever Stadium Tour in the UK & Ireland.

At the Leadmill venue in Sheffield on May 27, 2007, approximately 200 CDs entitled And Whilst the World Was Asleep We Were Listening To... were handed out to the fans. It is reported that more copies will be available later in the year in independent record shops. The cover featured a poem by McClure on the back "Just Like His Dad" which is a b-side to the single "He Said He Loved Me". The mixtape features songs from Cymande, Pixeltan, The Clash and Love. The CD opens with an alternative version of "The Last Resort" which only features McClure's verses and has a synth backing.
Split

In June 2008, drummer Richy Westley left the group and in August 2008, frontman Jon McClure said he would quit music after their next album, although a month later he changed his mind. The inconsistency of McClure's actions has led many critics in the music press to report negatively towards the move. Welsh band Future Of The Left joked of their delight at the band's split at live shows on their tour at the time, as can be heard on their live album Last Night I Saved Her From Vampires. McClure has a new project, Mongrel, with a single "Hit From the Morning Sun" due to be released in February 2009.

Jon McClure puts on an acoustic gig in the car park of most venues. These sets normally last between 30-45 minutes and this is the type of thing that McClure is becoming synonymous with amongst his fans. He also invited fans to a "backing singer evening" to help record vocals on an upcoming single. He is heavily involved in the Instigate Debate group, and offers to carry out private gigs in fans homes to anyone who contributes. On May 13, 2009, it was revealed that McClure was going to be one of the curators of the new Tramlines festival in Sheffield along with Matt Helders from Arctic Monkeys and Toddla T.
Info from http://www.absoluteradio.co.uk





The Revillos Rev Up Attack Jungle of Eyes
Eugene Reynolds (Alan Forbes) - vocals, saxophone, keyboards
Fay Fife (Sheila Hynde) vocals, keyboards
Rocky Rhythm, aka Robo Rhythm (Nicky Forbes) - drums (Eugene's brother)
Mark 'Hi-fi' Harris - guitar
Kid Krupa - guitar
Max Atom - guitar
Fabian Wonderful, aka Quilty - guitar
George - guitar
D.K. (Dave) Smythe - bass
Felix - bass
William Mysterious (Ali Donaldson) - bass
Vince Santini, aka Vince Spik - bass
Buck Moon - bass
Mekon - bass
Hymo, aka Dozy - keyboards
Babs - backing vocals
Cherie - backing vocals
Terri - backing vocals
Drax - backing vocals
Wendy - backing vocals
Jane White - backing vocals
Jane Brown - backing vocals
Tricia Bryce - backing vocals
Formed in February 1979.
After the blow out of The Rezillos, Sire (their label) agreed to let Eugene and Fay out of their contract on the condition that they didn't use the 'Rezillos' name. So, Eugene came up with a new name - The Revillos! Virgin Records were interested enough to fund a new label specially for the band (Snatzo) which operated under Virgin's DinDisc subsidiary. The deal was signed in June 1979 and there was a lot of media interest.
Eugene Reynolds, Fay Fife, and Rocky Rhythm (Nicky Forbes - Eugene's brother) formed the core of the Revillos. The first incarnation of the band featured original Rezillo-member Hi Fi Harris on guitar, Felix on bass, and Babs and Cherie on backing vocals. This line-up recorded the early singles Where's The Boy For Me? (7th Sept 1979), Motorbike Beat, and Scuba Scuba. Rocky Rhythm is credited as Robo Rhythm on the first two singles, and the backing vocal credit on Motorbike Beat goes to The Revettes (Jane White, Jane Brown, Tricia Bryce). (Their first ever gig was 'Ruffles' in Aberdeen on 28th August 1979 - Ghoulz).
August 1979. The fourth single, Hungry For Love saw a change of guitarist with the arrival of 17 year old Kid Krupa (from jazz-funk Best Friends - Hi Fi left to become an architect). This line-up recorded the first album, Rev-Up!, although various other musicians are credited as well. Felix left and William Mysterious landed for a brief while, along with original Rezillo-member Dr D.K. Smythe. The Revettes were now Babs and Cherie. Both the singles and the album were released on the Snatzo label.
Although the Revillos were very active during this period, no more material was released until a deal with Superville Records was signed. In September 1980, the first Superville a new line-up recorded the single She's Fallen In Love With A Monster Man featuring Vince Spik on bass (from Nausiators & Crash of 79). Babs left the Revettes for a C&W band and was replaced by Drax. The line-up remained the same for Bongo Brain and the Attack! album, although Vince Spik became Vince Santini.
In July 1982, Max Atom (from Erogenous Zones) replaced Kid Krupa on guitar. The Revettes were now Cherie and Terri. They moved to EMI in 1983 for the Bitten By A Love Bug and Midnight singles. A BBC Radio 1 session for Janice Long hit the airwaves at the same time as Midnight was released.
Rocky had a motorcycle accident and was paralysed down one side of his body for nearly a year but that didn't stop him - he was supported on drums by Decca Wade from The Angelic Upstarts on gigs!. Also a keyboard player joined for the final single and gigs.
After two self-financed tours of the U.S., the Revillos disbanded in 1984. A new line-up was formed for a short tour in 1985 with Eugene, Fay, Rocky, and Max being joined by Buck Moon on bass and Fabian Wonderful on guitar.
This was the Superville Ice Age. Eugene formed Planet Pop which became Rockatomic while running his motorbike shop specialising in Indians. Fay went on to Destroy All Men, followed by film production, screenplays and acting; she appeared in an episode of The Bill & Taggart (called Secrets 1994). Rocky fronted his own band The Roadholders playing guitar and singing and also played in various other bands including Dave Vanian's Phantom Chords and Tenpole Tudor.
In 1994 they reformed for some gigs in Japan with Kid Krupa on guitar and Mekon on bass. This time around the Revettes were Frankie and Polly. As well as the Live And On Fire In Japan album, they recorded the Yeah Yeah EP Single, both released through the Vinyl Japan label.
With the interest in the band following the release of the live album, the Revillos reformed again for a short tour in 1996 to coincide with the release of a rarities album, From The Freezer. This line-up featured Mekon on bass, George on guitar, and Hymo on keyboards. They recorded a BBC Radio 1 session for Mark Radcliffe (stood-in by Mark Lamarr) and performed Motorbike Beat and Last Of The Secret Agents live on the Scottish TV show The Late Edition. After warm up gig in Dublin on April 24, they played the Bottom Line in London on Saturday 27 and Sunday April 28 (at which Lamarr was seen).
The Revillos have voluntarily re-entered cryogenic suspension but there are periodic reminders that they are still around. Since the 1996 gigs they've released the Re-Animated video, the Totally Alive! album, the Live 4-Track EP, and the Wireless Recordings album.
Sadly, it's unlikely that the Revillos will gig again but it's not impossible. If the right opportunity came along, who knows...
Info from: www.revillos.co.uk
However the story doesn't end here,… see the end of The Rezillos piece below.
Shaun Philp - vocals, guitar
Gary McDonald - guitar
Marc Melrose - bass
Graeme McLeod - drums, vocals
Four-piece band from Dunfermline who love playing a mixture of Britpop and hard-hitting rock and roll. Inspired by Oasis, The Beatles, Cast, The Stone Roses, Stereophonics.
If you can add any further information to this piece please contact me here
See an EXCLUSIVE new KinemaGigz REZILLOS INTERVIEW with Fay, Eugene & Jo at the foot of this biog!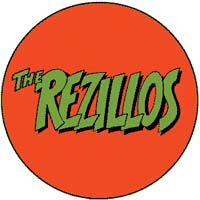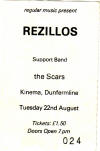 Origin of David McLaren Ray & Kay The Rezillos The Rezillos 2008 Kinema 2008
their name! Smillie at The Kinema!







© Ian Sloan © Ian Sloan © Ian Sloan © Ian Sloan © Ian Sloan Family Tree from
(The Rezillos perform at 'Kinema Live' 2008) Kingdom Come No6
Original line-up:
Eugene Reynolds (Alan Forbes) - drums, vocals
Luke Warm (John 'Jo' Callis) – lead guitar, vocals
Hi-Fi (Mark) Harris – rhythm guitar, vocals
Dr. D.K. (David) Smythe – bass
Later:
Angel (Alistair) Paterson – drums
Gail Warning (Gail Jamieson) – vocals
Candy Floss - later Fay Fife (Sheilagh Hynde) – vocals
William Mysterious (Ali Donaldson) – saxophone later bass
Simon Templar - bass
Johnny 'Terminator' Brady - bass
Chris Agnew - bass
Jim Brady - guitar
(Alpin Ross-Smith - sound engineer)
Often described as "Scotland's First Punk Band", 'The Rezillos' would rather be known as a new-wave beat group.
They have their roots in two early/mid seventies bands, 'The Knutsford Dominators' & 'St.Clements Wells'.
'The Knutsford Dominators' (Jo Callis - vocals & guitar; Ken Powrie - vocals & guitar; Roy Middleton - bass & Alan Forbes [later Eugene Reynolds] - drums) were formed early in 1975 (in Edinburgh's Art School) and played a mix of rock 'n' roll & beat tunes while their heavy rock, long hair and wah-guitar alter egos were called 'Lysander'. Both bands played live and The Knutsfords even 'appeared' on Radio Forth on one occasion.
At the time of The Rezillos' initial coming together, Alan and Jo were also in the first steps of putting together a more prog-rock outfit, including Sheilagh Hynde [Fay Fife] on vocals and drummer Alasdair [Angel] Paterson, from 'St.Clements Wells', (a semi-professional band who released a single 'Lazy Lady' in 1973).

The original Rezillos line-up formed in March 1976 with The Dominators' roadie Mark 'Hi-Fi' Harris (who had put together a soul-blues 4-piece 'WDIA', which only played one gig) and Dr. D.K. Smythe on bass.
Their name name came from the first issue of a DC comic called 'The Shadow' published in November 1973 which depicted a neon advertising sign for a premises (perhaps a café?) called Revilo's (see image above). The term was adjusted to 'Rezillos' and later almost restored to the original inspiration (barring a letter) in the 'Revillos'.
They publicised their imminent arrival with white 3" x 4" flyers declaring "The Rezillos are coming"
Eugene had met fashion/design students, Sheilagh Hynde (soon re-christened 'Candy Floss') & Gail Jamieson (re-christened 'Gail Warning') at an Art School Party where an oft relayed conversation went something like this:
Eugene: "Who's your favourite band?"
Sheilagh: "Roxy Music and The Shangri-Las ... who's yours?"
Eugene: "The Rezillos"
Sheilagh then pretended she knew this actually fictitious band ...
Eugene: "Oh that's rather interesting, since they only exist in my head! But if you want to improve on them, then come and sing a song with us"

Their addition to the band, thereby established the killer combination of tacky PVC, sci-fi flash imagery & fast punk aggression with bubblegum late-fifties rockabilly, first aired at their debut gig of cover versions on Friday November 5th 1976 at Edinburgh Teviot Row Student Union. The 500-strong audience either loved it immediately and several encores were required or hated them (depending on the account you choose to believe! Early gigs are described as raucous, ramshackle affairs and involved mostly classic rock 'n' roll covers such as those in the original set list from that November 5th debut below.
Theme from Batman -> Woolly Bully
Stupid Cupid
Twist and Shout
I Like It
Something Else
Terry
Have I the Right
Route 66 *
Johnny B Goode *
Ecstasy
You Really Got Me
Somebody's Gonna Get Their Head Kicked In Tonite *
C'mon Ev'rybody *
Boney Moroney
Great Big Kiss
I Wanna Be Your Man

* guitar / bass / drums line-up only, with Luke singing, to give the front-line singers a break!
200gigs were reported completed in their first year.
On 21st January 1977, Lenny Love sees the band at Tiffanys in Edinburgh and later becomes their manager. In the first third of 1977 they decide to go pro and Gail leaves to return to Art College while at the same time William mysterious joins from 'Silly Wizard' having also been a member of 'St. Clement's Wells' where he played bass & flute. By mid 1977 Dr. D.K. Smythe was becoming unreliable and William was standing in occasionally. This arrangement soon became permanent when Dr. D.K. left to return to his research geophysicist studies and around this time Candy changed her name again, to 'Fay Fife'. Having started life in Dunfermline in Fife as Sheilagh Hynde before becoming Candy she was indeed 'Fay Fife' .......... (slang for 'from Fife'?) ... "oh, never mind".
Their gaudy sci-fi bubblegum appearance was as striking as their sound, with Fay's sixties inspired home-made bright PVC dresses accessorised with boots, earrings & make-up while the others sported sleek, cool, robot specs, leather & extreme hairstyles. Parallels were sometimes made with The Cramps & The B52s but Rezillos music & lyrics were kitsch, crazed and brutally happy. All this combined with a frenetic delivery reminiscent of a course of electric shock therapy made for an all-out sensory attack leaving the audience drained, though begging for more at each of the 200 plus gigs they squeezed into their early years.
This is the line-up that cut the classic 'Can't Stand My Baby' / 'I Wanna Be Your Man' (Sensible Records - FAB1) in August 1977 (beating The Valves by a month and thereby becoming Scotland's first punk/new wave single). It was described in early publicity as a "Double 'B' side".
In October 1977 Hi-Fi left what had been an eight-strong line-up and the remaining five members signed to Sire (as the only British signing for a US label who also handled The Ramones, Talking Heads and Richard Hell and The Voidoids) and moved to London. They released '(My Baby Does) Good Sculptures' / 'Flying Saucer Attack', touring the UK with 'The Ramones' (who hatched a plot to avoid playing directly after The Rezillos because they were too hard to follow!) and travelling to the USA to play CBGB's & record their debut album 'Can't Stand The Rezillos' (UK chart #16) at 'The Power Station' in New York (the first UK punk/new wave band to record an album in the USA). Meanwhile William quits in April 1978 to be replaced by Simon Templar. The single's release is delayed by distribution negotiations are fairs poorly. They record the 'Top Of The Pops' single and see #17 in the UK charts in the August and appear on the TV show of the same name & 'The Old Grey Whistle Test' (twice).
The album was recorded in cheap, night-time recording slots, often in one-take but it's release was delayed for three months and consequently sales and their relationship with Sire suffered. Subsequent single releases did less well with 'Destination Venus' (1978) at #43 and the posthumous 'I Wanna Be Your Man' (1979) at #71.
They split around Christmas 1978, six dates into a thirty-six date tour with 'The Undertones' (following disagreements over musical direction between Eugene / Fay and the rest and a growing media reputation for arrogance). Their swansong was a final gig at the Glasgow Apollo on December 23rd (with Gail and William returning for a nostalgic last blast) which was recorded and released (against Fay & Eugene's wishes) as 'Mission Accomplished But The Beat Goes On' (#30 UK charts).
A few months later they thought why the hell did we do that ... three years would elapse before Jo spoke with Fay or Eugene again ... or visa/versa?
However the story doesn't end there. See 'The Revillos' above.
Angel, Jo & Simon then formed 'Shake' with Try Tate. They recorded a 10" EP in March 1979 but like 'Can't Stand The Rezillos' it took months to hit the shops. One more single followed, 'Invasion Of The Gamma Men', before it was all over for them too. Later, Jo Callis joined 'The Human League' and co-penned their biggest hit 'Don't You want me?' amongst many others.
After leaving the Rezillos, William Mysterious released a single 'Security of Noise'. He later joined The Revillos in 1979 and played on 'Rev Up'. He still plays solo around Edinburgh occasionally.
Then,… just when you thought it was safe…
The Rezillos toyed with the idea of reformation in October 2001 at a friend's suggestion and they were rehearsing two months later to prepare for the Edinburgh Hogmanay celebration party (with Mekon of The Revillos) at the Concert in the Gardens, Edinburgh (with The Proclaimers and Mull Historical Society). They have continued to play since, touring the US, UK, Norway, Spain and France and providing the 'Jackass' movie with a recording of 'Somebody's Gonna Get Their Head Kicked In Tonight'.
I saw them in Dundee at 'The Reading Room' on 6th May 2005 and 12th October 2007 at 'The Yard' in Rosyth. On both nights their performance was simply explosive! See them whenever/wherever you can!
A new single (which was written for a previous attempt at a reunion) was released in January 2009 - 'Number One Boy' (with video shot by award-winning photographer Brian Sweeney) and they performed the entire 1978 album 'Can't Stand The Rezillos' on tour including The Kinema Dunfermline on 18th December 2008 with Isa & the Filth Tongues plus Bruce Watson & Jamie Watson.
For the 24 hours between Friday 20th & Saturday 21st February 2009 it seemed history was repeating itself as an official newsletter and announcement on their official homepage stated that:
"Sorry folks! The Rezillos have split up. We know it's happened before but we're pretty sure it's for real this time.

Thanks for being with us on this manic journey. We have no idea what happens next – but the world will hear from some of us again!"
24 hours later the following retraction appeared:
"It's not over at all! A few misunderstanding's compounded by some cross purpose communications have given cause to the rumour that we have split up.
We will be under new management, but The Rezillos HAVE NOT, repeat HAVE NOT split up!!!
Plans for dates in Japan and The US are under way, as well as some UK touring activity later in the year.
Meantime the band are working on new material for the follow up to the acclaimed "Can't Stand The Rezillos" album.

Even we didn't know we'd split up!!!"
Then on Friday August 28th 2009 Jo Callis leaves the band for reasons as yet unknown. His 'replacement' is Jim Brady who also plays with 'Nanobots'. The Rezillos have European & UK tour dates in the bag and a new album 'ZERO' was recorded in Scotland and released in 2015.
Trivia Time:
1. The band, debut album and Fay are mentioned in a novel 'The Bridge' by the well-known Scots author Iain Banks.
2. In 1991 a backing vocalist called 'Gail Warning' turned up on the credits of a US album called 'Take Out The Trash' by a band called 'Legal Weapon'. Could this be the same lass?
3. New bass player Chris Agnew is the son of Pete Agnew of Nazareth.
4. Garry Mulholland titled his 2002 book of the 500 greatest singles ever released, 'This is Uncool' after a lyric contained in their 1977 debut single 'Can't Stand My Baby'.
5. They feature in a permanent exhibition of the most essential elements of 20th-century Scottish culture at Edinburgh's Museum of Scotland in Chambers Street, where you can see some olde Rezillo artefacts.
6. They have been voted amongst the top 50 best-ever Scottish bands.
7.They have been voted creators of the 26th-best Scottish album of all time.
8. They have been voted in the top 50 best live UK acts of all time.
9. Fay has an honours in psychology and has taken part in real-life drama workshops at Saughton prison and Barlinnie's special unit. She has also taught a workshop at St Bride's Centre in Edinburgh on how to get a girl band together.
10. Fay has a son, Eliot-Beau.
My thanks to Mark 'HiFi' Harris for some corrections and additional information. Some info also from David Smythe's web site.
Ghoulz (2006/2007/2008)
Fay Fife, Eugene Reynolds & Jo Callis of 'The Rezillos' talk exclusively to Ghoulz of 'KinemaGigz.com' 2007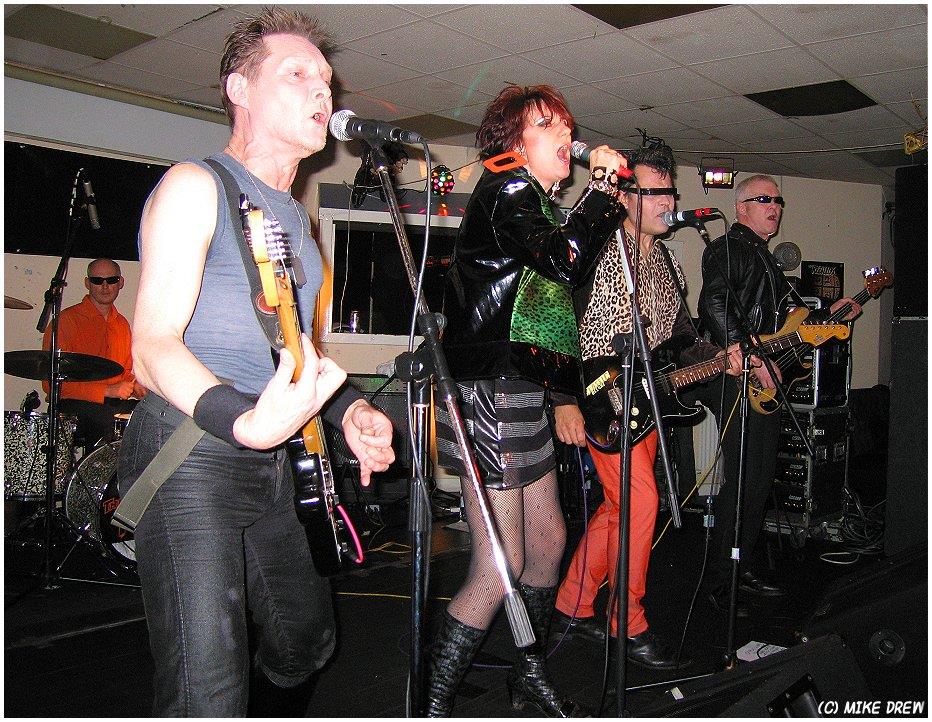 Bagpipe playing boyfriends, vomiting girls, shrinking trousers & lipstick gifts?
All will be revealed in Planet Rezillo!

Fay & Eugene settle down for an informal blether with me at 'The Yard' venue in Rosyth at 5pm Friday October 12th 2007 just prior to their appearance there that evening while the bass & drums sound-check is in progress! Thankfully my sound recorder picked up most of what was said fairly clearly.
Ghoulz:
"Hello to you both and welcome to The Yard in Rosyth". "Thank you both very much indeed for this opportunity".
"When did you last play this close to home Fay?" (Fay was brought-up in Parkneuk in Dunfermline and attended Milesmark Primary & Queen Anne High Schools).
Fay:
"I think it was with 'The Revillos' wasn't it?"
Eugene:
"Yeah in 'The Kinema Ballroom' as 'The Revillos',… about 1981?"
Ghoulz:
"Actually that would have been September 1979, supported by a local Dunfermline band I used to work for, all those years ago, called Trax".
Eugene:
"Oh yeah, (spells out) T.R.A.X."
Ghoulz:
"That's right!"
Eugene:
"See,… what a memory!"
Ghoulz:
"I was their roadie & photographer". "That night at 'The Kinema' I helped set the stage because you were short of a roadie and later you bought me a pint Fay, so I owe you one tonight!"
Fay:
"OK!"
Ghoulz:
"Where's home for you all now?"
Eugene:
"Edinburgh & environs mostly". "Johnny's Glasgow & Angel lives in Germany".
Ghoulz:
"Fay I recently had an email from a bloke called Xxxxxx Blair.
Fay:
"Oh yeah, I remember,… is that the one I punched in the face?"
Eugene:
"You've punched a few people in the face but I don't remember a Xxxxxx Blair.
Ghoulz:
"He claims to be an old flame from before you went to Art College?"
Fay:
"No I don't remember the name after all then".
Eugene:
"Xxxxxx Blair?" … "You don't mean Tony Blair?"
Ghoulz:
"Errh, … no".
Fay:
"I can't remember him though" "I doubt if he really was a boyfriend then"
Eugene:
"I seem to remember a lot of people from Dunfermline saying they were your boyfriends, but they weren't!" (lol).
Fay:
"Yeah,… I had quite a few boyfriends in Dunfermline, and I can remember most of them!" (lol). "But I mean who knows?" " I had one that played the bagpipes maybe it was him?"
Ghoulz:
"He tells me I've been spelling your real name (Sheila) incorrectly on my web site".
Fay:
"Oh? Well this is how you spell my real name no matter what anybody says",… (she writes 'FAY' on my notes!). "My other name is spelled like this",… (she writes 'Sheilagh' on my notes too). "I have various others too but they're secret!"
Ghoulz:
"OK,…" "Are you legally 'Fay'?"
Fay:
"Yes"
Ghoulz:
"But you were born 'Sheilagh'?"
Fay:
"Yes".
Ghoulz:
"And Eugene,… do you prefer 'Eugene' or 'Alan'?"
Eugene:
"Eugene's the name I use, a bit like Cliff Richard doesn't call himself 'Harry"
Ghoulz:
"OK, as you may already know Dunfermline's Kinema Ballroom will be reopening in early December 2007 as both a nightclub and a live music venue again".
Eugene:
"Really?" "No I didn't know that".
Fay:
"Yeah that's interesting isn't it?"
Ghoulz:
"It's a good size at 850 or so capacity so you might want to bear that in mind when planning your next tour".
Eugene:
"Yeah that might be fun"
Fay:
"Yeah, why not?"
(At this point the drum sound-check becomes unbearably loud and we can't hear each other so Fay & I adjourn to the dressing room to meet guitarist Jo Callis and continue the interview while Jo changes into his amazing shrinking stage trousers and Eugene goes off to do his guitar & vocals for the sound engineer).
Ghoulz:
"Fay, have you any particular memories of 'The Kinema', either as a performer or as a punter?"
Fay:
"Yes, I used to work there cleaning tables and I've never seen so much sick & vomit in all my life!" "Folk used to be sick on the tables and when I went to the toilets there was always girls being sick and then they would go to the mirror and put their make-up back on, then go back out to the dancing, drink some more then come back & be sick all over again!
Ghoulz:
"Charming!"
Fay:
"Yeah there were always great emotional scenes in the toilets too".
(Fay adopts a distraught shrieking voice)
"Oh!... I love him!" "I love him!" "Euagh!" "I love him!" (lol).
"That's what I remember, … and also I saw lots of bands".
Ghoulz:
"Who do you remember seeing?"
Fay:
"I saw 'Amen Corner',… I liked them".
Ghoulz:
"Aye?"
Jo:
"Amen Corner? They were good yeah"
(Jo breaks into song)
¯"If Paradise is half as nice as heaven that you take me to"¯
Fay:
"I saw tons of bands yeah, like Nazareth".
Ghoulz:
"When did you start working there then?"
Fay:
"I'd be thirteen or fourteen; I don't remember when that was!" (Note: Around 1970). "I used to go when I was about sixteen and we always aspired to getting up to the balcony because you could get a drink, but I never got there".
Ghoulz:
"Where was home when you were at school?"
Fay:
"Parkneuk". "I went to Milesmark Primary, then Queen Anne High".
Ghoulz:
"I reckon we may have shared a year at Queen Anne, as you were leaving, I was joining".
Fay:
"Do you remember Mr. McPherson?"
Ghoulz:
"Yeah I think so"
Fay:
"He was my mentor" "Life wouldn't have been the same without Mr. McPherson".
Ghoulz:
"And Mr MacInnes?" "He was handy with the belt".
Fay:
Yeah, I remember the belt and I remember Mr. Carmichael the Head and Mr. Jingles the maths teacher too".
Ghoulz:
We called Carmichael 'Boris' but I never knew why".
Jo:
"Ah, … 'Boris the bastard' and 'Mr. Bojingles". (lol).
Fay:
"He had shiny leather elbow patches on his suit".
Ghoulz:
"I liked Mr. Jingles, he was a good teacher".
Fay:
"He never did anything for me, but then I was probably past redemption!"
"Anyway I do remember playing The Kinema a few times".
Jo:
"Yeah we played two or three times".
Ghoulz:
"The Rezillos played four times; three in 1977 and once in 1978, then The Revillos once in 1979".
Jo:
"I've actually got photographs at home from the public passport photo booth in The Kinema Ballroom". "They also had a guy who wandered about the place taking photos of people, the place was like photo obsessive!"
Fay:
"I can actually remember being on stage,… singing eh,…
Ghoulz:
"You ended up off the stage a few times in the crowd as I remember".
Fay:
"Yeah, but I remember singing 'You Really Got Me' or 'I Need You' by 'The Kinks' I just can't remember".
Jo:
"Was it not 'I've Got You By The Kinks" (lol).
Ghoulz:
"Going even further back, in addition to having a 'William Mysterious' in the band there was another mysterious member,… 'Gail Warning".
Fay:
"Yeah?"
Ghoulz:
"We know very little about her". "For instance what was her real name?"
Fay:
"Her real name was 'Gail Warning' as my real name is Fay Fife!"
Ghoulz:
"OK, what was her alternative name then".
Fay:
"Gail Jamieson". " She was the one with all the style".
Jo:
(Referring to his trousers) "These have definitely shrunk 2 or 3 inches somehow!"
Ghoulz:
"Unless your legs have grown of course".
Jo:
"That would be good!" "Naw they've definitely shrunk".
Ghoulz:
"It's like my kilt – it shrinks just hanging in the wardrobe". "Each time I wear it, it's tighter!" " What's that about?" (lol).
Fay:
"Yeah, Gail was the one with all the style and she was really mean-looking as well". "I don't know how she did that".
Ghoulz:
"She was a friend of yours at Art College before the band?"
Fay:
"Yeah".
Ghoulz:
"I've never seen a photo of her".
Jo:
"Isn't there one on the inside cover of 'Mission Accomplished'?"
Ghoulz:
"I'll need to check that". "Did the band have any particular friendships or rivalries with other local contemporaries such as 'The Scars',' The Valves' or 'The Skids'?"
(Jo's still raving about his shrunken trousers in the background).
Fay:
"Yeah 'The Valves' supported us quite a lot and 'The Skids' a few times too but there wasn't any real rivalries I can remember".
Ghoulz:
"Yeah the 1978 Kinema gig was with 'The Skids', supporting 'Wreckless Eric' who was so smashed he could hardly play".
"Cream famously had some second thoughts on the stage of the Royal Albert Hall in 1968 during their farewell performance, as to whether splitting was the right thing to do after all as they were having so much fun during the performance". "Did anything similar happen during your farewell gig on stage at 'The Apollo'?"
Fay:
"I can't remember much about that gig".
Ghoulz:
"Was it sad or a relief to finish up at that time?"
Fay:
"No, it just felt a bit like unfinished business".
Ghoulz:
"But did it still feel right at the time, on stage".
Fay:
"What can you remember Jo?"
Jo:
"At the time it probably did yeah, that was very much the circumstances we were in".
Ghoulz:
"I just think sometimes when a band make a conscious decision to split and then go on to a fun, successful farewell gig, it may feel like you get carried along with the notion that the split's inevitable when you really wanna take a step back or kinda get off the runaway train to dissolution".
Fay:
"That's right, that's exactly right"
Ghoulz:
"If you did ever change your mind, how could you reverse the situation?"
Jo:
"Yeah and as well as that you're also thinking about what the next thing you're gonna do is".
Ghoulz:
"You may well have already committed yourself to something else yeah".
Jo:
"By the time we did those last gigs we were all sort of forming other groups and things as well".
Ghoulz:
"Still, to play that last sell-out gig at 'The Apollo' with the bouncing Glasgow audience going nuts, it must have felt like 'Just maybe this is a mistake' you know?".
Jo:
"Yeah that does occur to you at the time, yeah".
Ghoulz:
"So who's writing the new songs?"
Fay:
"Jo, myself & Eugene".
Ghoulz:
"Can we expect anything different in terms of direction from the 21st century 'Rezillos' or is it just the next normal evolutionary chapter for the band?"
Jo:
"It's the same old shite really!"
Fay:
"Yeah It's the same old shite". (lol).
(Cob, of 'The Yard', comes in and hands Fay a milky coffee)
Fay:
"Oh, nice floating lumpy chewy bits on top!"
Fay:
"No it's a bit of both, it's the next evolutionary chapter too". "It's a bit different and it's a bit the same". "Does that make any sense?"
Ghoulz:
"No, but it doesn't have to!" "A daft question deserves a daft answer".
Jo:
"It's hard for us to tell objectively when we're this close up to it".
Fay:
"Yeah, you tell us once you've heard the new tunes tonight".
Ghoulz:
"Have you done any new studio recordings?"
Fay:
"Yeah, we're recording a new album at the moment" "It's about halfway done".
Jo:
"The studio we were using got closed down so we've decamped at the moment and will reconvene soon".
Ghoulz:
"It'll be far too early to suggest a release date then?"
Fay:
"Oh yeah but we've got a compilation album coming out with all the singles and it'll have some new songs on it too".
Jo:
"Yeah 'A' Sides & 'B' Sides and possibly a new single and a bonus track". "It'll be the original 'single' recordings though, not the album tracks of the same songs,… plus some new tunes".
Ghoulz:
"Is this one called '13 Cuts'?"
Jo:
"Yeah, that's the one".
Ghoulz:
"Magic!" "Will you be doing any new covers?"
Fay:
"Yeah we'll do two tonight". "Will I tell you or leave it as a surprise?"
Ghoulz:
"Leave it as a surprise".
Fay:
"OK good, I like that".
Ghoulz:
"Have you been pleased with any other band's 'Rezillos' covers?" "I don't know of many".
Fay:
"I've heard one of 'Destination Venus' that was OK". "There's a French band does 'Top of The Pops' and there's a cover of 'Good Sculptures' by a banjo orchestra". "It's brilliant". "I canny remember who they are but Willie that does the T-Shirts and stuff, he knows, ask him if you get a chance". "And there's some bands on 'YouTube".
Ghoulz:
"Bizarre!" "I'll have to find that banjo version".
"We've been patiently waiting on the new web site for quite some time now". "When might that appear?"
Fay:
"I'm gonna be very open with you here, we got a new web site done & we don't like it".
Ghoulz:
"Ah,… Is it the graphics or the content or what's the problem?"
Fay:
"It's the whole thing really; it's just not us,… so you may have to wait another long while pointlessly languishing in non-website land!" "We'll probably tart-up & improve the current one meantime". "We've got lots of ideas to put into it but none of us are web designers".
Ghoulz:
"Any chance of a release for 'The Peel Sessions' because that's never surfaced has it?"
Fay:
"Actually it's funny you should say that because we're releasing a CD of Radio sessions in February 2008, including I think, the Peel recordings".
Ghoulz:
"Wow, that's great news"
Fay:
"Yeah Eugene knows more about that though". "It's coming out on 'Damaged Goods".
Ghoulz:
"So there's quite a lot of material due for release soon?"
Fay:
"Yeah, there's the Radio Sessions we just mentioned and the compilation one,…"
Ghoulz:
"Thirteen Cuts?"
Fay:
"Yeah and the new studio album when that gets finished".
Ghoulz:
"Just like buses,… bugger-all for ages, then three all at once!" (lol).
Fay:
"Exactly" (lol).
Ghoulz:
"Lastly Fay, a friend of mine who is a huge fan, met you a number of years ago in Dunfermline and you had admired her lipstick apparently". "She didn't have it with her at the time but she knew where to get it and took you to the appropriate shop and bought one for you". "Does that ring a bell?"
Fay:
"Oh,… sort of, yeah!"
Ghoulz:
"Well she'll be here tonight".
Fay:
"God!,… Oh right,… Well you must introduce her!"
Ghoulz:
"Her name's Kay and by bizarre coincidence her husband's name's Ray and of course you're Fay!"
Fay:
"Kay, Fay, Ray?" "Sounds like a band".
Ghoulz:
"So,…you'll have her lipstick?"
Fay:
"I do actually" "How can I ever repay her?"
Ghoulz:
"Has that been a big influence then, your lipstick?"
Fay:
"I've basically stuck with the same colour for god knows how long". "I don't have any on at the moment, but if I did,…".
Ghoulz:
"It might be that very one then?"
Fay:
"It might be yeah!"
Ghoulz:
"Well that's pretty much all I had to ask". "I've tried to think of some stuff you might not have been asked thousands of times before and I'd just like to say that this has been a singular pleasure and thrill for me to meet you all again, twenty-eight years since I roadied for you at the Kinema!" "Thanks so much".
Fay:
"No problem, it's been our pleasure thanks".
The Rezillos blistering set-list for 'The Yard' Rosyth Friday October 12th 2007 was:
1. Flying Saucer Attack
2. White Light White Heat (The Velvet Underground)
3. Mystery Action
4. Top of the Pops
5. Cold Wars
6. Yesterday's Tormentor (this new song replaced 'Only In Your Dreams' at the last minute)
7. No
8. Love No More
9. It Gets Me
10. Number One Boy (new song)
11. Getting Me Down
12. (My Baby Does) Good Sculptures
13. River Deep Mountain High (Ike & Tina Turner)
14. Destination Venus
15. I Can't Stand My Baby

Encores
16. Don't You Want Me? (Human League)
17. Somebody's Gonna Get Their Head Kicked In Tonight
Support bands were Dundee's aggressive hardcore punk four-piece, 'The Eddies' & Alternative Rock / Electro outfit from Glasgow & Newcastle, 'Darkwater'. (The inevitable 'Evanescence' goth labels don't do Darkwater's original song-writing and stage presence justice. See & hear them for yourselves here.

Peter 'Ollie' Halsall - drums
Pete Kelly - lead vocals
John McCaffrey - bass
Mike McKay - guitar
Alan Menzies - drums
Barry Womersley - lead guitar
This Merseyside band from Southport (not Alexis Korner's Blues Incorporated) which included Pete Kelly (later of Pete Kelly's Solution) recorded a cover version of The Kingsmen's classic 'Louie Louie' (1965) which is now rare and collectable. On the reverse they turned Carl Perkins' 'Honey Don't' into a wild rocker.

Ollie Halsall, who was only in the group for a few months in 1964, was later in Timebox . Barry Womersley went on to play for Clayton Squares and Jasmin T. Lovelady was also later in Jasmin T; McGee went on to play for The Swinging Blue Jeans and Surguy was in Warm Dust .

Info courtesy of: www.manchesterbeat.com
Rhythm & Blues Incorporated played the ballroom twice; once on Wednesday 28th October 1964 (supporting Mike Berry & The Innocents with local boys The Red Hawks) and once on Wednesday 20th April 1966 (supported by The Red Hawks).
Nick Williams - keyboards & MC
Andy Cocozza - keyboards
Amanda Gent - vocals
Rab - dancer
Kev - dancer
Nick Williams and Andy Cocozza formed The Rhythmic State in December 1992 in Scotland. They produced a demo in early March 1993 and sent it to Tom Wilson's 'Steppin Out' show on Edinburgh's Radio Forth. A record deal quickly followed and 'Power People' was released in July 1993 on Steppin Out Records. The Rhythmic State were quickly becoming the hottest act in Scotland and played various gigs throughout Scotland, Ireland and the North of England quickly establishing them as an unbeatable crowd pulling act.
October 1993 saw them playing Rezerection for the first time to a 6000 strong crowd, putting them in the top 4 acts next to TTF, Q-Tex and Ultrasonic.
They continue to record & perform.
Born Harry Rodger Webb on 14th October 1940 in Lucklow India.
Like several other of Britain's first rock and roll artists, Cliff Richard's professional career started at the 2 'I's Coffee bar in London. After a brief spell as a skiffler he began to model himself on his idol, Elvis Presley. With his group, 'The 'Drifters', a recording opportunity arose with Norrie Paramor - a producer at EMI. Paramor decided to use the young singer's talents to produce a version of the American teen ballad 'Schoolboy Crush'. Fortunately, it was the other side of this disc that caught the attention of disc jockeys and the rock and roll entrepreneur Jack Good. The record, 'Move It', reached #2 in the UK chart and is now widely regarded as one of the finest examples of early UK rock and roll ever made. It had been written by one of the Drifters, Ian Samwell although the single used session musicians and not the group.
Jack Good promoted the new star on his groundbreaking TV show 'Oh Boy!' alongside the UK's, hitherto, top rock and roller 'Marty Wilde'. The Drifters changed their name to the 'Shadows' to avoid confusion with the American group of the same name. At this time Cliff Richard was following the 'Elvis' model very closely - hairstyle, curled lip and gyrating hips. It would be a year or two before he gradually readjusted to the clean cut image that he has long since portrayed.
Following the success of 'Move It' came a long string of hits including the consecutive number 1's of 'Living Doll' and 'Travelling Light' . At this time his single releases usually had a rock and roll number on one side and a ballad on the other. They consequently had wide appeal and the quality was always good. So it was of little surprise that he became recognised as Britain's top recording artist within the space of a few months. He made a number of successful musical movies including 'Summer Holiday' which was probably responsible for setting the seal on his long term image.
Despite the 'Beat boom' and the advent of the Beatles, Cliff Richard managed to sustain his career, but gradually shifted his material to suit the growing maturity of his audience. He even managed to survive coming runner-up in the Eurovision song contest with 'Congratulations'. With chart hits in every decade since he first began professionally, Sir Cliff Richard must rate as one the most enduring artists ever to begin with rock and roll.
Info courtesy of: www.45-rpm.org.uk
Cliff's appearance at the ballroom on Sunday afternoon 4th February 1973 was a gospel rally charity fundraiser for overseas missionary work by 'TEAR' (The Evangelical Alliance Relief fund) rather than a 'pop' concert. This was the same year as he represented Britain in the Eurovision Song Contest (for the second time in five years) and he was appearing weekly on the Cilla Black show at this time . He was invited to perform by The Dunfermline Christian Action Group and coordinated by local historian Jack Pryde. There were more than 1000 seated fans present at the sold-out event which raised approx £100, (a decent sum in 1973). He was supported by 'The Country Gospel 4' from Kilsyth.
After Cliff played a couple of numbers with his guitar, he was interviewed by his then manager, Bill Latham. Tickets went on sale about a month before, priced 20p, from Muirs Music shop in Queen Anne Street and were sold out in about 45 minutes to an hour! He was 'spirited' into the building (via the entrance in Pilmuir Street) and into a holding room and before he went on he required a comb for his hair. He didn't have one, so Jack's wife's claim to fame is, 'Cliff Richards used my comb!'.

It is now possible to listen to 'The Country Gospel 4' as lost recordings of the band (who broke up in the late 70s) have turned up and are now on 'YouTube'.
Neil Nicholson - lead guitar, lead & harmony vocals
Eric Taylor - guitar, lead & harmony vocals
Alan Forrester guitar, lead & harmony vocals
Ian McArthur - guitar, lead & harmony vocals
Richfield Springs were a folk-rock outfit formed by school chums Alan & Ian, based in Kirkcaldy, who appeared twice at the Kinema but I'm unsure exactly when because they do not appear in any advertising. They supported Hamish Imlach on one occasion but that only ties it down to 1967 - 1974!
Their style was akin to The Byrds / Lovin' Spoonful / Young Tradition.
They did demos for independent producers in Craighall studios in Edinburgh and two auditions for Decca in London (West Hampstead) where two members of Marmalade came to watch that day ... and two of the Moody Blues were in the next studio!
Unfortunately the group split as one member was going to art college and another to study planning and a third to the Civil Service.
Alan has written songs such as 'Riddle of the Sky at Night' on BBC TV and Radio Scotland & Central FM. In 2006 he sang it solo, live, on Scotland Today. His song 'On Leaving' was played on a loop for 6 hours by Stirling Civic Trust about 2001 at an exhibition and yet another 'Wine and Ale' which he self-produced, has been on sale at Stirling's Smith Art Gallery and Museum since March 2008 (sung by Lynne Logie).
Alan's current 5-man har

mony group is called 'Steamer Lane'
Ghoulz (2009)
Thanks to Alan Forrester

Richard Fairbrass - vocals
Fred Fairbrass - guitar
Rob Manzoli - multi-instrumentalist
Each of the members of Right Said Fred had dabbled in musical careers before coming together to form their own band. As a bass player, Richard performed with such superstars as David Bowie, Mick Jagger, and Boy George. His younger brother, Fred, had the fortune of touring with one of his favourite artists, Bob Dylan. Eventually the brothers became determined to make a break for themselves and decided to seek out a third player. They put the word out through a rehearsal studio in their hometown of Putney, where they were introduced to guitarist Rob Manzoli.

Although he swears he will never shave to match his bare-headed band mates, Rob was a perfect fit from the beginning. He too had spent time performing with noted musicians such as The Platters, Muddy Waters, and ZZ Top, but with little recognition or creative opportunity. The three members of the still untitled band began meeting regularly over tea to talk about music.

When it came time to perform their first gig, the band had still not settled on a name. They were set to go in only twenty minutes when they heard a Bernard Cribbins comedy bit on the radio. They took its title for their own name and Right Said Fred was officially born.

Still lacking a hook to catch them their big break, Richard and Fred paid the bills working as gym instructors at the Dance Attic. It was there that they came up with the idea that would bring them more fame and fortune than they could have imagined. Certain that a bank would never loan them money to record, the brothers borrowed 1500 pounds, pretending to buy a car. With this money they recorded their first single "I'm Too Sexy". A song inspired by the ego-driven models that worked out in the gym where the brothers worked.

It was when they hooked up with producer Tommy D. that Right Said Fred was given the dance beats that they had hoped for. Everyone knew it was going to be a hit, everyone but the big record labels. That is when Guy Holmes (a British record "plugger") took the single and decided to release it himself on his own label. He financed a low budget video as well as 5,000 copies of the single. When one of the copies made it to BBC1 it took off. Soon the next 40,000 copies where flying off the shelves. It shot right to number 2 on the British charts. It was followed by "Don't Talk Just Kiss". By this time they needed a full length album. The band was given a mere six weeks to write, and record the album. At that point "Deeply Dippy" was released as their next single.

The release of their second album, "Sex & Travel" was somewhat of a disappointment to the band, not even being released in the US. Fed up with the record industry the band formed their own label in 1995 and released their third album "Smashing!" in 1996. The album was limited in its release due to the lack of major label support.

The band is now in the process of rebuilding what they once had. They have been touring Europe non stop and are currently recording new songs. They are also considering re-releasing a new version of "I'm Too Sexy". Some of the names mentioned for the remix are Jason Nevins, the Jungle Brothers, and even Guns 'n Roses guitarist Slash.

There is also talk of a greatest hits collection. Keep an eye out for more hits from Right Said Fred.
Info from: www.sing365.com
Taylor Wright - vocals, guitar
Lee Wilders - guitars
Harry Krishna - bass
Adam Gregory - drums, vocals

Unsigned band from Glenrothes formed in 2008 whose influences include 'Echo and The Bunnymen', 'Joy Division', 'The Clash', 'The Coral' & 'The Stone Roses'. They've recorded a 4-track demo called 'Meeting With A Vampire', tracks include 'Suzie', 'Doors', 'Is This How It Ends' & 'Meeting With A Vampire'.
They have supported 'Sergeant'.
If you can add any further information to this piece please contact me here



Pix courtesy of Gerry Macpherson
Drew Largs - vocals
Ronnie Lessels - guitar
Gerry MacPherson - bass
Dave Finlayson - Hammond organ
'Big' Jim Maurice saxophone(s)
Graham Halliday - trumpet
Dave Rankin - trombone
Pete Hunter - drums
Later:
Jim Kelly - guitar
Charles 'Chic' Clark - bass
Alan Fraser - drums
Drew Largs was formerly of 'The Vikings' from Dundee. Jim Kelly (now deceased) from Dundee was formerly from 'Honeybus' and later joined 'Sleaze Band'.

The original drummer was Pete Hunter (now deceased) who was one of the original 'Falcons' and was also in 'JB Memorial' amongst others with Ronnie Lessels. He was replaced by Alan Fraser (now deceased) who has played with a lot of great bands and people.

Bassist Gerry MacPherson was in 'Marshmallow 400' with Manny Charleton (later of 'Nazareth' fame) and he was replaced by Chick Clark.

Big Jim Maurice sometimes played two saxes at once just like Dick Heckstall-Smith of 'Colosseum'.

My thanks to Ronnie Lessels for the information above
Stuart Cuthbert - vocals
Frankie Vettraino - guitar
Bill Smith - keyboards
Norrie Tennent - bass
Glen Jones - drums
Later:
Wullie Munro - drums
Rite Tyme were a Dundee beat group active in the latter half of the sixties.
If you can add any further information to this piece please contact me here

Tony Rivers (Tony Thompson) - vocals
Vic Larkins – lead guitar
Micky Johnson – rhythm guitar
Ray Brown - bass
Brian 'Shirt' Talbot – drums

Later:
Ricky West - lead guitar
John 'Lon' Lyons – rhythm guitar
Steve Scott - lead guitar
Kenny Rowe - vocals
Tony 'H' Harding - lead guitar, vocals
Brian Hudson – drums, vocals
Martin Shaer - vocals
John Perry - lead guitar, vocals
Pete Swettenham – rhythm guitar, vocals
Geoff Swettenham - drums, vocals
Tom Marshall - guitar

Also breifly:
Frank Townsend - guitar
Wally Cockell – drums
Chris Manders - bass
Bill Castle - drums
Tony Rivers & The Castaways started out as 'The Cutaways' in 1960 in Dagenham, Essex. Several personnel changes including lead vocals later they became 'Tony Rivers and the Castaways' in 1962. Their debut disc was a hard-driving rock number, but subsequent releases saw them veering towards a sound based upon close vocal harmonies, which ultimately led them to covering Beach Boys material.
They supported The Who, The Rolling Stones & The Beatles.
The band suffered from several changes of personnel, briefly including John Perry & Pete and Geoff Swettenham (all later with Grapefruit) on lead guitar, guitar and drums respectively, before the others eventually evolved into Harmony Grass.

Rory Mhor Nicoll
RMN (Revolutions Move Nervously) is a DJ / Producer / Singer Song Writer (originally called RMN Project) who began in 1998. He has released records with Edwin Starr / London Beat & Dream Frequency amongst others.
After building his own studios in Scotland, work began on an album called 'Fever' and approximately 40 subsequent single releases over the next 2 years including a duet with Sabrina 'Take the Blame' before work began on a second album, 'DJ Play'.
In 2003 he resumed recording & touring and altered his style to embrace hip hop.
'Stomping' Steve Wooltorton - vocals
Dave Taylor - ?
Iain Terry - ?

One of the leading and probably most successful, fondly remembered teddy-boy bands of the British Rock 'n' Roll revival of the late 1970s. Prior even to their first single, they landed an appearance in the gritty award-winning period film 'That'll be the Day' (1973) starring Ringo Starr and David Essex.
Their first single (for DJM) followed on in September 1974, 'Rock On Man' / 'Let's Try' was a hit in Denmark and this recording was used in the soundtrack of the film 'Three For All' (1975). They released two singles for DJM, one for 'Buk' and another two for 'RCA', all between 1974 and 1980 and toured the UK and Europe extensively.

They were produced by their manager Phil HA Bailey (PHAB) who produced many other rockabilly outfits such as Shakin' Stevens & The Sunsets and Matchbox for example.
Never quite making an impression on the UK chart, the Dutch disagreed and they scored with their version of Louis Jordan's 'Choo Choo Ch'Boogie' in 1979.
They were still gigging 1982.
Singles:
'Rock On Man' / 'Let's Try' (Sept 1974) - a hit in Denmark, this recording was used in the soundtrack of the film 'Three For All' (1975)
'Long Time No See' / 'Boppin' At The Hardrock' (Aug 1975)
'Ice Cream' / 'Crossword Puzzle' (Oct 1976)
'Choo Choo Ch'Boogie' / 'If I Ain't Home' (Dec 1979)
'Go 'Way Hound Dog' / 'Maybe That's Why I Care' (Oct 1980)
Albums:
'The Very Best of Rock Island Line' (2006)

If you can add any further information to this piece please contact me here

Dave Munden
Rick Westwood
Eric Woolfson
The Rockets released a single cover version of 'I'm Henery The Eighth I Am' / 'Shortnin' Bread' in 1973. The song had previously been recorded by Joe Brown in 1961 and was a #1 US Billboard hit in 1965 for Herman's Hermits (becoming the fastest selling song in history to that point! However the song was originally written in 1910 by Fred Murray and R.P. Weston and made famous by music-hall star Harry Champion, so it's now more than 100 years old!
More recently the song has featured in the film Ghost and on TV in The Simpsons. 'The Rockets' seem to have been 'The Shepherds Bush Comets' by another name.
If you can add any further information to this piece please contact me here
Brian 'Chuck' Botfield- lead guitar
Terry Bond - drums
Clive Lea - lead vocal (left 1967)
Geoff Turton - lead vocal, guitar
Roy Austin - bass (left 1965)
Bobby Thompson - bass (joined 1965)
Rod Clarke - bass (joined 1967)
Formed in 1959 in Longbridge, Birmingham, this group are occasionally confused with the Barron Knights because like these one time rivals they too were adept at introducing comedy into their performances. However, the Rockin' Berries were a little more successful with 'conventional' recordings and tended to reserve their comedy for their stage act.
The Rockin' Berries evolved from a group called the 'Bobcats'. They had become a popular local group, particularly in the the area around the large Austin motor factory in Longbridge. However, like many of their Merseyside contemporaries they had also honed their craft in the venues offered by Germany's Hamburg- notably the 'Star Club'. After losing their original vocalist, they were fortunate to pick up the services of Geoff Turton as a replacement. It was shortly after this that they secured a chance to record with Decca who were looking for new beat groups at that time. However, neither of the two releases that Decca put out succeeded and it looked as though their recording career was already history.
Fortunately, they were given a second chance by Piccadilly. Their first single on the new marque did just enough to keep their new recording company interested, but their second Piccadilly release "He's In Town" proved to be a winner. They also hit big several months later with "Poor Man's Son", but they struggled for any chart showing at all with most of their other releases. However, they had shown a talent for comedy and impersonation and it was probably this that became the key to a successful run in cabaret, pantomime and on 'summer season'.
Geoff Turton left the group to start a solo career as 'Jefferson' in the September of 1968 and enjoyed a modicum of success in this guise before finally withdrawing from the music business. However, the 'Berries subsequently managed to maintain a higher profile as all-round entertainers, but with the accent firmly on comedy.
Info courtesy of: www.45-rpm.org.uk
Rockin' Chair at the Casablanca Club in Rose Street Edinburgh circa 1968?
View on ExposureRoom
Originally shot in 16mm without any sound, the voice of the DJ, the record scratch and all the music was added 35 years after the film was shot. All of the sound was recreated. None of it is anything close to what the band was playing. Even the cowbell and maracas were added to a piece of "stock" music.
Bruce Hutchon - vocals, organ
Gordon Nicol - lead guitar
Dave Piggot - bass
George Nicol - drums
Gerald McFarlane - trumpet
Bob Heatlie - saxophone, flute
Stuart Hockaday - saxophone
In the video:
Bob Hewitt - cowbell
Gerry McFarlane who joined on trumpet in late 1968 (after the video above was filmed) takes up the story ...
The first meet was at Dave Piggot's house then after in a TA hut at Sighthill, I WAS the brass section then!
The manager of the band at that time ... whose name escapes me, was always dressed straight out of the 60's, rock & roll with side burns & moll by his side! He gave into pressure and was replaced in 1970 but more of that later. Gordon & George Nicol were brothers, lead guitar and drums, they are in the Casablanca video above, along with Dave Piggot, bass and Bruce Hutchon, vocals & organ. (The other players in the video I never met). They were the 4 piece Rockin' Chair when I joined.

The reason they wanted a brass section was the shift in musical direction that included the sound from emerging bands from the States like Chicago and Blood, Sweat & Tears. When I joined and started the 'brass section' we were covering hits like '25 or 6 to 4', 'Does Anybody Really Know What Time It Is' etc. Other covers were from The Band, Simon & Garfunkel etc. At the TA hut I remember Gordon playing the tracks on vinyl and being asked if I could play the trumpet/brass parts! Just like that! So quickly notating the musical lines I could practise it later ... there was 'some' similarity to the original tracks! We never played any original music though that was something I muted only once!
The first 'gig' I played with the band was in the TA hut Oct 1968. Of the venues I played in: The Americano in Fountainbridge, The Nash (international) in Prince's St, The Casablanca in Rose St, an Edinburgh University Xmas gig, The Kinema Ballroom in Dunfermline (I remember that as being the biggest venue), some dive off the Royal Mile, some places south of Edinburgh (like Galashiels), some place east like Falkirk (when the punters were there for a fight ... our 2 roadies saved the equipment that day!) and other venues that I can't immediately recall.
I was still in school at the time and coming back from a gig at 4am then school for 08:30 was ****, luckily I was only interested in playing music at school.
Back to the band: The brass section acquired a sax player about 6 months after I started, can't recall his name (maybe Lyle or Liam?) though his face I can still see, under 5'5", afghan coat and a 'pad' in Sighthill. He was an ex-army musician and played flute also. We were the brass section for some more months. BTW we were handed £3 (at the most) at the end of a gig by the manager and some money went to pay off the equipment, the rest was 'history' as they say.

The band acquired a new manager in the shape of Gordon & George Nicol's brother in law in Dec 69? He was a much better manager hence the many bookings at the Kinema in 1970.
Bruce Hutchon was our vocalist, though I remember a singer, Dave Valentine? (he worked at edin uni) came to lead the band at a practise session in the TA hut and I don't think Bruce was too pleased.
Of those who had real jobs, George Nicol worked in an advertising agency - I recall at his home he showed me a copy of a tax disc that he was painting (better than a newky brown coaster), but it only had a few more months to go! I think Dave Piggot worked in a bank, always well dressed so I may have assumed that.

I asked a school friend Stuart Hockaday who played the sax to come to a band practise and he was at the Kinema gigs as well as the original sax player, so the brass section was now 3 and the band was taking on the proportions of those we were trying to emulate, (in numbers but never in sound).
In '71 there were even more interlopers who seemed to want to 'have a blow' with the band. When another trumpet player came along, I decided that it was time to leave and I told George that I was going to go to art college (which i eventually did), and he thanked me for my contribution 'paying for the equipment' - that was the first and last time I knew about that ... dohh!
Ater I left there was talk about a band name change to 'Cold Spring Harbour' ... don't think that happened and that there was an accident in the transit van that left some band members with injuries, don't know anymore about that though.
Gordon Nicol is now a Scottish voice/poet in the States and his musical peak was with Iron Virgin in 74 and not rockin' chair.

Sadly Bruce Hutchon died in 2009.

Bob Heatlie was a superb musician who penned the smash hit "Japanese Boy" sung by Aneka and worked with / wrote for with many performers such as Cliff Richard and Shakin' Stevens. He was also a member of many bands including 'The Memphis Road Show'.
My thanks to Gerry McFarlane for the information above.
Jim Glen - guitar
Iain Ross - bass
Stewart Ross - drums
Duncan McCrone - guitar
Based in Perth, they evolved into 'Pat'r 4' and later still into into 'Hot Toddy' with Duncan McCrone and later again into the five-piece folk-rock outfit 'Dapplegrim'.
If you can add any further information to this piece please contact me here


In the absence of a photo of 'Rogue' or 'The Boyz' here's 'Flying Squad'
Joe Keogh – vocals
Monty McMonagle – guitar
Alex Calder - guitar
Davey Gilmore – bass
Jim Anderson - drums
Rogue were a band from Milton in Glasgow active around 1975 who evolved into 'The Boyz' (around 1976 when Ian Muir joined from 'Downtown Flyers') but they had to change name once more (to 'Flying Squad') when another 'Boyz' band of the same name in the states was discovered.
If you can add any further information to this piece please contact me here

Albert Wood - vocals
Brent Forbes - guitar
Mike Amatt - lead guitar
Terry Rogers - drums
Diccon Hubbard - bass
Mike Amatt - ?
Ronnie Grundy - bass
Dave Moran - bass
Geoff Foot - guitar
Rod Gerrard - vocals, guitar
Manchester-based beat group (active 1966-1969?) who released one single for Decca in 1967 'And You Let Her Pass By' / 'Memories Of Missy'. They later changed their name to 'Sunshine'.
Diccon Hubbard & Rod Gerrard would later appear in The Salford Jets.

Cleveland Walker - lead vocals
Hugh Paul - vocals
Sister B. - vocals
Howard 'Bongo' McLeod - drums
Derek Henderson - lead guitar
Owen Wisdom - bass
Stuart Garden - keyboards
Neil Ferguson - trumpet
Geoff Innes - trumpet
Steve Menzies - vocals
Leroy Grant - guitar
Leroy Smith - keyboards
British disco/funk outfit Rokotto formed in Dundee in 1975 from the remnants of 'The Flamingos', had two UK chart hits, both of which peaked in the forties: 'Boogie On Up' (1977) & 'Funk Theory' (1978). They appeared on 'Top Of The Pops' once for each hit. Their name is an African word which means 'making love'.
Cleveland, Hugh and Lloyd reformed Rokotto in 1979 when they were invited to auditions at the 'Barracuda' night club in Dundee, owned by Rokottos manager, Murdo Wallace. They were successful and Steve Menzies, Leroy Grant and Leroy Smith (ex Sweet Sensation) helped to form the new Rokotto.
They remained with State records for a further 2 singles and eventually disbanded in 1982.
They were invited to play for the Royal family of Belgium for the celebration of their daughter's 18th birthday party and one of the guests was Princess Grace of Monaco!
Howard 'Bongo' McLeod played with Jimmy James and the Vagabonds.
I'm indebted to Steve Menzies for much of the above information.

Rollin' Joe (Dalton) - piano, vocals
Rollin' Joe & the Jets are a 3-piece band specialising in authentic 50s style Rock 'n' Roll and Rhythm 'n' Blues covers from such as Buddy Holly, Chuck Berry, Jerry Lee Lewis and Fats Domino, playing in Glasgow and the West of Scotland.
Rollin' Joe's Jerry Lee Lewis style of piano playing has entertained audiences since the sixties.
If you can add any further information to this piece please contact me here

Damian McKee - lead vocals
Colin McKee - bass
Terry McKee - drums
Andy LeGear - lead guitar
Ian Mitchell - rhythm guitar
Later:
Paul "Flash" Lerwill - guitar
Enda Walsh - guitar
In 1973 childhood friends Ian Mitchell, Damian, Terry and Colin McKee, formed a band called 'Albatross' (later 'Bang', still later 'Young City Stars'). They played local clubs and dance halls and quickly became popular, often opening concerts for the Bay City Rollers.
In early 1976 Ian decided to leave Young City Stars to join the Rollers. Young City Stars added guitarist Andy LeGear from Belfast. Later that year Ian returned to Young City Stars. Roller manager Tam Paton, noticed their talents and became their manager. They changed the name to Rosetta Stone in 1977 and signed on with Private Stock Records later that year.
The first album, "Rosetta Stone" was released in the United States in May 1978. "Rock Pictures", the Japanese and UK release of that same album was also released in 1978.
A second album, "Caught in the Act" was released in 1979. In early 1979 Ian departed Rosetta Stone and was replaced with Paul "Flash" Lerwill. Paul left in the early 80's and was replaced with Enda Walsh. In 1982 the EP "Hiding From Love" was released. In 1984 they disbanded.
While Rosetta Stone disbanded, their fans remained loyal and in August 1998 the very first Rosetta Stone Fan Fest was organized, by Marianne Bean, and a group of 14 fans flew in from various countries and met in Downpatrick, where the McKee's (along with two substitute guitar players) performed. Ian and Andy were unable to come due to schedule conflicts.
In July 1999 the second Rosetta Stone Fan Fest was a Reunion of the original members of Rosetta Stone. It was the first time they had performed together in almost 20 years. It was held in Colorado Springs, Colorado and it was the very first time that the band performed in the United States.
September 2001 brought the 3rd Rosetta Fest in Gatwick, England. Over 50 fans attended to see the performance by Damian, Colin, Terry, Ian, Gary Limbaugh, and Hugh.
Info from: www.angelfire.com

Russ Ballard - lead guitar
Pete Salt - rhythm guitar
John Rodgers - bass guitar
Rob Henrit – drums
John "Mod" Rogan – bass guitar
The Roulettes, from Hertfordshire, were formed in 1962 as a backing band for the early 60's pop idol vocalist, Adam Faith (born Terence Nelhams, June 23rd 1940, London) when he decided to jump onto the beat music bandwagon.
They began recording in their own right late in 1963. None of their own records hit the charts, but they did have four chart entries with Faith. Sadly, bass guitarist Rodgers was killed in a car accident and his place was taken by John "Mod" Rogan. They split with Faith late in 1965 (so their ballroom appearance in August would be amongst their last together) and the group broke up in 1967 without achieving the success that their talents undoubtedly warranted.
Ballard and Henrit joined a late line-up of Unit Four Plus Two before re-surfacing during the 1970's in the prog-rock band Argent, led by ex-Zombie Rod Argent.
Roulettes Parlophone Singles:
Soon You'll Be Leaving Me/Tell Tale Tit (1963)
Bad Times/Can You Go (1964)
I'll Remember Tonight/You Don't Love Me (1964)
Stubborn Kind Of Fellow/Melody (1964)
I Hope He Breaks Your Heart/Find Out The Truth (1965)
The Long Cigarette/Junk (1965)
The Tracks Of My Tears/Jackpot (1966)
I Can't Stop/Yesterday, Today And Tomorrow (1966)
Roulettes Parlophone Album:
Stakes And Chips (Oct 1965)
Adam Faith & The Roulettes Parlophone Singles:
The First Time/So Long Baby (Sep 1963)
(UK Chart Position #5)
We Are In Love/Made For Me (Dec 1963)
(UK Chart Position #11)
If He Tells You/Talk To Me (Mar 1964)
(UK Chart Position #25)
I Love Being In Love With You/It's Alright (May 1964)
(UK Chart Position #33)
Adam Faith & The Roulettes Parlophone Album:
On The Move (1964)
Sam Beck - guitar, organ
Jim Burns - bass, saxophone
Gary James - vocals, drums, guitar
Plymouth folk group about which little is known. They released two singles in 1965 & 1966. Gary James later had a solo career.
Info from: The Tapestry of Delights - The Comprehensive Guide to British Music of the Beat, R&B, Psychedelic and Progressive Eras 1963-1976, Vernon Joynson ISBN 1 899855 04 1
If you can add any further information to this piece please contact me here

Jimmy & David Ruffin were brothers from Mississippi who sang in one of the most famous groups in the world, 'The Temptations'. David Ruffin became the lead singer early in his career and later died from a drug overdose, but Jimmy Ruffin continues to sing.
Jimmy Ruffin, the elder brother, was born in Collinsville, Mississippi, on 7th May 1939. As kids, David and Jimmy began their career with a gospel group called the Dixie Nightingales and signed to Anna Records. In 1964, the two brothers joined 'The Temptations' with David Ruffin alternating as the lead vocalist. They released their first single with Motown after they changed their name from 'The Primes'.
Jimmy enjoyed several huge hits himself in the mid '60s for Berry Gordy's Soul label. Ruffin first signed with another Motown subsidiary, the short-lived Miracle, in 1961, but it was his convincing vocal on 'What Becomes of the Brokenhearted' that made him a star in 1966. He encored with 'I've Passed This Way Before' and 'Gonna Give Her All the Love I've Got'. In 1970 he briefly teamed with David (by then David was singing solo and was no longer a Temptation) as 'The Ruffin Brothers' and cut a duet remake of Ben E. King's 'Stand by Me'. He staged an impressive comeback in 1980 on RSO Records with a major pop hit, 'Hold On to My Love', produced by Robin Gibb of 'The Bee Gees'.
Following the release of the first album, The Ruffin Brothers switched to another Detroit-label, Check-Mate, where they produced two singles written and produced by Billy Davis. In 1969, David and Jimmy produced Ben E. King 's hit, 'Stand By Me'. This album was the only one produced by the two of them together. Currently, Jimmy Ruffin lives in England and for a time had a talk show there.

Jeff - vocals & lead guitar
Cal - vocals & guitar
Butch - bass
Bri - drums
The Rutlands are an unsigned indie rock band from Kirkcaldy in Fife, formed early in 1998 when Jeff & Butch (who had played together in a variety of outfits for the preceding year joined forces with Cal & Bri. They played across central Scotland with many of their contemporaries like The Draymin & Val Verde.
They split in August 2009.
If you can add any further information to this piece please contact me here





(Ray & Kay Smillie) David McLaren
Malcolm Owen - vocals
Paul Fox - guitar, vocals
Vince "Segs" Jennings - bass, vocals
Dave Ruffy - drums
The Ruts had parallels with The Clash in the reggae-styled punk they became known for and they were active in supporting anti-racsist issues. Their best known single 'Babylon's Burning' was a UK chart #7 hit while 'In a Rut' became a favourite of legendary DJ John Peel.
Malcolm Owen died of a heroin overdose in 1980 and the band soldiered on for a short time with the new moniker 'Ruts D.C.'
They achieved four UK hit singles including 'Staring At The Rude Boys' (1980)# 22 and two top thirty UK hit albums.
They played the ballroom supporting The Damned & supported by local band Activan on Tuesday 12th June 1979. 'The Local Heroes' was not the name of a particular band, it was merely an indication that a second support slot was available to a local band. Local bands were encouraged by The Damned (or their management) to write to the Dunfermline Press to offer their services and a random name was 'drawn from a hat'. In the case of this date, Activan were chosen.
Kris Ryan (Tony Holgate) - vocals
Alan Kendall - lead guitar
Jimmy Jewell - tenor saxophone
Stuart Brubeck - bass guitar
Geoff Wills - drums
Kris Ryan & The Questions were from Manchester. Guitarist Alan Kendall has also played with 'Glass Menagerie' and 'Toe Fat' (who toured the USA with Eric Clapton's 'Derek and the Dominoes'). He joined Cliff Bennett and the Rebel Rousers before becoming a member of 'The Bee Gees' backing band in 1970 and remaining with them for many years. He plays conventional & pedal steel guitars.
Jimmy Jewell left in 1965 & later played with: 'Mack's Sound', 'The Paramounts', 'Screaming Lord Sutch', 'The Keef Hartley Band' (who were to play at Woodstock festival, though not on the album or film), 'McGuiness-Flint', 'Gallagher and Lyle', 'Ronnie Lane's Slim Chance', 'Joan Armatrading' 'Fairport Convention', 'Chris De Burgh', 'John Lodge', 'Roger Daltrey', 'The Hollies' and 'Colin Blunstone'. See also Jimmy Jewell & Ears.
Singles:
'Miss Ann' / 'She Told Me Lies' (1964)
'Don't Play That Song' / 'If You Don't Come Back' (1964)
'Marie Marie' / 'I've Had Enough Of You Baby' (1965)
T'ell Me Who' / 'She Belongs To Me' (1965)
EP:
'On The Right Track' / 'Help Me' / 'You Can't Liar To A Liar' / 'Sticks And Stones' / 'You Are My Sunshine' (1965).

Dougie Smith - lead guitar, vocals
George Cowie - rhythm & steel guitars, vocals
Davie McGinn - keyboards, vocals
Billy Dunlop - bass, vocals
Ian 'Stug' Stewart - drums, vocals
Latterly:
Dougie Smith - lead guitar
John Hannon - bass
George Cowie - guitar/lap steel
Ian (Stug) Stewart - drums 1
David McGinn - keyboards
Stuart Robertson - drums 2
Elaine (Laney) Smith - backing vocals
Claire Hannon - backing vocals
After 40 years in the business, prog / rock covers band Ryan Express from Airdrie played their final gig together at 'The Club' in Newarthill on 24th March 2012, following a hiatus of 25 years!
They released a very limited demo eight-track privately pressed eponymous album in 73/74 on the 'Thor' label in Glasgow:
1 'Your Mama Can't Dance' (Loggins & Messina cover '72)
2 'Sandman' (America cover '71)
3 'Blowin' Free' (Wishbone Ash cover '72)
4 Time
5 'Dancin' In The Moonlight' (King Harvest cover '72 - later by Toploader)
6 'Southern Man' (Neil Young Cover '72)
7 'Jumpin' Jack Flash' (Rolling Stones cover '68)
Thanks to Stephen Small
If you can add any further information to this piece please contact me here