Who & Why?
Who is Ghoulz?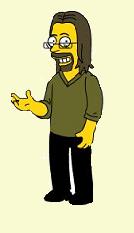 Ghoulz' facebook site
I was born in Dunfermline in May 1961 to Joan & William Gourlay and I have lived here in Dunfermline for all but five years of my life. I have one elder brother, Ian, who lives close to my mother in St.Andrews.
My interest in film began with my late father William ('Bill') Gourlay who was a well-known & popular cinema manager in Dunfermline for many years at: 'The Cinema', 'The Alhambra' and 'The Regal as well as other Scottish cinemas including 'The Palace' Rosyth. He was the last cinema manager in this area to bid a welcome "Good Evening" to his patrons as he opened the door for them and a "Goodnight" as they left, dressed in evening suit and bow tie. A photograph of him is included on page XIII of 'Bygone Dunfermline' dated November 27th 1992.
I am happily married to Margaret and we have one daughter, Tegan who was a highly successful competitive disco dancer with 'DancePoint' School of Performing Arts in Clydebank. She was ranked 2nd in the USA National Championships in Florida 2004 and 16th with her partner Caitlin Gourlay (no relation) in the World Championships in Slovakia in September 2005. Tegan continues to make us proud every single day as she now studies Drama/Performing Arts at college.
I have worked at the Royal Dockyard in Rosyth since 1978 and am now in Environmental Management with 'Babcock Marine Technology' there.
My brother Ian kindled my interest in music from a very early age as I listened intently to his 'Cream' albums though he initially declined to gift me his copy of 'Disraeli Gears' for my seventh birthday in favour of a collection of Jungle Book songs! (He relented shortly thereafter and I still have his original 'Reaction' copy priced at 37/6). So 'Cream' started it all for me, though by 1972 my attention had centred on Alice Cooper, with whom I have maintained something just short of an obsession, having now seen him live eleven times and spent an unforgettable weekend in Crewe at the UK's only Alice Cooper convention in 2002 where I met three members of the original band (who wrote the early huge hits such as 'School's Out' & 'Elected') and was invited to join them after the event in a 'refreshment or two' at their hotel into the wee small hours!
I became interested in local live music performance around 1977 when a close friend of mine, Neill Martin (now Dr. Neill Martin) started playing in a high School Band called 'Straits' who later became 'Trax'. My enthusiastic support evolved into a position as roadie, photographer (and as it tuned out) archivist. We toured Scotland extensively between 1978 & 1980 in support of bands such as 'The Revillos' at the Kinema, 'The Fall' at The Astoria in Edinburgh, and 'The Skids' at 'The Marquee' in London and at The Kinema and many other venues. Trax headlined most of their 70-odd gigs and sold-out 2000 copies of their now highly sought-after 7" 'Home E.P.'

Why build the KinemaGigz web site?
In 2005 I could hardly believe the news that 'Cream' were to reform for a couple of shows in London, and this led to a search for some authoritative fan sites for a good read. I was surprised to find that there seemed to be a dearth of information relating to their Scottish dates and venues and so I decided that I would search them out to help complete the picture. Some months, many e-mails, letters, telephone calls and photocopies later, I nailed the information which I supplied to the afore-mentioned web sites.
Of the dates I discovered, by far the most interesting for me was (yeah you're way ahead of me) The Kinema Ballroom on Sunday 9th July 1967! The existence of an advert in The Press is of course insufficient evidence to confirm that a performance took place (I'd need a ticket stub or ideally photographs to do that) however I'm pretty much convinced as Iíve now heard from several people that were there.
This then led to looking at the other adverts in The Dunfermline Press for adjoining weeks and I found it hard to stop looking! It then dawned on me that if I found it that interesting then others might too. For some time I had thought about building a web site but was unable to determine a suitable subject. I set some pretty tough criteria for the elusive subject, which I thought would result in a site worthy of some effort. These criteria were that it ought to: be achievable, be unique, have a broad appeal to people from a wide age range, generate some interaction and most of all I would have to feel passionate about it. Suddenly I had it all!
I then embarked upon more than three months of research during which I spent most of my spare time in the local history dept of The Carnegie Central Library, ably assisted by their friendly, highly professional staff. I also began to design a web site structure, which went through several incarnations, both as new ideas occurred to me and as a result of the sheer weight of data to present! Next came around six months of researching biographies for the 1100 artists I had listed over 10,000 dates!. Around 75% are my own work, supplemented by some republished pieces from other sites but there are still many outstanding and this is where you come in.

Can you add to or improve the information I have so far? If you can, click here.